Tyvek Drainable Membrane
DuPont's Tyvek DrainVent Rainscreen provides a drainage plane and air gap behind siding when applied over a well-detailed water-resistive barrier.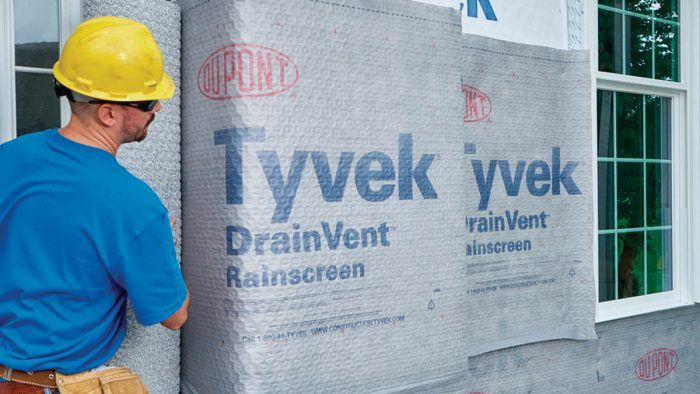 After years of offering only a variety of both smooth and crinkly drainable WRBs— despite the presence of more robust plastic mesh membranes from several direct competitors—DuPont (dupont.com) has added a 1/4-in.-thick drainable, ventilated membrane to their suite of Tyvek products. Dubbed DrainVent, the membrane is similar to competitive products in that it is not actually a WRB. With a perm rating of 100, it's intended to be applied over a well-detailed WRB to provide a reliable gap behind the cladding, which can be anything from stucco to brick to clapboards.
Unlike DrainWrap and StuccoWrap, two long-standing Tyvek products designed to provide only enough of a gap to promote drainage, DrainVent is designed to provide drainage and airflow. We found an online retailer selling 4-ft. by 50-ft. rolls of the product for about $190 plus shipping, putting it roughly in the neighborhood of Benjamin Obdyke's Slicker Classic and Mortairvent by Advanced Building Products, as well as other competitors.
From Fine Homebuilding #284
Previous:
Peel-and-Stick Drainable Housewrap
Next:
Combining Sheathing With a WRB and Air Barrier