Anatomy of a Net-Zero Home
Gene Myers of New Town Builders outlines the construction details his team uses to build net-zero-ready homes.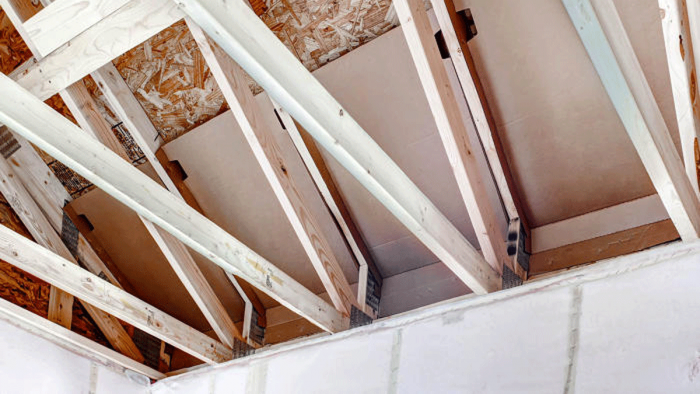 Gene Myers ran dozens of computer simulations before he found the best way to build net-zero homes that met his tough, self-imposed criteria. Each year, the CEO of New Town Builders conducts a research exercise designed to produce a new series of extremely energy-efficient homes.
[Click here to read a Tailgate interview with Myers]
Myers wanted to keep added costs at a minimum for his Zero Energy Now series, which recently won an award from the Department of Energy. He also had to be confident that his buyers, with minimal lifestyle changes, could get to net zero on their energy bills, producing as much energy as they used. And he wanted to make sure he wouldn't be throwing framers and other subs in his labor-short market for a loop.
For those reasons, Myers focused first on the building envelope. It needed to be as energy efficient and airtight as possible, and it needed to be built in a way that framers could understand and easily replicate.
Myers decided the best course of action was to build staggered double-stud walls to prevent thermal bridging, a method of construction familiar to every framer. Loads are split, so the second floor bears on either the innner or the outer wall, with the roof bearing on the other wall. After the exterior wall is sheathed with OSB, netting is stapled to the face of the inside studs to create a 9 1/2-in.-deep wall cavity.
"We fill it with everyday, blown-in insulation and we get a great wall section," he says.
New Town employed a variety of high-performance framing techniques as well. Raising the heal of roof trusses by 14 in. and building two-stud corners allowed the builder to employ more insulation.
Myers knew going into the exercise that he would need to avoid spending money on high-priced options that didn't produce much energy savings. High-performance furnaces and argon-filled windows fell into that category.
"We thought that low-e windows would really help us with comfort and energy efficiency. But when we ran the various analyses, spending another $25,000 on a better window package only got us 2 HERS (Home-Energy Ratings System) points. That's what it came down to — a dollar-per-point analysis."
Instead, Myers settled on vinyl, double-pane windows with a U-factor of 0.25. Home designs emphasize roof overhangs that keep out unwanted sun during summer months.
The builder ultimately elected to go with a heat-pump system supplemented by a back-up furnace that only kicks in on very cold days.
Myers got the 2115-sq.-ft., three-bedroom homes down to a HERS score of 38, before adding photovoltaic panels to the mix. An 8kw PV system takes the HERS rating down to -3, saving buyers $1902 a year in energy bills compared to a home built to the 2009 IECC.
---
A 14-in. increase in the height of roof trusses leaves more space for insulation at the eaves. A full R-50 of blown-in fiberglass blankets the floor of the vented attic. Netting is stapled to the face of inside studs creating a 9 1/2-in.-deep wall cavity for insulation.
An advanced corner, with two studs instead of three, leaves more room for insulation even as it saves on lumber. Spray foam was used to air-seal around windows, behind outlets, at bottom plates, and at any holes for wiring or plumbing. Ladder blocking was used at interior/exterior wall intersections.
New Town employs insulated headers and builds double-stud walls separated by 2 1/2 in. with single top and bottom plates. Studs, spaced 24 in. apart, are staggered to prevent thermal bridging. Insulation runs in a continuous layer through the wall.
HVAC ducts are sealed with mastic and checked for airtightness. Heated or cooled air reaches its destination with a loss of less than 7%. A nonhardening sealant was applied along the top plate of walls bordering the attic. It forms an airtight gasket when drywall is screwed in place.
Open floor plans feature insulated, double-pane vinyl windows with low-emissivity coatings to reduce heat transfer and a low solar-heat-gain coefficient (SHGC) of 0.27. Generous roof overhangs minimize unwanted solar-heat gain during the summer.
New Town considers extreme energy efficiency a tie-breaker -- elevations and floor plans must first appeal to potential buyers. The company's first net-zero homes were offered in Denver's Stapleton masterplan. Now it's testing them elsewhere.
New Town managed to design and build a 2115-sq.-ft. home with a HERS rating of 38. The addition of an 8kw PV display takes that HERS score to -3, meaning the home produces more energy than it consumes, as long as homeowners remain diligent about energy consumption.
A tankless hot water heater employes a "smart" recirculating system that learns occupant behavior and initiates the pump at times of high use. Compact fluorescent lamps are used for all lighting. All the appliances are Energy-Star rated.
Previous:
Net-Zero Homes
Next:
6 Tips for Net-Zero House Design