How-To
Backyard Tape Test
Energy pro Martin Holladay conducts an unscientific—but telling—trial of air-sealing tapes.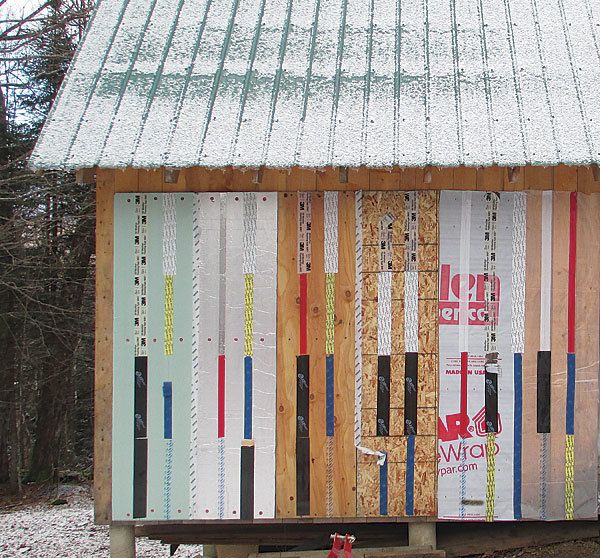 Synopsis: Proper air-sealing is one of the keys to an energy-efficient house, but choosing the right air-sealing tape can be a challenge. In this article, senior editor Martin Holladay writes about his informal backyard test of 11 air-sealing tapes. Holladay attached several substrates to his shed, then applied strips of various tapes to see how they held up over the course of a late-fall month. The tapes use three types of adhesive: rubberized asphalt, butyl, or acrylic. The 11 tapes spanned a wide price range and included products from Dow, Venture, Nashua, Siga, Zip System, Polyken, 3M, and Pro Clima. The substrates included XPS, foil-faced polyiso, plywood, OSB, housewrap, and polyethylene. In the end, Holladay learned that there is no such thing as all-purpose tape and that certain tapes work better with specific substrates. This article includes sidebars about the economics of choosing tapes and substrates, and about the issue of vapor permeance.
---
Anyone building an energy-efficient house has to pay attention to air-tightness. Leaks can occur through cracks between panels of wall sheathing, around windows and doors, at wall and ceiling penetrations, and in a variety of other places. While some of these leaks can be sealed with caulk or spray foam, others are best sealed with a high-quality construction tape.
Manufacturers offer a variety of flexible flashings and construction tapes, ranging from inexpensive products that look like packing tape to European peel-and-stick tapes costing more than $100 a roll. Of course, virtually all manufacturers claim their products are sticky and durable. To sort the hype from the facts, I asked a number of builders about their favorite tapes, then tested 11 recommended products. While I still have questions, I gained a better understanding of how to use different tapes for air-sealing.
Three major types
Three types of adhesive are used to make construction tapes: rubberized asphalt, butyl, and acrylic. rubberized-asphalt tapes(also known as modified-bitumen tapes) are made from the same material as peel-and-stick roofing membranes such as Grace Ice & Water Shield. When used to flash window rough openings, these tapes are usually called flexible flashing. Although rubberized asphalt tapes are useful for flashing windows, they have a few disadvantages: They aren't very sticky in cold weather, and they don't stick well to any surface that is dirty or wet.
Tapes with a butyl adhesive generally cost more than rubberized-asphalt tapes and are seen as higher in quality. Like rubberized-asphalt tapes, butyl tapes have a black adhesive and a peel-away paper backing. Here's how to tell the difference: Butyl tapes lack the asphalt smell of rubberized-asphalt tapes and feel more rubbery.
Butyl tapes are less likely to ooze at high temperatures than rubberized-asphalt tapes. They also perform better at cold temperatures and are more tenacious (although the butyl bond takes longer to develop than the instant tackiness shown by rubberized-asphalt tapes). Examples of butyl tapes include Nashua's waterproofing repair tape, Polyken Shadowlastic 627-20, and Tyvek FlexWrap. Because of its flexibility, Tyvek FlexWrap is an excellent product for flashing window rough openings. FlexWrap is rarely used to tape flat panel seams, however, so it was not included in this test.
Acrylic adhesive is used to manufacture a wide variety of tapes, including inexpensive housewrap tapes that look like packing tape (for example, Dow Weathermate), Zip System tape, and expensive European construction tapes with peel-away paper backings. European manufacturers such as Pro Clima and Siga claim that their tapes have a "solid acrylic" adhesive that performs better than the acrylic adhesives modified by solvents that are used on less expensive American tapes. Manufacturers of tapes with solid-acrylic adhesives claim that the tapes adhere well even to damp surfaces. One possible downside to these solid acrylic adhesives is that they can take days to achieve full strength. Also, the performance of tapes with acrylic adhesives varies widely. While inexpensive acrylic tapes aren't very tenacious, the best acrylic tapes outperform all other types of air-sealing tape.
Housewrap tape does not do it all
I started by asking over a dozen builders and building experts which tapes they use on a variety of materials. As most builders know, some materials—including housewrap, plywood, and foil-faced rigid foam—are relatively easy to tape. Others, such as XPS, polyethylene, concrete, and especially OSB, are trickier. Most builders I spoke with were unfamiliar with Pro Clima and Siga tapes from Europe, and even those who knew about them were often scared away by their high price.
For more photos and details, click the View PDF button below:
View PDF
Previous:
Double-Sided Air-Barrier Tape
Next:
Use and Care for a Professional Foam Gun