How-To
Exterior Insulation on a Garage-to-House Wall
Insulating the garage wall with mineral-wool insulation took 90 minutes (with 7 focused minds and 14 hands).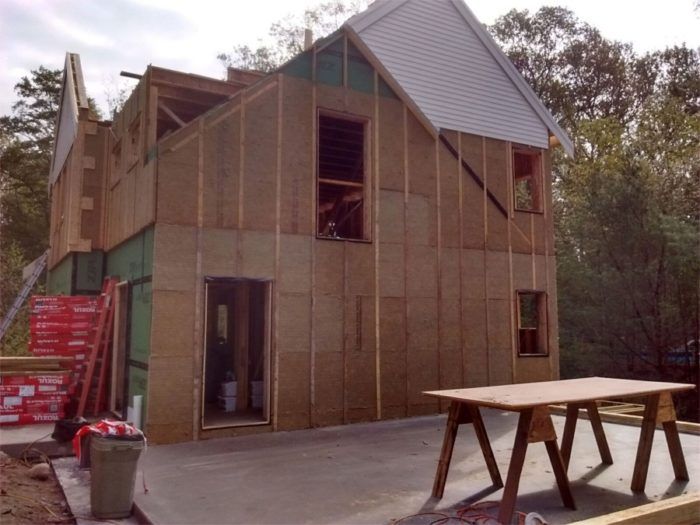 Bruce and I installed Zip System wall sheathing to the garage-to-house wall so that the exterior air-control layer would be continuous around the house. The garage will be unheated, and temperatures will be roughly the same inside and outside, so we need to insulate that wall as well as the rest of the exterior walls. That's why we're installing the Roxul IS 2-in. insulation on the garage wall and 1×3 furring around the rest of the house. On the rest of the house, the 1×3 furring is primarily there to create a rain-screen vent space, but the garage-wall furring is a nailing base for the drywall.
Installation was lightning fast. In just 90 minutes, seven students from Warwick CTC tack-nailed the 2-in. Roxul insulation to the wall with 3-in. roofing nails, then screwed 1×3 furring strips over the face to fasten it permanently. Bruce and instructor Michael Haynes helped organize the installation and answered questions.
There were challenges, such as dealing with the sloping concrete garage floor (5 in. back to front) and pinpointing the studs through the sheathing and insulation.
My critique: Four screws missed their mark, but that wasn't the students' fault. When I laid out the wall, I omitted one stud that fell directly alongside a 6×6 bearing post. So the students hit the 24-in.-o.c. layout. My bad for not warning them of the missing stud.
Now each time I drive up to the site, I admire the street-facing garage wall — nicely insulated and strapped. Unfortunately, we'll have cover the work with a garage in a week or so.
Previous:
Working With ZIP R-Sheathing
Next:
Fiberglass Batt Cutting Guide