XPS Insulation With a Lower Climate Impact
Owens Corning introduces Foamular NGX—an updated rigid-foam option with reduced contribution to global warming.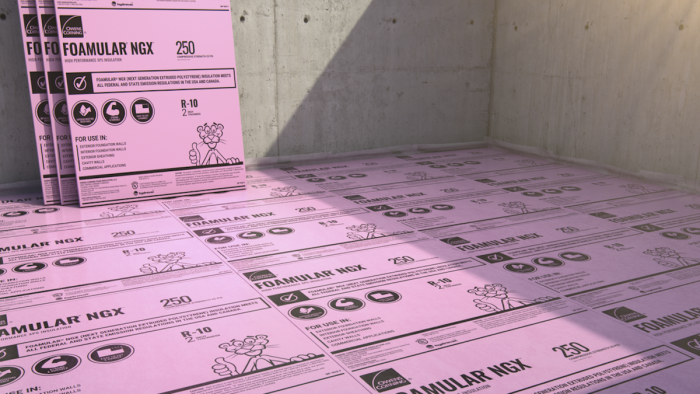 The climate impact of extruded polystyrene (XPS) in insulation has helped steer some builders toward other rigid-foam options, including expanded polystyrene (EPS) and polyisocyanurate. To reduce its contribution to global warming and to comply with updated regulatory standards, Owens Corning has reformulated its XPS. This new version, Foamular NGX—short for Next Generation XPS—went on sale in the U.S. and Canada on January 1. Unlike older versions of Foamular, NGX is made without the blowing agent HFC-134a, a compound with a global-warming potential (GWP) more than 1400 times that of carbon dioxide. Instead, the blowing agent used in Foamular NGX has a GWP of less than 80, while still maintaining a rating of R-5 per in. for energy efficiency.  
It's available with compressive strengths of up to 100 psi and thicknesses of between ¾ in. and 4 in. and comes in sheet sizes 2×8, 4×8, 2×9, and 4×9, depending on type and thickness. Both square-edge panels and T&G edges also are available.
Foamular NGX is available in a number of versions that have been engineered for different purposes and can be purchased for around $20 for a 1-in.-thick 4×8 sheet and $25 for a 1-1/2-in.-thick 4×8 sheet at Home Depot. In states that have banned HFC-134a, Owens Corning will be allowed to sell boards made with the old formulation until supplies run out.
Previous:
Exterior Insulation on a Garage-to-House Wall
Next:
Owens Corning Introduces Itch-Free Fiberglass Insulation