How-To
Keeping Water Out of Walls: Housewrap and Beyond
Learn about the different styles of water-resistive barrier available.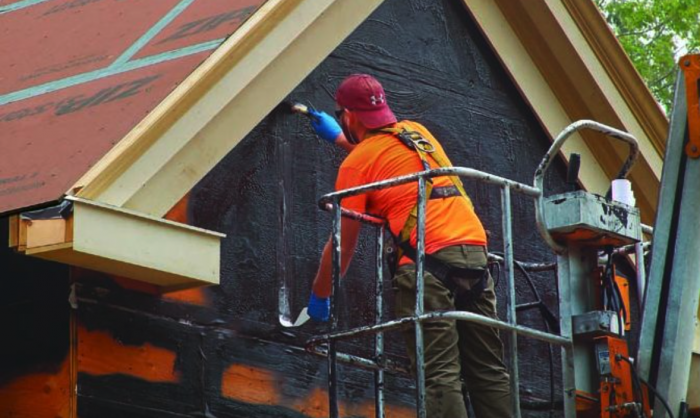 A common criticism of the building industry is that it is slow to change. While this may not hold true with high-performance builders, it seems a fair stereotype for residential construction at large. And if the few progressive builders who make up the high-performance, or green building market can't be blamed, neither can manufacturers.
Since the International Code Council adopted water-resistive barriers (WRB) into the International Residential Code, there has been an explosion in product innovation. Felt and housewraps are losing market share to integrated panel products. ZIP Systems Sheathing is as ubiquitous today as Tyvek was in the 1990s. And products from commercial construction and European manufacturers are making inroads in the American home building market.
Maybe you have a go-to WRB, a product that has never let you down. Maybe there is no reason to change what you are doing. If you feel that your current approach to keeping water out of walls could be improved upon and if you are open to trying new products, you now have at least six types of WRB to choose from. Here's a look at what is now available from a number of manufacturers.
Housewrap
Water-resistive barriers that come in rolls and are generally installed with cap fasteners include felt, building paper, and numerous variations of plastic housewrap from DuPont, Certainteed, Barricade, and many others. Though installation is similar, with courses lapped over each other from the bottom to the top of the wall and flashings integrated for drainage, this category of products varies widely in performance, quality, and price. Though they are airtight materials, even with the seams taped, most of these products tend not to be great air barriers, despite manufacturers' marketing claims.
Drainable Housewrap
As soon as building scientists spread the word that you don't need much of a gap behind your siding for water to drain, manufacturers like DuPont, Benjamin Obdyke, Kingspan, and Tamlyn invented a number of ways to integrate a drainage plane with their housewraps. There are products with wrinkles, grooves, dimples, and spacers, all designed to keep siding from trapping water. Most of these products install like housewrap, though they are generally a step up in cost. If you are not planning to install your siding on furring strips to create a more robust air and ventilation space, a drainable product is the next best choice.

Integrated Panels
This style of WRB includes Huber's ZIP System, Georgia Pacific's ForceField, and LP's Weather Logic, which are all OSB with adhered water- and air-resistive materials. The benefit is that it takes fewer steps to sheath a house and detail the water and air barriers on the walls. Each company's panels and tapes work as a proprietary system, but install in a similar way. Critics point to the reliance on the tape— and some people just are not fans of OSB. These systems are slightly more expensive than wrapping standard OSB in an average-cost housewrap.
Self-adhering WRBs
Peel-and-stick water-resistive barriers from companies like Dorken, Henry, VaproShield, Carlisle, and Pro Clima are growing in popularity thanks to some pretty exceptional benefits. They are rolled out like a housewrap, so the seams lap for drainage, and the adhesive creates a gasket around siding fasteners. Because they fully adhere to the sheathing, they share the air-sealing potential of a panel product. Expect to pay a premium and keep in mind that certain products, substrates, and weather conditions may require that you use a primer before installation.
Fluid Applied WRBs
Sprayed or rolled on to the sheathing, fluid-applied water-resistive barriers have a long history in commercial construction and are slowly being adopted by home builders. Available from companies like StoGuard, Tremco, and Prosoco, they are among the more expensive options, but have some advantages. They efficiently seal the entire sheathed wall from water and air intrusion. Some products incorporate tape at sheathing seams and as flashings at rough openings; others rely on fluid applied flashing products to complete the system. Some fluid-applied water-resistive barriers must be installed by certified contractors.
Rigid Foam Insulation
There are a number of good reasons to insulate the outside of a house, and this thermal layer can sometimes be used as the water-resistive barrier. But there are some caveats. First, not all foam is approved. If you search on icc-es.org for AC71, the acceptance criteria for rigid-foam panels as a water-resistive barrier, you will find a relatively small number of approved polyiso, XPS, and EPS foam products. Another important detail is that you need to bring all of your waterproofing out to the face of the foam, which will likely mean furring out windows and doors and could require some tricky flashing details.
---
Originally published on GreenBuildingAdvisor.com.
Previous:
Water-Resistive Barriers
Next:
Nine Water-Resistive Barriers Worth Knowing About