Tools & Materials
Nine Water-Resistive Barriers Worth Knowing About
A look at some of the most time-tested, well-known brands and some of the newest products to hit the market.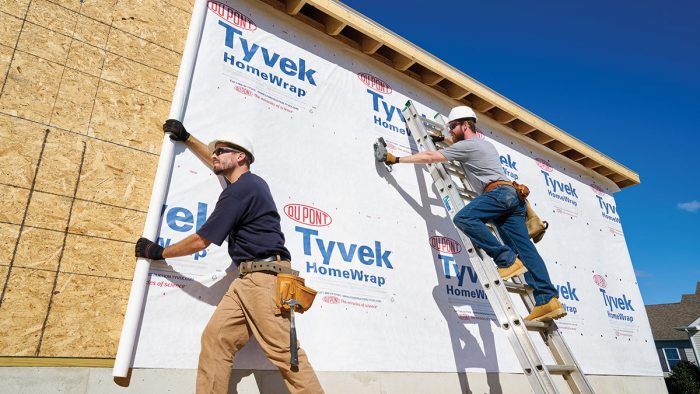 When I first started to look into these products, I was using the acronym WRB to stand for "weather-resistive barrier." It seems that "weather-resistive barrier" and "water-resistive barrier" are often used interchangeably, both by building professionals and manufacturers. However, I learned enough in my interviews with trusted building professionals to change the acronym so that "WRB" stood, more specifically, for "water-resistive barrier."
The thing is, it's important to be very specific about the four different control layers in a building assembly—water, air, vapor, and thermal. Unlike the water-resistive barrier, which may terminate at the top of the wall beneath a roof overhang, for example, an air barrier is a continuous assembly that must connect from one plane of a building to the next. As you'll see, the products often can do more than just keep water out of your walls and you may be able to use a water-resistive barrier as the air barrier on walls, but that is only one dimension of the air-control assembly.
As you choose products for your work, take the advice of the building professional I spoke with and think about the four control layers individually at first. Then, if you can use a product that does double duty, great. Here are nine products that all work first-and-foremost as water-resistive barriers. Some have been around the block, others you may not have encountered yet.
---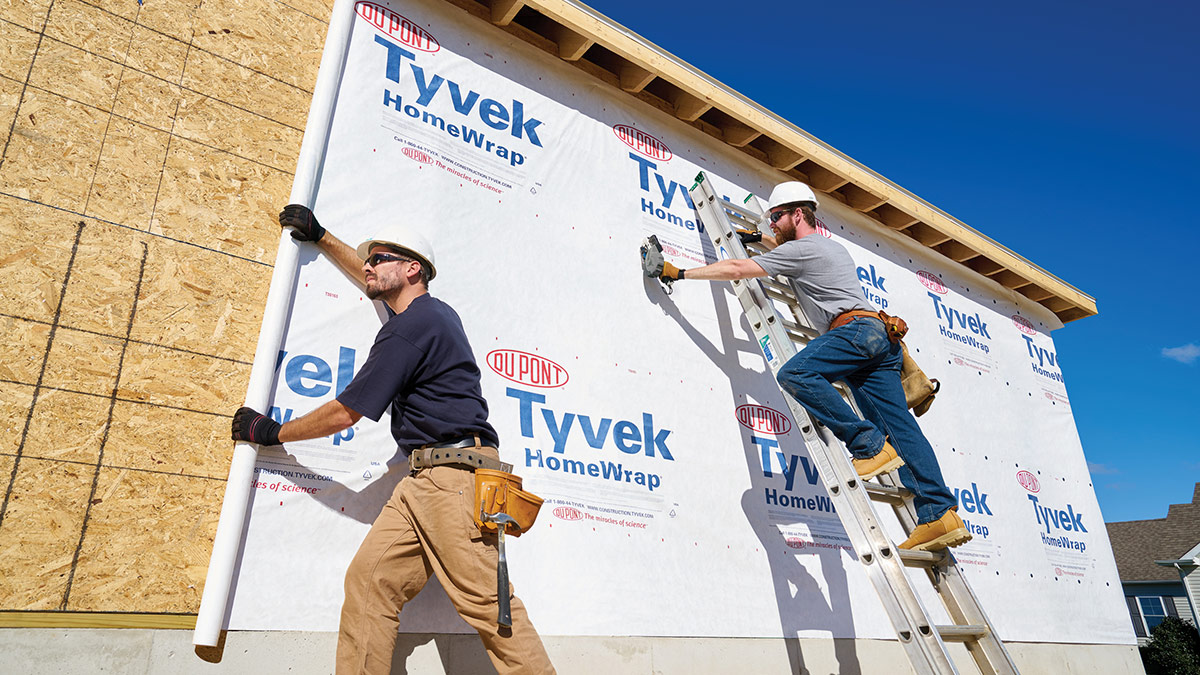 DuPont Tyvek Homewrap
For a while it seemed that the brand name "Tyvek" was used synonymously with "housewrap." This is because it was the first synthetic product to hit the American market, long before a WRB was required by the International Residential Code (IRC). Tyvek HomeWrap is nonwoven, nonperforated, high-density polyethylene. It has a perm rating of 56, one of the highest available, and is UV resistant for 120 days. DuPont also offers Tyvek DrainWrap, a slightly less permeable product with vertical grooves that create a drainage plane behind siding; Tyvek ThermaWrap, an insulating WRB; and Tyvek StuccoWrap, a WRB specifically designed for stucco and EIFS systems. A 9 ft. by 150 ft. roll of Tyvek costs $150 at the big box stores (you'll also need fasteners, and maybe tape).
---
Henry Jumbo Tex
In our time of high-tech materials, it seems odd that the only product the IRC lists as a WRB for walls—type 1, #15 asphalt felt—is actually made for roofs. More curious is that today's "felt" is mostly asphalt-impregnated, recycled paper. If you like the qualities that felt has to offer, but want a product designed for walls, you might consider Henry's Jumbo Tex. Made from virgin organic material, Jumbo Tex is asphalt-saturated kraft paper. It meets the IRC's criteria for a WRB, can be used behind any type of siding, and has a higher perm rating than roofing felt. Jumbo Tex is available in 20-minute and 60-minute water-resistive options, as well as two-ply products. Like other felt and paper products, Jumbo Tex needs to be covered quickly as it is not UV stable. Though prices vary regionally, a 40-in. roll of basic Jumbo Tex that will cover 324 sq. ft. typically costs less than $20.
---
Huber ZIP System Sheathing
Huber Engineered Woods introduced ZIP System sheathing around the same time Apple introduced the iPhone. Both were revolutionary. Huber's goal was to lessen the number of steps it takes a builder to sheath a house, install the WRB, and create an airtight envelope. ZIP panels are OSB with a phenolic resin–impregnated covering. Seam-sealing and flashing are done with ZIP System tapes and fluid-flashing products. The panel coating has a perm rating between 12 and 16 and can be exposed for up to 180 days before siding is installed. Huber has since launched ZIP System R-sheathing, which includes thermal control. The cost of ZIP System panels varies regionally and fluctuates with the price of OSB. At the time of writing, a 4-ft. by 8-ft. sheet of 7/16-in. Zip System sheathing costs $16 in Texas and $30 in Connecticut (a roll of tape, enough for eight sheets, is $27 in Texas and $33 in Connecticut).
---
Benjamin Obdyke Hydrogap
The folks at Benjamin Obdyke pride themselves on using the latest building science to develop their products. When they began to develop their first drainable housewrap, they turned to the research of Building Science Corp. to determine the optimal gap. The results of their research and development is HydroGap Drainable Housewrap. Launched in 2011, HydroGap is a laminated product with a waterproof film sandwiched between nonwoven polypropylene layers that provide strength and UV resistance. On the outer surface, HydroGap has rigid 1-mm spacers that create a drainage plane behind the siding. The product is rated at 16 perms and can be exposed for 120 days. You can buy HydroGap direct from Benjamin Obdyke's website. A 5-ft. by 100-ft. roll sells for about $140.
---
Henry Blueskin VP100
Henry has been making sticky stuff for a long time. The company produces a number of tapes, sealants, and adhesives. These products are generally not breathable—but Henry cracked this code with Blueskin VP100, a peel-and-stick water-resistive barrier with a perm rating of 33. Henry won't give away their "trade secrets" and just says that Blueskin has an engineered film with a patented, permeable adhesive. Some substrates and application in certain temperatures may require a primer, and you must use compatible Henry flashing products to maintain the warranty, so read the product literature carefully. Henry doesn't offer consistent regional pricing. At the time of writing, a 4-ft. by 100-ft. roll costs about $250 in South Carolina.
---
LP WeatherLogic
To create WeatherLogic, LP Building Solutions applied their SmartSide technology—a water-resistive paper overlay—to OSB panels. When taped and flashed properly, the structural sheathing provides a code-approved WRB. LP's acrylic tape comes in 3 3/4-in. and 6-in. widths for taping seams and flashing windows, doors, and penetrations. Each roll comes with a squeegee to smooth and bond the tape to the substrate. WeatherLogic is currently only available in 7/16-in. panels approved for walls, but LP plans to release roof sheathing, more panel sizes, and more helpful accessories. The product is rated at just over 5 perms and can be exposed for six months. WeatherLogic is so new that it may be difficult to source, but at the time of writing, a builder in Alabama can get 4-ft. by 8-ft. sheets for $15, and a roll of the 3 3⁄4-in. seam tape for $27.
---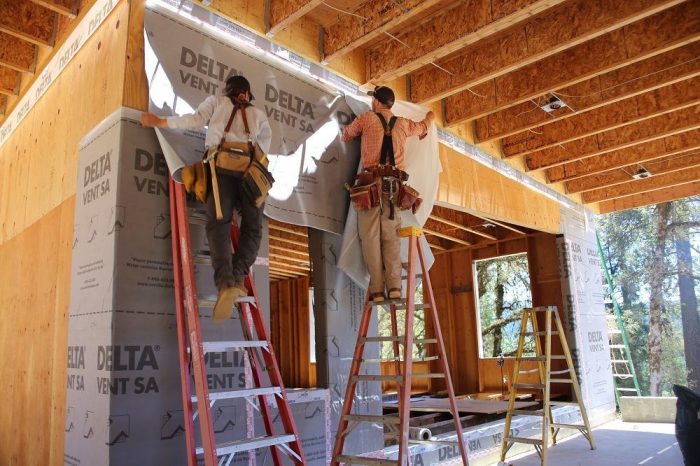 Dorkin Delta-Vent SA
Dorken is a Germany company that proves how far ahead Europeans tend to be when it comes to innovative home-building practices. Dorken started making finishes in 1892, released their first synthetic roofing underlayment in the 1960s, and had a UV-resistant water-resistive barrier for open-joint siding in 1999. Today, their premium WRB is Delta-Vent SA. This layered product has protective spun-bonded polypropylene outer layers protecting a polymeric water-resistive membrane. It has a high 50-perm rating and a one-of-a-kind lap-sealing system. Dorken's suggested retail price for Delta-Vent SA is around $565 for a 4-ft. 11-in. by 115-ft. roll, but they also offer "special project pricing." So, it may be worth a visit to their website to find the sales rep for your region before ordering.
---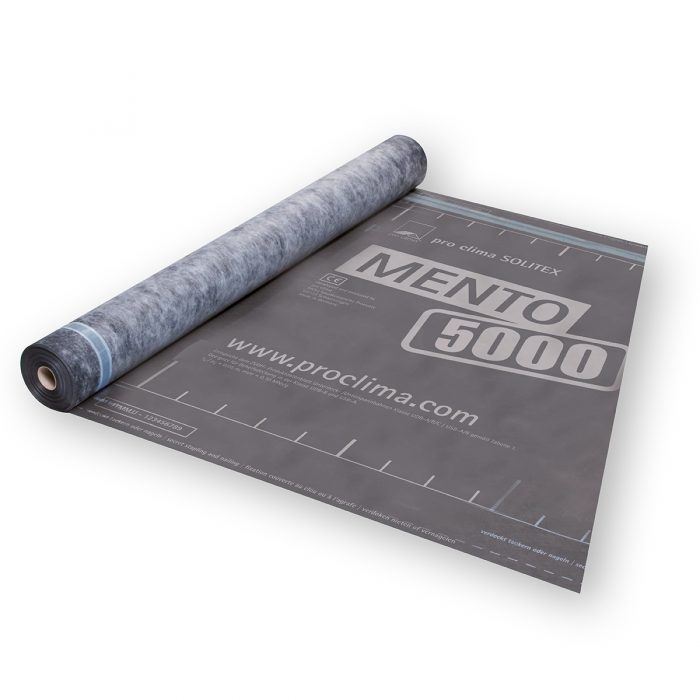 Pro Clima Solitex Mento
Germans like to over-engineer everything from cars to, well, WRBs. Pro Clima is a German company distributed by 475 High Performance Building Supply. Their main line of WRBs, which can be used on walls and roofs, includes Solitex Mento 1000, 3000 Connect, and 5000 Connect. They are all layered products with a polymer blend sandwiched between protective layers and a perm rating of 38. The product numbers represent increasing thicknesses and durability—the 1000 can be exposed for three months, the 3000 for four; and the 5000 for six. When installing a rainscreen assembly over these products, you can use Pro Clima's Tescon Naideck batten tape behind furring strips to create a WRB with no vulnerable fastener penetrations. A 59-in. by 164-ft. roll of Mento 1000 costs $220; 3000 Connect is $280; and 5000 Connect is $350.
---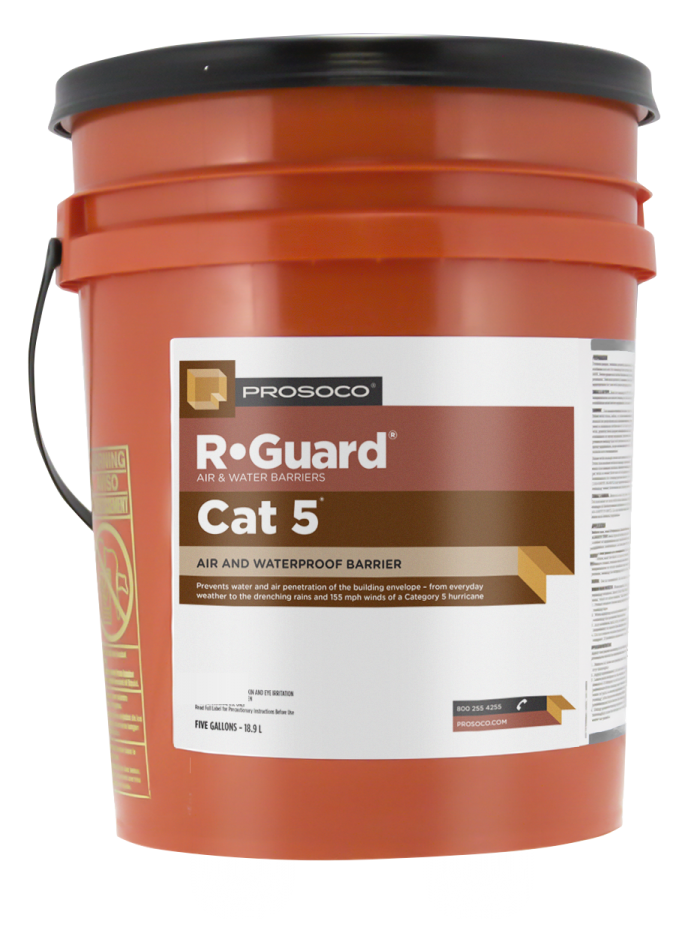 Prosoco CAT 5
Prosoco claims to test their fluid-applied water and air barriers to failure in high-rise commercial construction, so they feel confident in the performance of their entire line. Their most durable product, Cat 5, is a silyl-terminated polyether that is rolled on to the substrate. Because it is moisture-activated and rated at 18 perms, Cat 5 can be applied to wet surfaces. It can be exposed for up to a year. Cat 5 works in tandem with Prosoco's fiber-reinforced Joint & Seam filler and fluid-applied FastFlash. Many jobs will only require one coat of Cat 5, though two is recommended for OSB sheathing. In Denver, a 5-gal. bucket of CAT 5 costs $560 and covers up to 500 sq. ft., depending on the substrate. A 20 oz. tube of Joint and Seam filler costs $35 and covers up to 60 linear ft. A 20-oz. tube of Fast Flash costs $25 and covers up to 17 sq. ft. Prices may vary regionally.
---
Originally published on GreenBuildingAdvisor.com.
Read more on water-resistive barriers:
The Complicated Role of a Water-Resistive Barrier
Keeping Water Out of Walls: Housewrap and Beyond
Previous:
Keeping Water Out of Walls: Housewrap and Beyond
Next:
WRB FAQ (That's Water-Resistive Barrier)