Vapor Barriers vs. Vapor Retarders
Learn the difference between these two forms of moisture control.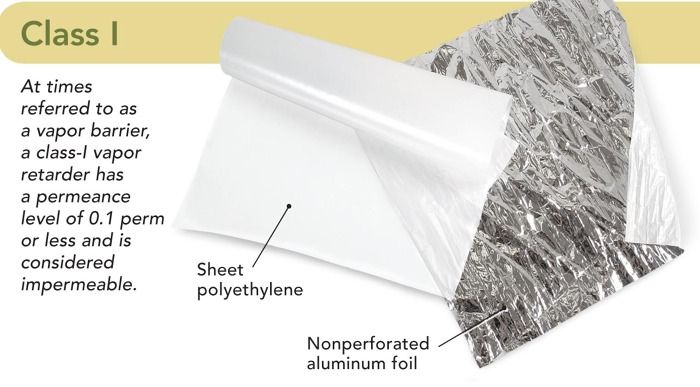 You don't have to be a building-science expert to know that trapped moisture is bad for houses. To help slow moisture diffusion through roof, wall, and floor assemblies, many experts — and in some parts of the country, building codes — recommend the use of vapor retarders.
More recently, builders have been urged to pay strict attention to sealing air leaks rather than worry too much about vapor diffusion. Even so, in very cold parts of the country, a vapor retarder may still be a part of a wall assembly.
Across the building industry, however, the term vapor barrier is commonly used in place of vapor retarder. This misuse raises the question of whether the two terms categorize the same products and whether those products have the same performance traits.
Understanding perm ratings
Permeability, which is the amount of moisture that can pass through a material, is measured in perms. The lower the number,  the less permeable the material and the more moisture it will block. Contact the manufacturer to get the perm-rating information for the product you are thinking about using.
If you want a more technical definition of what constitutes a "perm," you find it here. The Building Science Corp. also offers some useful information on understanding how vapor barriers work.
Vapor retarders are all-encompassing
The International Residential Code (IRC) defines a vapor retarder as a vapor-resistant material, membrane, or covering with a  perm rating of 1 or less. However, the 2007 IRC supplement recognizes some materials that have ratings of 1 perm and higher as vapor retarders. Based on their perm rating, building products fall into one of three classes of vapor retarder.
The IRC does not mention vapor barriers, but some manufacturers and some people in the building-science industry use vapor barrier to distinguish a class-I vapor retarder, or an impermeable material.
Why terminology is important
As building science progresses and increasingly influences the way houses are built, attention to detail and accuracy are critical. An  assembly that calls for a vapor barrier is designed to stop moisture on one surface — under a concrete slab, for  example — while more permeable vapor retarders allow some movement of moisture. If walls, roofs, or floors are built with the wrong vapor-retarding products, a structure can trap moisture. Misusing these terms leads to confusion in product  choice, which ultimately can lead to failure where it matters most — in your home.
More on vapor barriers:
Vapor Barriers Are a Good Thing, Right? – Builders once installed polyethylene plastic on the inside of exterior walls to stop the flow of moisture into call cavities in the winter. Now building scientists question the practice.
Do I Need a Vapor Retarder? – Most buildings don't need polyethylene anywhere, except directly under a concrete slab or on a crawlspace floor.
Air Barriers Are Essential for a Modern, High-Performance Home – Controlling air movement through walls and ceilings is a key step toward comfort, energy efficiency, and building durability.
Previous:
Successful Vapor Control
Next:
Vapor: Pressure, Permeance, and Permeability