How-To
Why You Need Blower-Door Testing
Understanding where structures leak is the first step toward building tighter, more energy-efficient homes.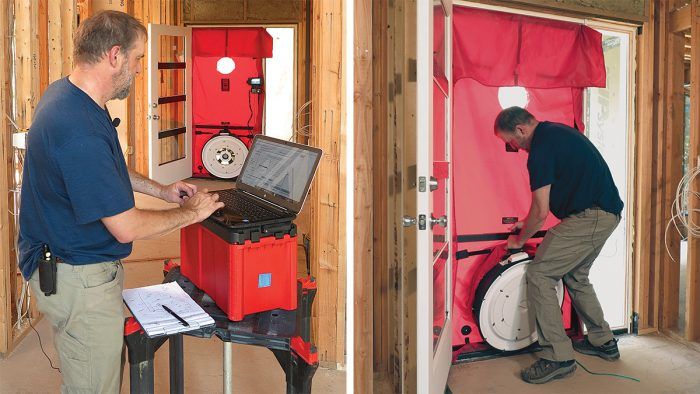 Synopsis: A blower door's main purpose is to test the integrity and continuity of the air-control layer, or air barrier. Conducting a blower-door test can also help achieve code compliance, prep your home for an energy audit, and more. The process involves measuring your home's interior and exterior, assembling the door, running the test, and finding leaks using a smoke pencil, an infrared camera, and/or a fog machine. In this article, energy auditor Randy Williams walks through the ins and outs of the blower door and how to conduct a typical test.
---
I bought my first blower door in 2009, when new construction was in a downturn and energy auditing and weatherization projects were on the rise. I took a 40-hour course in energy auditing at a local college that included hands-on blower-door training. It took many tests before I became comfortable using it and understood the information it was providing. Though it's one of the more expensive tools I own, I've been able to keep it busy and to add this specialized testing to my business's income stream—as well as improve the airtightness of my own projects.
The main purpose of a blower door is to test the integrity and continuity of the air-control layer, or air barrier. The test is conducted by either pressurizing or depressurizing a building to a specific pressure, typically 50 pascals, and measuring the cubic feet per minute (cfm) of air moving across the fan. The cfm can then be added to a formula to calculate the air changes per hour at 50 pascals (ACH50). For the house shown in the photos, we were checking airtightness and looking for leaks before the walls were insulated, but there are other reasons to perform blower-door tests. What follows is an explanation of how the process works.
5 Reasons to Run a Blower-Door Test
Code compliance
Recent versions of the building code require new homes to achieve a certain level of airtightness. Depending on location, a test result of 3 or 5 ACH50 is likely required.
Pre- and post-remodeling
There may be opportunities that can be shown with the test to improve the performance of an existing home during a remodel. You can also determine if changes will hurt indoor-air quality or cause backdrafting of fossil fuel–burning equipment.
Energy audits
An energy audit is an inspection and analysis of energy flow in a building. Outside air moving through a home affects heating and cooling costs; testing can determine how big an effect air leaks have on these costs.
Ensuring energy goals
A home may have a target airtightness level to achieve design goals. One or more tests during construction will confirm if the home is on track to meet these goals.
Air-sealing
Blower doors can help find leaks in new and existing homes so they can be sealed. Theatrical fog and infrared cameras are often used in conjunction with a blower door to find leaks.
Equipment for measuring airflow
There are two manufacturers making blower-door test equipment in North America—The Energy Conservatory (TEC) and Retrotec—and their designs are similar. There's an adjustable frame that fits in most door and some window openings, a nylon panel that fits over the frame, a powerful fan with adjustable flow rings or range plugs that change the size of the fan opening, and a manometer that measures pressure and airflow.
The latest versions of both companies' manometers are very versatile and intuitive. Basically, they are small computers designed specifically for blower-door testing. Both offer several different ways to control the equipment, simply with the manometer and speed control or by connecting to a computer, tablet, or smartphone. When connected to a device, software supplied by the two companies will control the test and also generate a test report.
Preparing inside and out
I always follow the same procedure when preparing for a blower-door test, which prevents skipped steps. I start by walking the exterior of the home. This gives me an idea of the shape of the structure, which may not always be evident from the interior. While on the outside, I look for any penetrations through the air barrier, which will be the most likely spot for air leaks.
After moving inside, I follow the same process of inspecting the home, taking note of potential problem areas and checking all windows and exterior doors to make sure they're closed. All interior doors within the conditioned space of the home must be open. Doors separating conditioned and unconditioned parts of the house, access panels, and attic hatches should be closed.
I turn off any heating and cooling equipment, fossil fuel–burning equipment, exhaust fans, and dryers. I leave my car keys near the controls so I can't leave without turning this equipment back on. I also make sure any fireplace or woodstove fire is out and that any ash is cold and contained; otherwise, it could be sucked into the living space.
Randy Williams is a builder and energy auditor based in Grand Rapids, Minn. Photos by Travis Brungardt.
From Fine Homebuilding #304
To read the entire article, please click the View PDF button below.
---
RELATED LINKS
View PDF
Previous:
Blower Door 101
Next:
How to Set Up and Use a Blower Door