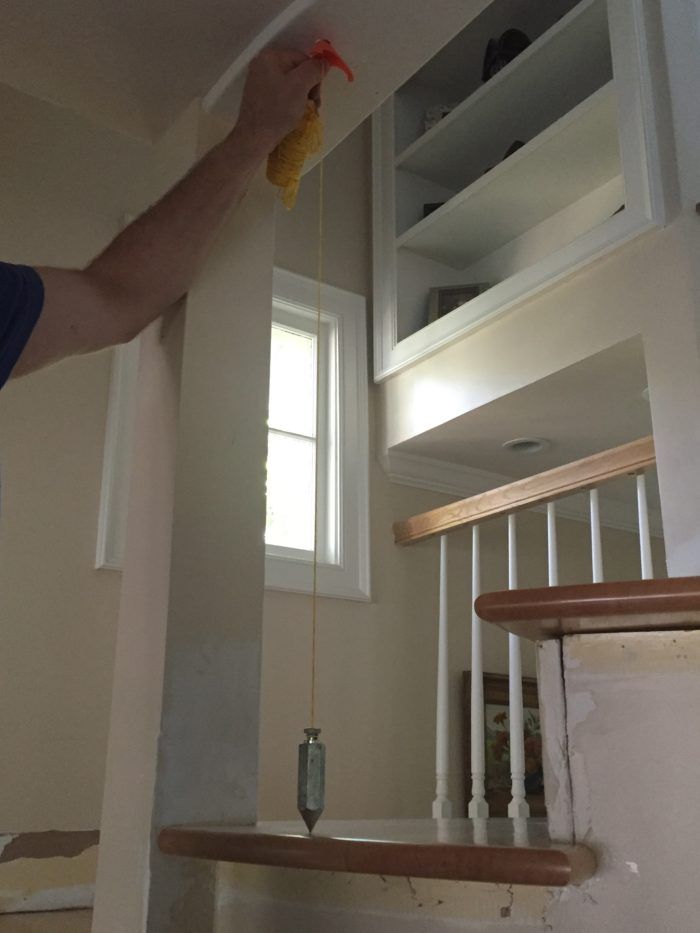 A recent stair renovation project required extra thought on how to plumb balusters.  I had existing holes where the top of the balusters would land and needed to drill holes in the new treads for the balusters to mount plumb.  I knew I needed to drop a plumb bob from the center of the upper baluster holes to mark the center for lower how to be drilled.  I decided the best way to find the center of upper baluster holes was to make a cone, drill a hole for the plumb bob line to pass, and when the cone was inserted into the upper baluster hole I would know that the plumb bob would be aligned with the upper hole center.  I was about to turn a cone on lathe when I noticed a stack of painters tripods (Photo 2) on my bench.
I drilled a hole through the center of a painters tripod, threaded the plumb bob as shown in (Photo 5), and was off to mark my lower baluster hole centers – (Photo 4).  After plumbing up about 5 balusters my had was getting tired from holding the painters tripod.  So, I add a shim to setup, as seen in Photo 2.  The shim made the device much easier to hold and I was able to mark out with ease.  (Photo 1) shows another view detailing that the painters tripods have somewhat flat sides, making it easy for the plumb line to be adjusted while the tripod is in place.
I hope someone else finds this as helpful and time saving as it was for me.