Sponsored Post
Details Crafted by Fypon Give Fort Wayne Development Distinct Character
Polyurethane crossheads, corbels, columns, and other millwork items made by Fypon offer a custom look.
Sponsored by Fypon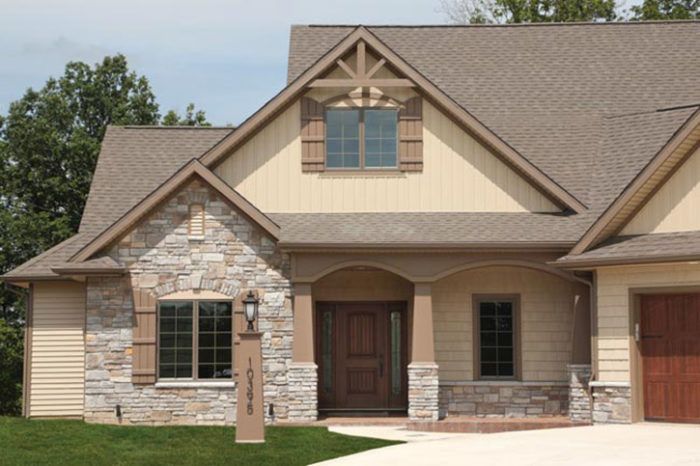 Driving through the Cottage Park development, you'll notice that each of the homes have a custom look — a signature of Quality Crafted Homes' design and construction, enhanced by Fypon products.
The polyurethane crossheads, corbels, columns and other millwork items made by Fypon help the family-run building company craft the Fort Wayne neighborhood's distinctive ranch and villa-style homes. In addition to providing the ideal design aesthetic, Fypon's low maintenance products offer peace of mind for the homeowners and the company, who have now used Fypon products for nearly two years.
"Fypon's products have helped us create a beautiful exterior that translates the homeowner's personality and style," said Quality Crafted Homes' Interior Designer Jhonelle Kees. "They are the perfect finishing touches to our custom homes."
Quality Crafted Homes originally found out about Fypon when researching corbels and columns to be used. Fypon offers corbels, columns, and other moulding and millwork products that can be stained or painted to match a home style. Fypon polyurethane moulding that is utilized on the exterior of homes can stand up to wind, rain, and snow – eliminating the need for callbacks and giving builders like Quality Crafted Homes peace of mind.
"Saving time on the job is one of the many reasons we use Fypon," said Tyler Kees, business development, Quality Crafted Homes. "The product comes to us ready to install out of the box. All that's left to do is paint it. To be able to rely on a product like Fypon helps us speed installation time up so we can keep the job rolling."
Tyler mentioned, "One of the things we hear the most from our customers is how they want as little maintenance as possible. With Fypon, we aren't sacrificing style by not using wood. Instead we are saving time, and putting a product on that is designed for our home. It offers the look our customers come to us for, with the less maintenance concern they so desire."
Quality Crafted Homes builds an average of 20 custom homes each year, and completes everything from the floor plans, architectural design, interior design, financing and will even sell the customer's previous home if necessary. When it comes to integrating Fypon into architectural and floors plans, Greg Munster, Quality Crafted Homes' draftsman, chief technology officer, said having Fypon in the CAD system has been great.
"Our most commonly used Fypon products are the corbels, brackets, columns, and gable vents. We use these on almost every house we build," Greg Munster said. "Plus, having the product already drawn out is great … I can pull up the product I am looking for, size it to the home I am working on, plug it in and go."
While Quality Crafted Homes hasn't used Fypon products on the interior of any homes to date, several products including moulding, decorative millwork, and more are available. Learn more about Fypon's complete product line at http://www.fypon.com/products/.