Sponsored Post
Tools & Materials
Electric Floor Warming and Uncoupling in A Single Layer
These underfloor systems can work with almost any floor covering.
Sponsored by Schluter Systems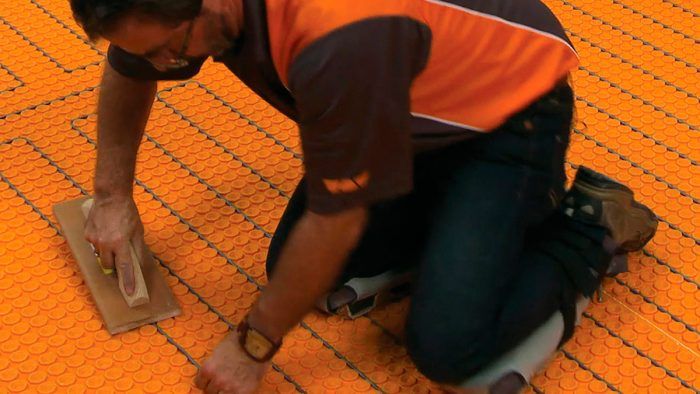 Floor warming systems are growing in popularity as a luxury feature in new residential homes. These systems are capable of keeping occupants warm from the ground up—literally—and can help avoid cold spots or other inefficiencies associated with traditional radiators.
More Even Distribution
Electric-based systems use wiring beneath flooring to generate heat, distributing it evenly throughout a room. As they are out of sight for the homeowner, floor warming systems can provide added comfort to occupants, as well as negate the urge to purchase bulky space heaters during cold winters.
Efficiency and Savings Over Time
For the most part, these systems, especially newer ones, consume less energy than conventional products and can run more efficiently. They can be particularly useful when paired with flooring surfaces such as stone and ceramic, which are naturally cool to the human touch. Additionally, some homeowners may choose to set their overall heating system to a slightly lower level due to the comfort and warm air emanating from floor heating. While initial costs may cause some to overlook the benefits of installing floor warming systems, their energy efficiencies and cost savings over time can help convince homeowners of their comfort and appeal.
Floor Warming and Uncoupling
These underfloor systems can work with almost any floor covering, but ceramic and stone tiles are ideal as they are both durable and hygienic. They are also excellent conductors of heat, so the heat from the cables is transferred very effectively into the floor.  Many existing floor warming systems on the market, however, do not directly address the potential for cracks in tiles and grout.
When a floor assembly experiences the frequent changes in temperature caused by a floor warming system, this causes stresses in the tile coverings. As materials continually expand and contract, floors become susceptible to cracking unless proper uncoupling is installed. Current methods for installing floor warming systems, however, require two separate products to be installed: the system itself and the uncoupling layer. Installation time may also take longer, as contractors would need to wait for self-leveling compounds to set before tile coverings can be placed.
The DITRA-HEAT system combines both Schluter Systems' uncoupling technology with electric floor warming into a single layer, thereby offering contractors and homeowners an opportunity to install heated flooring in a faster, more efficient manner—and without the susceptibility to cracking in the tile or grout. The first electric floor warming system to incorporate uncoupling directly, DITRA-HEAT works by snapping the heating wires on top of the uncoupling mat, where it is held securely.
Since the warming cables are secured in the mat, the system does not require any leveling compounds, meaning tile flooring can be placed much more quickly. The cables can also be placed according to any customized specifications by the homeowner, creating opportunities for desired warming zones in a room without worrying about height differences in the floor.
Like the original DITRA uncoupling membrane, DITRA-HEAT serves as a waterproofing layer to protect substrates, as well as provides load distribution for support, ensuring flooring remains intact regardless of the activity above and below it. The system performs the same functions as the DITRA membrane in addition to electric floor warming and is available in rolls and sheets to accommodate rooms of varying sizes.
See how they are incorporated the system in the Kentucky house and learn more about Schluter floor warming systems.