Sponsored Post
Minimize Fasteners With Loctite PL Premium MAX
Remodeler Tyler Grace demonstrates the strength and durability of Loctite's strongest construction adhesive on built-ins and planter boxes.
Sponsored by Loctite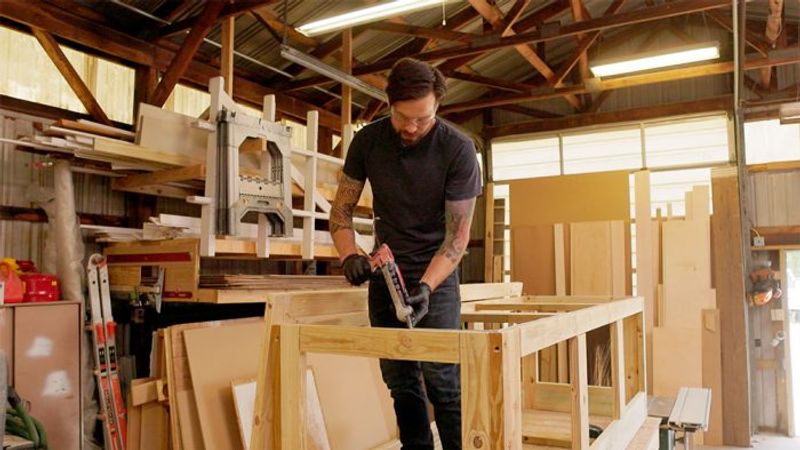 While working on a custom mudroom renovation that involves a bunch of built-ins, remodeler Tyler Grace uses Loctite PL Premium MAX to guarantee a long-lasting installation for the cabinet end panels and walnut countertop.
The roughly 6-ft. by 18-in. end panel that's going on the side of the cabinet box needs a heavy duty, durable bond to keep it firmly in place and to avoid warping. PL Premium MAX has a 20-minute reposition time, giving the installer a window of time to tweak positioning, and it fully cures in 24 hours.
Tyler also leans on construction adhesive when things will be very visible. Any exposed fasteners, especially in natural window light, are going to be obvious, so PL Premium MAX in combination with back-screwing just a few trim screws will hold the panels tight.
Next, Tyler works on adhering a 2-in. thick walnut countertop to the cabinet. PL Premium Max cures 100% solid, which means no air pockets and no voids. And PL MAX works just as well on other materials, such as stone or Formica, as it does on wood.
To apply, Tyler lays beads along the edge of the cabinet box and larger globs on the front and back cleats. This essentially serves as a wet shim. Because the top is a large piece of lumber, it's not exactly flat, so the adhesive will soak up any voids. He also screws the top in from the bottom so that over the long term, if this wood ever shrinks, expands, or contracts, it will be held nice and tight with the adhesive and not necessarily the screws.
Tyler also uses PL Premium MAX to build planter boxes that will be exposed to the elements outside. The planter box is built out of pressure-treated lumber and it's not exactly flat. This adhesive is Loctite's strongest, most durable waterproof adhesive. It can be used if the wood is wet, in freezing temperatures, and extreme heat. But you do want to make sure that your wood or lumber is seasoned.
To assist the installation, Tyler fastens pocket screws to clamp the skirt to the pressure-treated cap until the adhesive cures. After it cures for around 24 hours, he'll cut and install the corrugated steel.