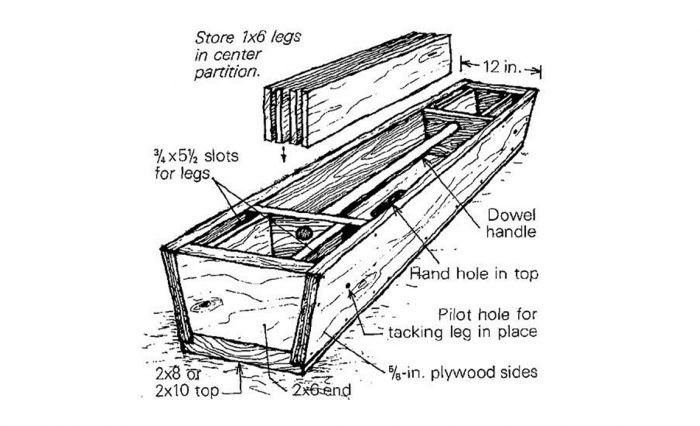 I like the convenience of knock-down sawhorses. The commercial ones are generally too flimsy, and their small legs sink into the mud after you've got them loaded. After a lot of experimentation, here's how I build a strong, compact, stackable knock-down sawhorse that doubles as a toolbox (see drawing).
I use a 2×8 or 2×10 for the top. This gives me a bench surface that I can work on or set my miter box on. I cut a hand hole in the top for moving the horse around when it's set up.
The end caps, central dividers and interior leg supports are 2x6s. The dividers hold a dowel that serves as a handle when the horse is disassembled and inverted. The compartment that is formed by these dividers should be the length of the legs so that they can be stored there, along with a few tools that you want to bring along.
The slots for the legs are 3/4 in. by 5-1/2 in., a snug fit for the 1×6 legs. I drill a pilot hole through the legs and the 5/8-in. plywood sides so that I can use a 16d nail to hold the legs to the body of the sawhorse when it's in use.
I cut different-length legs for different tasks, and I build different-width horses as well so that they stack easily. Aside from being slightly heavy, there's only one drawback to these sawhorses — you can't leave them on the job.
—George M. Payne, Olney, MD
Edited and illustrated by Charles Miller
From Fine Homebuilding #9