Tools & Materials
Table-Saw Tools
Simple jigs that turn a table saw into a safe and precise crosscutting tool.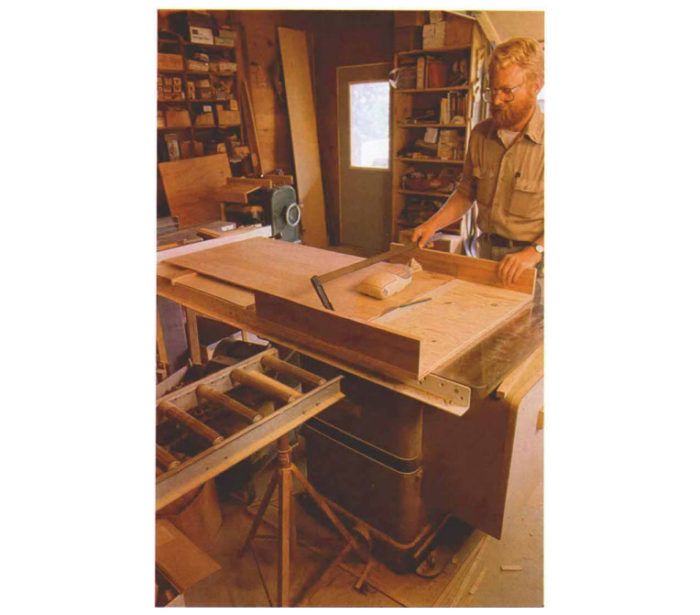 Synopsis: The author details three useful jigs for a tablesaw: a sliding cutoff box for making crosscuts, a jig to produce straight edges on boards with curved edges, and a jig to make scarf joints.
Carpentry is just plain fun, from the first batter board to the final cabinet pull. I must admit, though, that trim carpentry and cabinetry are my greatest satisfactions. The client meetings, site explorations, hours of drawing and days of organizing, scheduling, pouring and framing are all past by then. If all has gone well, the final trimming and fitting provide a suitable ending to the job.
Most of our work features wood that has a clear finish of some sort, and that means there's no place for sloppy joinery. Naturally, clients appreciate good joints, so I create a fairly complete temporary shop on any moderate-size to large-size job. While the shop might include a jointer, radial-arm saw, drill press, a work bench and shelves for tools and materials, the heart of the shop is the table saw.
The saw we take to most jobs is a 10-in. Rockwell contractor's saw fitted with a 50-in. capacity Biesemeyer fence. A long extension table plus several sets of roller track and roller-track stands complete the setup. Roller track is available from virtually any supplier of materials handling products — check your phone book. The saw is tuned as well as possible, but that alone does not account for the accuracy I've been able to wring from the tool. I have devised several sliding tables that have greatly increased the precision of the table saw, and thus my use of it. The three I use most I call the sliding table, the straight edger and the board stretcher. Each one of these makes use of the existing miter-gauge slots in the saw's table and can be built relatively easily. If you have more than one tablesaw, however, you'll probably have to make sliding tables for each one of them. From saw to saw, there's usually just enough variation in distance between blade and slots so that sliding tables aren't interchangeable. And before making any jig for your saw, verify the saw's accuracy.
Tuning your saw
If the saw blade and the fence aren't aligned properly, no jig is going to improve your work. To see if the arbor is running true, I check it with a dial indicator. I have one with an adjustable arm that's mounted to a magnetic base (L S. Starrett Co.). To use it, I affix it to the table, set the gauge close to the arbor and slowly rotate the arbor shaft to get high and low readings. Adjust the arbor as needed.
For more photos and details, click the View PDF button below:
View PDF