How-To
Cutting Against the Grain
These simple techniques will help you to make cross-grain sawcuts that are smooth as silk.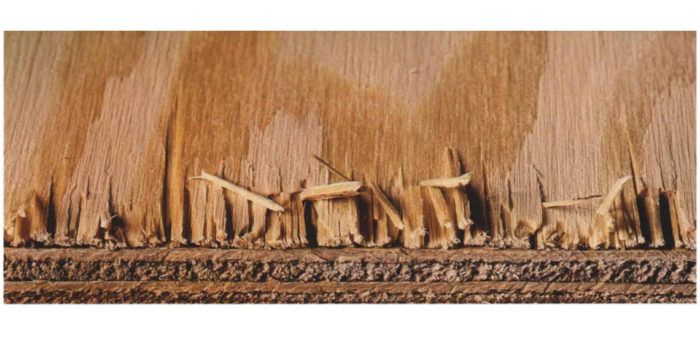 Synopsis: Here are several techniques that help prevent splintering in cross-grain cuts, especially troublesome on sheets of plywood with thin top veneers. Among Larry Haun's suggestions: a shop-made shootboard, a simple metal flange for a circular saw, and anti-tearout blades for a jigsaw.
I remember the first door I was allowed to hang as an apprentice carpenter in the early '50s. We were doing finish work in a large custom home, and my task was to haul things around and nail in some of the pieces that the journeymen were cutting and fitting into place. They had installed a number of doors, and toward the end of one day, the foreman allowed me to hang a simple veneered door in a back room. I did great, except that I forgot to score the veneer before cutting the door to length. The splintered edge I left behind marred an otherwise commendable effort. Well, I learned the hard way, but nobody should have to. Cutting across the grain of a door or a sheet of plywood without messing up the edge can be done successfully with minimal fuss. The simple solutions I'll describe here can also minimize problems when cutting other materials, including particleboard, Masonite, and plastic laminates.
First, the sawblade
One solution couldn't be much simpler: Choose the right blade for the material you're cutting. The teeth of a sawblade tend to break slivers from the surface of the material being cut, and the wrong blade makes the problem worse, resulting in a ragged edge instead of a smooth one.
Carbide circular-saw blades with a triple-chip grind (TCG) and 40 teeth leave a clean cut on hardwoods, particleboard, and plastic laminates. A sawblade with an alternate-top-bevel (ATB) grind—mine has 36 teeth—works well on plywood. Like any cutting tool, sawblades work best and leave a cleaner cut when they are sharp.
When cutting with any blade, especially when you want an absolutely straight cut, clamp a straightedge to the work to act as a saw guide. Edge chipping is minimized when the sawblade doesn't wobble in the cut. You can use all sorts of things as straightedges (as long as they're straight), but I use a store-bought 50-in.-long aluminum edge that easily clamps to the stock. It's a simple and easy-to-use device that locks in place as you push a lever on one end, and the integral clamping mechanism adjusts to various widths.
Manufacturers also make jigsaw blades that minimize tearout. Bosch, for example, offers one with a reverse-tooth configuration that leaves a chip-free upper surface when cutting plywood or plastic. They also have a plastic insert that fits into the shoe of any Bosch jigsaw. The insert snugs up to the blade tightly and holds down veneers as they're being cut.
For more photos and details, click the View PDF button below:
View PDF