How-To
Installing Mortise Locksets
Whether you drill and chisel or rout with an expensive lock mortiser, cutting a big hole for the case is only part of the job.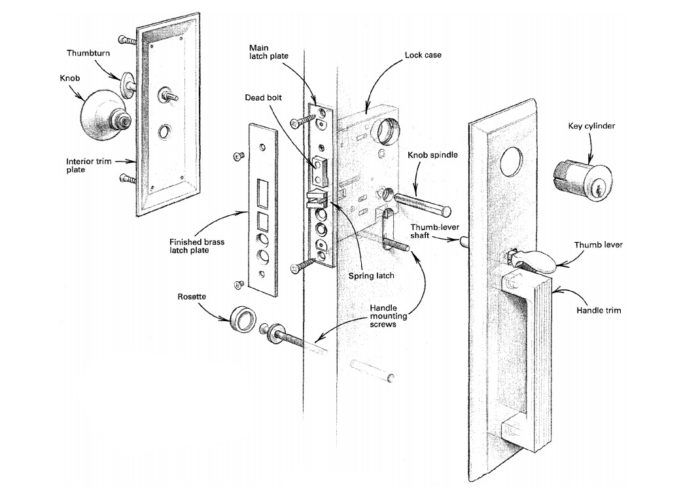 Synopsis: This is a thorough guide to installing a traditional mortise lockset, written by an experienced trim carpenter and door hanger. It explains how to use either hand or power tools to safely cut the deep mortise in the edge of the door and then add the trim, lock, and strike plate. A good primer on this disappearing art.
Mortise locksets are generally considered to be the Cadillacs of door hardware. That's because their larger cases are stronger and wear longer than bored locksets and dead bolts. And because the spring-latch and the dead bolt are housed together, they can be interconnected. For example, some mortise locksets require only one key to retract both latch and dead bolt at once. But mortise locksets are also expensive and difficult to install.
Installing a mortise lockset involves lots of precise drilling. There's the deep pocket, or mortise, in the edge of the door and another mortise in the jamb. There are holes of various sizes on both sides of the door for the knobs, the handles, the levers and the dead bolt, and these holes have to line up precisely. It's possible to do all this drilling freehand, but this article will focus mostly on the tools that speed mortise-lockset installations.
Premortise
The first thing I do when I install any mortise lockset is to figure out the handing of the lock. Holding the lock case with the dead bolt up and looking at the taper of the spring-latch indicates whether the lock was meant for a right-handed door or a left-handed door. Don't unscrew the lock case and try to switch the handing of the lock unless you want to end up with a pile of parts.
Next I measure the backset of the lock case and the width of the door's lock stile. Backset is the distance from the latch plate to the center of the knob-spindle hole. A mortise lockset with a 2 3/4-in. backset is too wide for the 4-in. lock stile of a standard French door. If the lockset has a 2 1/2-in. backset, I measure the lock stile anyway. Some carpenters install doors by hinging them, then planing the lock stile to fit it. The more a lock stile has been shaved, the easier it is to mortise completely through the wood.
Various handles, knobs and levers are available for mortise locksets. Handle trim sets with thumb levers are common on entry doors, but I always check the trim set that comes with each lockset. You don't want to drill for a handle trim set, then reach into the carton and unwrap a knob. Knob and lever trim sets will not cover the holes drilled for a handle trim set.
For more photos, illustrations, and details, click the View PDF button below:
View PDF