Tools & Materials
Tools on Board
A builder's truck or van is a mobile workshop. Here are five approaches to making the most out of that valuable space.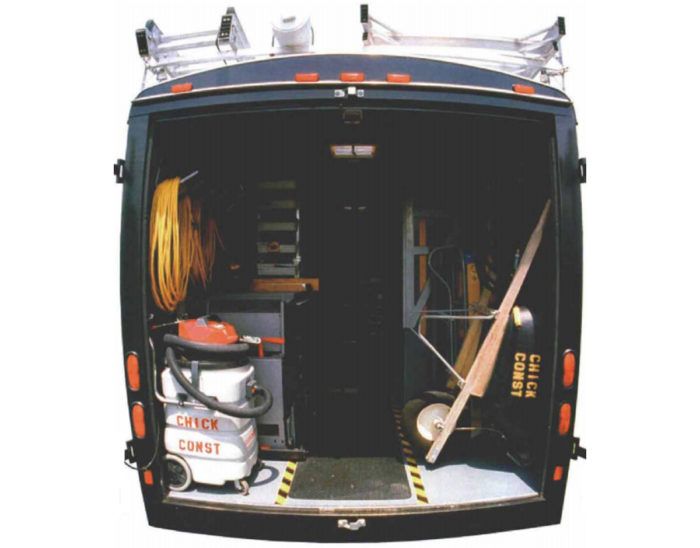 Synopsis: This article takes a peek into the vans and trucks belonging to five different contractors around the country, showing how each has organized tools in an efficient but portable workshop. It's chiefly a visual presentation of interesting ideas but it does include a few specifics on how they did it.
Count the times you've spent looking in your truck tor a tool or box of screws that you know you had, only to give up and make an unscheduled trip to the hardware store. If you're a builder, especially one with a small business, materials organization is probably as important a skill as bidding or managing subcontractors. If you have a lot of small jobs, you're not going to have the time to set up on site and will end up working out of your truck. An organized truck will save you time and money.
Most experienced builders seem to have a system. Some carpenters buy a ready-made service body for their truck. Others will build their own setups to save money or to get exactly what they need. Pulling up to a job with a carefully organized, custom-built workshop speaks volumes about your expertise and commitment to your trade.
I recently visited five builder/carpenters who have designed and built tool-storage systems on their trucks. Like a lot of other carpenters, all five wear a variety of hats throughout the week and need a setup that allows them to be flexible and still be organized. Some of the designs are ornate, some are plain, but all are creative solutions to a common problem.
A trailer big enough to hold a hardware store
Mark Chick: I've been a general contractor for 14 years now. At first, I just used a pickup. But eventually, I realized I could improve my work with a trailer. If the trailer were organized and well stocked, I could haul it to a job, leave it there and use the truck to meet a client or file a building permit. I ordered a 20-ft. closed cargo trailer from Pace America. It has a 7,000-lb. capacity and is painted the same shade of red as my truck. I settled for a 7-ft. width interior; an 8-ft. interior is available, but the extra 12 in. makes the trailer harder to maneuver. I also specified a side-access door, roof vents for ventilation, five interior dome lights and power outlets. When the trailer is parked, I use a heavy-duty extension cord to connect it to the handiest power source. In a pinch, I can even use the trailer as a small workshop.
To organize tools and supplies, I bought used steel bins and file drawers from an office-supply store and shelving from a local truck-and-van interiors distributor and installed them myself. I also beefed up the shelves with 1/2-in. plywood to keep them from racking. To keep cabinet drawers closed while the trailer is moving, I mounted spring hinges and a length of angle iron across the drawer fronts; the angle iron snaps out of the way when I use the drawer.
For more photos and details, click the View PDF button below:
View PDF