Design
Screening the Hearth
Find a well-made screen that fits your fireplace, suits your décor and keeps sparks at bay.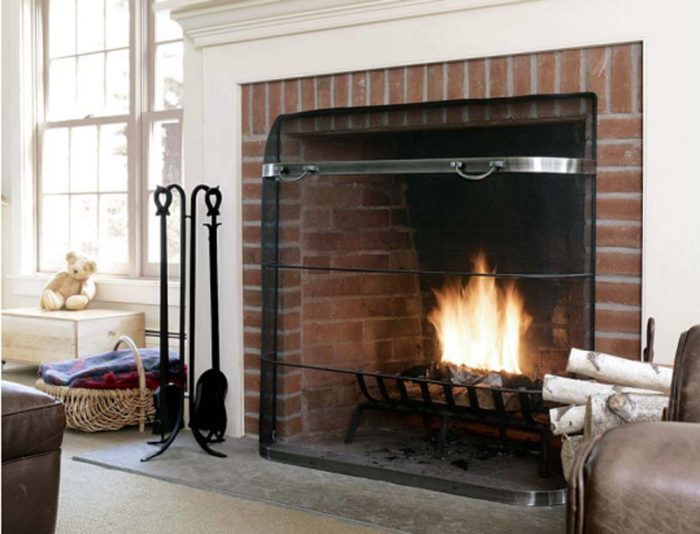 Synopsis: If you have a fireplace, you probably need a fire screen—even if you don't light fires. A well-made, well-fitted screen keeps sparks and embers where they belong, of course, but it also completes the look of the hearth. Not all screens are created equal, though, so author Mary Forsell surveys the field and speaks with experts to help you find a screen in keeping with the style and sensibility of your home.
On a chilly night, there's nothing more relaxing than a crackling fire, unless, of course, you're worrying about flying sparks burning holes in your carpet. A fire screen can prevent this from happening. And although a fire screen is designed to protect your home from damage, your biggest decision in selecting one is apt to be influenced more by style than by function. The fireplace is a room's focal point, so naturally the screen you put in front of it is going to significantly impact—perhaps even transform —the space. A well-chosen screen can create the right ambiance, whatever your decorating style. Burnished metals add warmth or brightness, and frame details can lend rustic charm, romance, or elegant formality.
When it comes to keeping embers in their place, you have a number of choices. Most are variations on three basic types—spark guards, single-panel screens, and folding screens—and all are available in styles from colonial to contemporary. Prices are wide ranging, starting at about $100 and climbing to $2,000 for ready-made screens.
A tight mesh stops sparks
Although not all screens protect equally, nearly all those made today will contain sparks adequately. Apart from safety and design, you'll also need to consider quality of materials and construction. The mesh should be rigid and dense enough to contain sparks. Openings of 1/8 inch or smaller provide very good spark protection. Quarter-inch spaces could let some sparks through but still give adequate protection. Keep in mind that a tighter mesh will block more of your view of the flames.
Black steel is the most common mesh material, but tempered steel is better because it will not warp when exposed to the fire. For about $100 more, a retailer can custom-fit brass or copper mesh for you. Although attractive, these materials are more prone to warping and oxidizing.
The frame material dictates the price
A basic spark guard in a stock size in black steel starts at about $100, and folding steel screens begin at around $150. Add a hammered look to the steel and the price climbs to $300 to $800 or higher, depending on the manufacturer.
If you like the look of brass, copper, nickel, or bronze but are on a budget, consider a plated finish over steel for $300 to $600. The downside is that the plating could get scratched or rub off. For about the same price you can get a fire screen that's powder coated. Powder coating is a paint like finish that's durable, highly heat resistant, and available in lots of colors. Powder coating seems ideal for fire screens, but it can also hide potential weak spots such as poor welds or bubbled up areas. By contrast, plating requires a pristine, polished under-surface, so any defects show. Avoid potential problems by getting a lifetime warranty, which is offered by many manufacturers.
For more photos and details on fire screens, click the View PDF button below. 
View PDF