Pipe-Soldering Blast Shield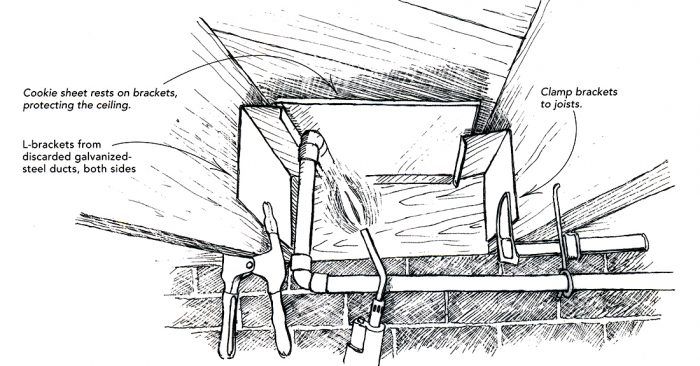 Anybody who has ever sweat-soldered copper pipes at close quarters in a wooden house knows the feeling: The torch flame dances around the fitting, glancing off an old floor joist, and some wood smoke fills the air. Will this solder ever melt?
I don't take any chances when it comes to soldering in a wooden building. I keep an extinguisher on hand, and even more important, I don't let the flame get anywhere near something flammable. As shown in the drawing , I use a pair of brackets to support an old cookie sheet when I'm working overhead. The cookie sheet shields the ceiling, the brackets protect the joists, and the solder can melt whenever it wants without me worrying about it.
Click here to enlarge illustration.
John Carroll, Durham, NC
Edited and Illustrated by Charles Miller
From Fine Homebuilding #176