Tools & Materials
LXT400 Cordless Combo Kit Review
This cordless combo kit from Makita includes four tools that run on 18v lithium-ion batteries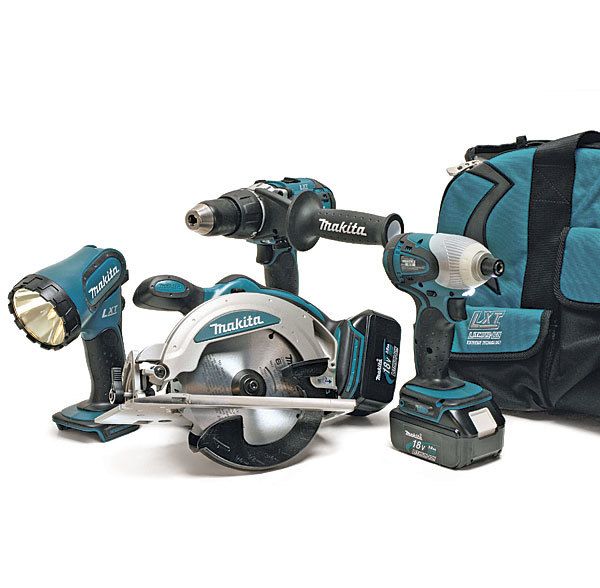 Maybe it's a sign that I'm getting old and cantankerous, but it bugs me when I try a supposedly new tool that's merely a minimally upgraded version of an old one. I guess that's why I like the new LXT series from Makita. They've paired their powerful lithium-ion battery with a set of redesigned tools.
The heart of the LXT system is the 18v Li-ion battery. At the leading edge of battery technology, lithium-ion units offer enormous advantages. The batteries are smaller and lighter; according to Makita, theirs is 40 percent lighter than a comparable NiCd. A Li-ion battery can be charged anytime with no adverse memory effect, and its low self-discharge rate means it won't go flat if it hasn't been used in a while.
Makita predicts a battery life span of 1400 cycles, which is probably optimistic because some cycles are harder on a battery than others. In any case, lithium-ion batteries should last nearly twice as long as NiCds.
The companion 45-minute charger is outstanding. It features an integral fan to cool hot battery packs, a clearly understandable diagnostic system, and a "brain" that talks to a memory chip in the battery to optimize charging.
As for the tool itself, say goodbye to the typically chunky Makita grip. The hammer drill was a pleasure to use. It drove screws as effortlessly as it drilled holes in wood and concrete. The large, well-marked clutch was easy to operate-even while I was wearing gloves- and the metal chuck held bits securely. The only glitches were the mode and speed selectors, which were hard to slide between positions. I initially snickered about the gimmicky LED light that shines just below the bit axis but soon found it to be a handy bonus.
The 6-1/2-in. circular saw was sturdy and powerful, with excellent controls and adjustments. A dust blower kept the cutting line clear, and an LED light aimed at the leading edge of the blade was a genuine help when I was working in any conditions less than bright sunlight. I didn't like the saw's horizontal grip, but the light weight of the battery pack compensated by making the tool easy to handle. The saw's dust chute filled my pants pocket with sawdust, so it's a good thing that Makita offers an accessory adapter for vacuum connection.
Rounding out the kit are a small and effective impact driver, and a work light that runs four hours on a single charge. The entire kit travels in a heavily reinforced bag loaded with pockets; it's the best I've used.