A Bad Connection
Great moments in building history: Working late is never fun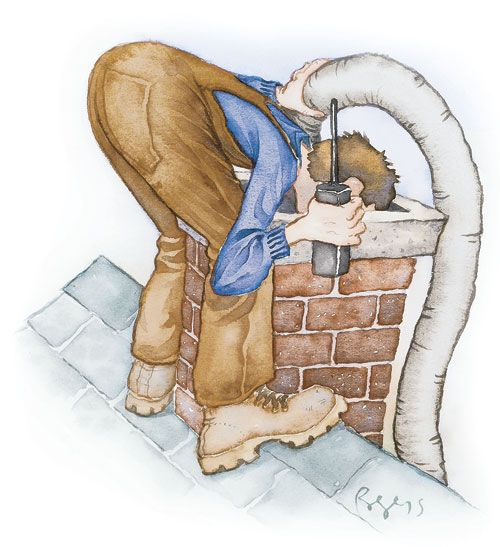 It was New Year's Eve, and we were, naturally, hoping to finish our work early. As it turned out, the customer was a decent guy, but his manner was gruff and a tad suspicious. Given the potential for disaster on this project, not an unreasonable attitude.
We were to create two flues in his chimney: one for a woodstove, one for a gas furnace in the basement. Setup went normally, but clearances in the chimney were tight, so we chose to use metal pipe as the form for the furnace's flue because it required only a 5-in. dia. flue, smaller than our inflatable forms. The pipe would simply remain, encased by cement-based lining material. For some reason, my boss was on hand for this job, and he reconnected the furnace to the metal flue before the pour. He reasoned that we could then simply turn on the furnace as we left, providing heat for the house while the woodstove was out of use. The low temperature of gas-furnace exhaust wouldn't affect the liner material, and it might even help to hasten the liner's cure time.
All went well until the pour got to within 8 ft. of the top, where the level refused to come any higher. This indicated a slow leak somewhere below. I searched the chimney from the attic down, tapping walls, looking for telltale moisture. Nothing. Even the basement looked fine: no puddles of cement oozing out of any cracks. I was baffled. Watching the chimney, I radioed to my partner to continue pumping. Then I heard a small plop behind me. I turned to see a cupful of our lining mix squeeze out of the air intake for the furnace. Fearfully, I rapped on the metal pipe connecting the furnace to the chimney. It sounded solid. I radioed my partner to shut down, then tried to summon the nerve to go upstairs to tell our customer his furnace was full of cement. Happy new year.
The true nightmare followed as we disassembled the furnace and shuttled bucket after bucket of sloppy mix upstairs to the driveway, where we had made a small pool of a tarp and some planks to contain the stuff. On one return trip, I found myself groping through clouds of steam. We had been tapping water from the water heater, and apparently in an effort to keep up, it overheated, venting steam enough to fill the basement. It only added to the hellish task.
Amazingly, we managed to clean up, find the place where pressure had caused a seam in the metal pipe inside the chimney to collapse partially, plug the leak and finish the pour. My boss got to do the intricate cleanup of the inner workings of the furnace, while I was off to celebrate not having made the choice to leave the furnace connected. Our customers enjoyed a night out for the holiday.
—Brian Carter, Concord, New Hampshire
Drawing by: Jackie Rogers