Tools & Materials
Tool Test: 18v Li-Ion Hammer Drills
Three testers, three sets of tools, one common task: Evaluate the flagship drill from each major too brand.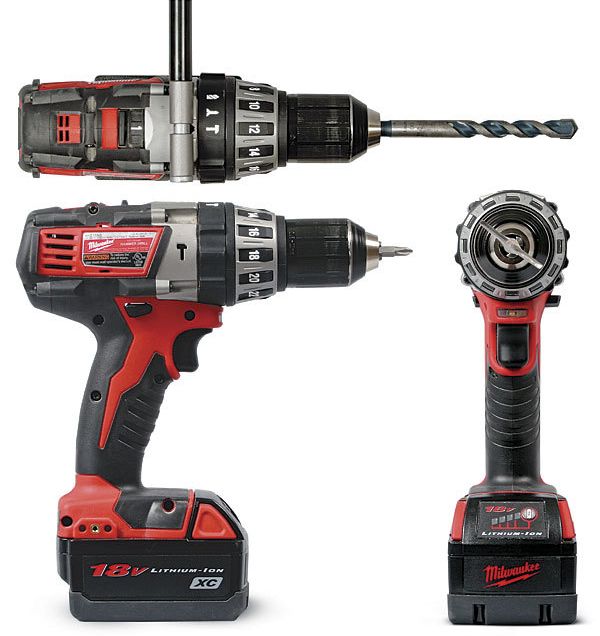 Synopsis: Three reviewers — FHB senior editor Justin Fink, woodworker Andy Beasley, and finish carpenter Kit Camp — examine the top-of-the-line hammer drill-drivers from each major tool brand. Their consensus for best overall drill-driver is the Milwaukee 2602, one of two Milwaukee drills tested. The reviewers appreciated the 2602's compact size and smooth power delivery, along with features such as an LED light and a gauge that monitors the strength of the battery charge. Also tested were drill-drivers made by Bosch, DeWalt, Hitachi, Makita, and Ridgid.
Would you buy a pair of work boots without trying them on first? Would you just pick them up, look at the tread, feel the toe, and make a decision? No. You would lace them up and see how they feel. Shopping for power tools is the same way.
The trouble is that it's pretty hard to form a meaningful opinion about a power tool when it's strapped down to a store display. Even if the tool — say a cordless drill — can be picked up, it's unlikely that the batteries are charged. Even if the batteries have juice, how much can you really tell by pulling the trigger and letting the empty chuck spin? The value of a tool review is that the tester becomes the eyes and ears of the market, offering buyers what they can't evaluate on their own: a tool's real-world performance.
When we set out to test 18v Li-ion hammer drill-drivers for this review, we wondered if there was a way to pack more value into the article. But what's better than an unbiased, real-world evaluation of the seven top-of-the-line drill-drivers on the market? How about three unbiased, real-world evaluations?
Threee testers, three opinions
We armed three of our most analytical testers with their own sets of seven drills to evaluate over a three-month period.
Each tester Justin Fink, Andy Beasley, and Kit Camp was instructed to use the tools in the course of their daily building and remodelling projects, and to set up any head-to-head tests that they believed were representative of real world demands. To keep things interesting, we forbade communication among the testers until all the reviews were complete.
In some cases, all three testers agreed on the value or functionality of a certain feature. Other times, they disagreed. In the end, we found that the isolated opinions presented an interesting overall look at each model.
Justin Fink: As senior editor in charge of tool testing for Fine Homebuilding and a remodelling contractor, I balanced my testing between site work and shop evaluations. I first put the drills to work on everything from drilling holes through rough framing to mixing thin set and joint compound and boring into a stone slab. Back in the shop, repetitive drilling, torque tests, and a thorough evaluation of the finer functional and ergonomic details of each model rounded out my results.
Andy Beasley: I'm a long time tool reviewer and woodworker who also happens to live in an old house that demands frequent recourse to serious power tools. I began my testing with quantitative shop tests that rated clutch torque, battery endurance and hammer-drill performance. I then added a hefty dose of reality by boring into wet lumber and concrete, and doing delicate work inside dimly lit cabinets.
For more photos and details, click the View PDF button below:
View PDF