Design
Singular and Serene
A remodel turns the only bath this Austin homeowner has into the only one she needs.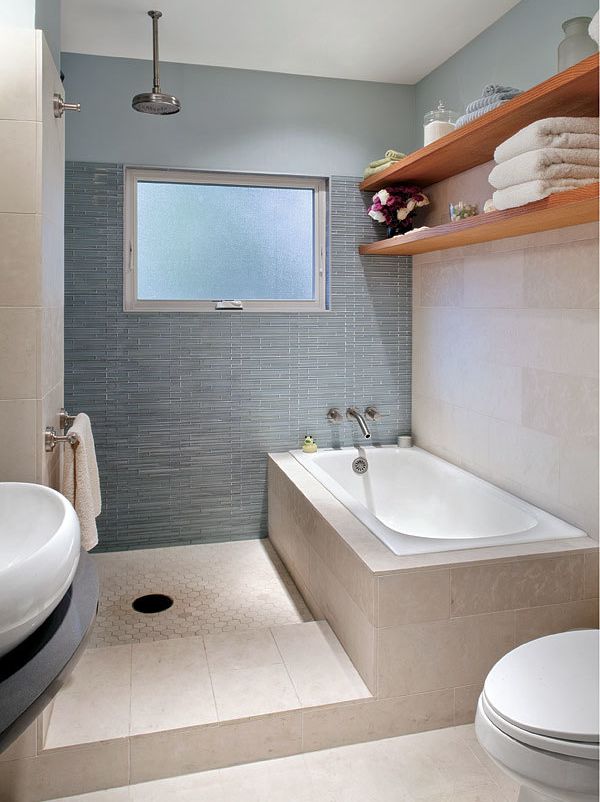 Synopsis: When Teresa Anderson decided to redo her outdated bathroom, she needed the work to be done quickly: It's the only bath in her 1950s home. Builder David Wilkes worked efficiently, and he temporarily reset the toilet several times in order to keep the room semifunctional. He was executing a plan from architect Cindy Black, which involved eliminating a linen closet and putting the toilet in its place, thereby freeing up space for a new open shower and a slightly smaller tub. Other features include shelves that appear to float above the tub but are supported by invisible brackets, an egg-shaped sink atop a curved countertop, and a back wall covered with blue-glass tile in a staggered pattern.
Teresa Anderson waited 15 years to redo the bathroom in her home in Austin, Texas, but once under way, she needed the project finished fast. Here's why: The bathroom is the only one in her '50s-era house. For the same reason, the 6 1⁄2-ft. by 9 1⁄2-ft. space deserved a big boost in both function and appearance, something architect Cindy Black planned to achieve with an ambitious remodel that involved moving the toilet and creating a new shower in its place.
Builder David Wilkes met the dual challenge by making sure that all fixtures and materials were on site and that the custom cabinets were in production before opening a single wall. He then worked around the toilet as much as possible, temporarily resetting it several times in order to keep the room semifunctional as the project moved toward completion. The work concluded with a fully functional bathroom that was lighter, brighter, and many times more serene than the one that had occupied the same footprint.
"Aha!" moment
Finding a shorter-than-average tub — this one is only 55 in. long — was critical to meeting code-required clearances for the repositioned toilet. Then there was the matter of the homeowner's approval. "To a lot of people, that would be a nonstarter," said Black, but Anderson was fine with the smaller size, although she climbed into the dry tub to test the fit as soon as it arrived.
For more photos, drawings, and details, click the View PDF button below:
View PDF