How-To
How to Build a Foundation and Frame a Floor for a Garden Shed
Construct a sturdy platform for your outdoor storage space out of compacted gravel, concrete blocks, and pressure-treated 4x4s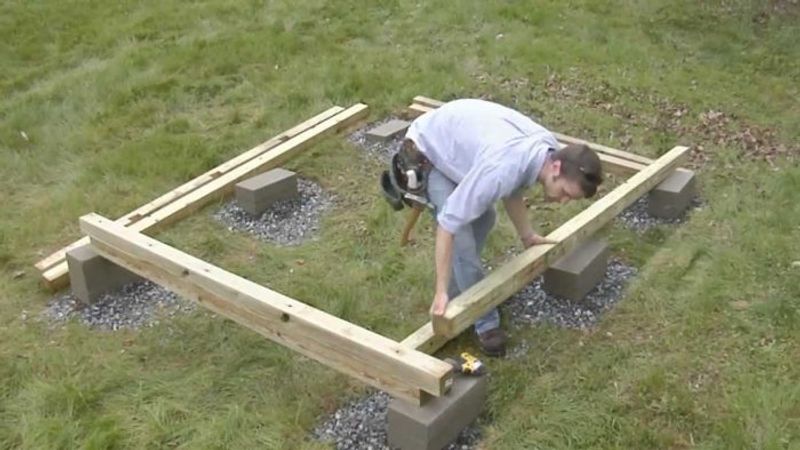 Every spring, countless numbers of homeowners embark on the quintessential outdoor project—a shed to hold their lawn and garden tools, outdoor furniture, and toys. The first step is to choose a location for the shed. The next step is to get the function and style of your shed right. Then, with plans in hand, you can determine what type of foundation you need.
Sometimes you need to pour concrete piers for a shed, but often you can build a shed on precast piers or simple concrete blocks placed on compacted gravel, as you'll see here. The trick is getting the blocks level, which you can do with a spirit-level clamped to a straight board that is long enough to span between the blocks.
With a firm foundation in place, it's time to frame the floor. Again, there are a number of methods, from common stick framing with pressure treated 2x6s, to the timber frame style floor shown here, which is build with pressure treated 4x4s.
You have options for the floor itself, too. Here, you'll see how to use 2x material, which is sturdy enough to be the finished floor, without subflooring. Just make sure your floor frame is square before you nail down the flooring—it'll make the rest of the project much smoother.
---
Video transcript: Here's the location for our new shed. It's relatively flat, cleared of growth, and ready for us to get started. For this shed foundation, I'm going to set concrete blocks atop pads of compacted gravel. I use a tamper to help pack the gravel into a uniform surface and to help prevent settling. I like building sheds atop concrete blocks because they're inexpensive and easy to work with. If your site is hilly or requires stacking more than a few blocks to get the foundation level, you'll need to either do some preliminary site work to level the area, or consider choosing poured concrete piers instead.
It's a good idea to start with 4-in. blocks laid on the gravel pad, and then if you need to, use 2-in. blocks for a finer height adjustment. If you need to make adjustments finer than that, it's best to either add or remove some gravel from the pad. At this point in the process, you're just looking to get the blocks close to level, so use the highest corner as a benchmark, and then level the other corners with the help of a long board and a box-beam level. You can tweak them some more once the floor frame is in place. We're looking really good here. It's time to move on to the floor.
Let's look at the shed's floor frame, where you're going to learn the technique. When you strip away the floorboards you'll see that each side of the floor frame is made from a pair of pressure-treated 4x4s. The whole perimeter of the frame locks together at the corners, and the floor joists just drop into the notches. Joist hangers or other metal connectors aren't necessary because these joists rest on top of the 4×4 below.
Let me show you how I lay these out and cut my notches. I'm going to cut six of these. After cutting to length, clamp together all of the pieces that need to be notched. Make sure that the ends are lined up flush on one end and trimmed to length on the other end. Next, I'll need to mark out my notches and cut them, a process that involves a circular saw and a hammer. Our window rough openings are determined by this layout, so it's crucial to get it aligned correctly. I set the saw blade to the required depth of cut, which is half the thickness of my 4x4s. Don't assume the 4x4s are a standard 3-1/2″ square. If they're wet, and they likely will be, they may be swollen. Adjust your halfway mark accordingly.
I make my first two passes with the blade just removing the marked line. I'm comfortable making this cut freehand, but a saw guide or straight piece of lumber can also be clamped to the stack to help keep you on the line.
The rest of the passes are just to kerf the lumber so it's easier to remove, so these can be cut without a guide. Aim for no more than 1/4 in. between kerfs; otherwise it will be difficult to knock the kerfed lumber loose with the hammer.
Finish cleaning up the knocked-out kerfs with a router and straight bit. A pair of clamped guides keep the router from wandering into the shoulders of the notch.
Now that I've got my floor-framing pieces cut, I'm going to assemble the pairs, then lay them out on the blocks and fasten them together.
For assembling all of the half-laps throughout this project, I'm using structural screws, which are made by several companies. The beauty of these fasteners is that they're very strong but zip right in without pilot holes. Next, I take diagonal measurements to check that the assembly is square. Ideally, the two measurements should be within 1/8 in. of each other. If not, persuade the frame a bit with a hammer and a block.
The floor of the shed is simply a combination of 2×6 and 2×10 framing lumber: durable and visually interesting. The boards are fastened to the underlying frame with epoxy-coated decking screws. Just like the 4×4 components, these floorboards are likely to be wet from the lumberyard and a bit swollen. I want to install them tight to each other so that when they dry out and shrink, I'm not left with excessive gaps. Although I'm using 10-footers to avoid waste, nominal lumber sometimes varies a bit in length from board to board. Flush up one end as you lay the boards, and if the opposite ends overhang the floor frame at all, trim them in place.