Painted drywall is so ubiquitous in home construction that it's easy to overlook other options. Certainly, painted drywall has its virtues. It's inexpensive, easy to install, easy to modify, and it works in any space. An inherent quality of drywall is the smoothness of its finish. However, left on its own, drywall can actually look a bit too perfect, a bit too sterile, and thus lack character and richness—even if painted in the most perfect shade. Visual interest is born from creating visual tension. This is most easily achieved by utilizing contrast. Instead of leaving every room clad in drywall alone, I create interest, depth, and richness in interior spaces by incorporating alternative wall treatments with materials such as wood, tile, and natural stone. Here I discuss these options and highlight the details within projects that successfully put these materials to use.
Wood
Ideal use: Living rooms, dining rooms, and bedrooms
Consider: Vertical or horizontal planking, board-and-batten treatments, paneling, wainscot, detailed moldings
Wood is an incredibly versatile surface treatment, partly due to the vast array of finish options available. Natural, stained, painted, pickled, whitewashed—all can be used to support a conceptual direction. Wood left in its natural finish feels cozy and warm. Painted wood lends itself to a fresh, clean, and overall subtle effect. Wood treatments can be used to create architectural character as well. For example, a traditional quality can be created by adding a board-and-batten treatment to walls, or by introducing moldings such as an oversize base, cornice, and picture rail. Wood also can be employed to enhance or diminish existing features of a room. Run vertically, wood boards can visually lift the ceiling. Similarly, horizontally oriented boards visually expand the width of the space.

Design example: Planking in a living room
6-in. poplar shiplap planks create clean, crisp, horizontal lines that keep the space from feeling overly tall by countering the vertically oriented fireplace and doors.
The distinctive 1/4-in. channel between each board creates texture and adds graphic interest in an otherwise sparse, contemporary space.
The white painted finish on the boards does a better job of reflecting natural light than painted drywall and creates a bright, airy feel.
Simple, square-edge base moldings and window and door casings mimic the crisp detailing of the wall boards and reinforce a clean, unfussy look.
The width of the planks on the wall is similar to the width of the wood flooring, creating harmony among the materials and helping to unify the room.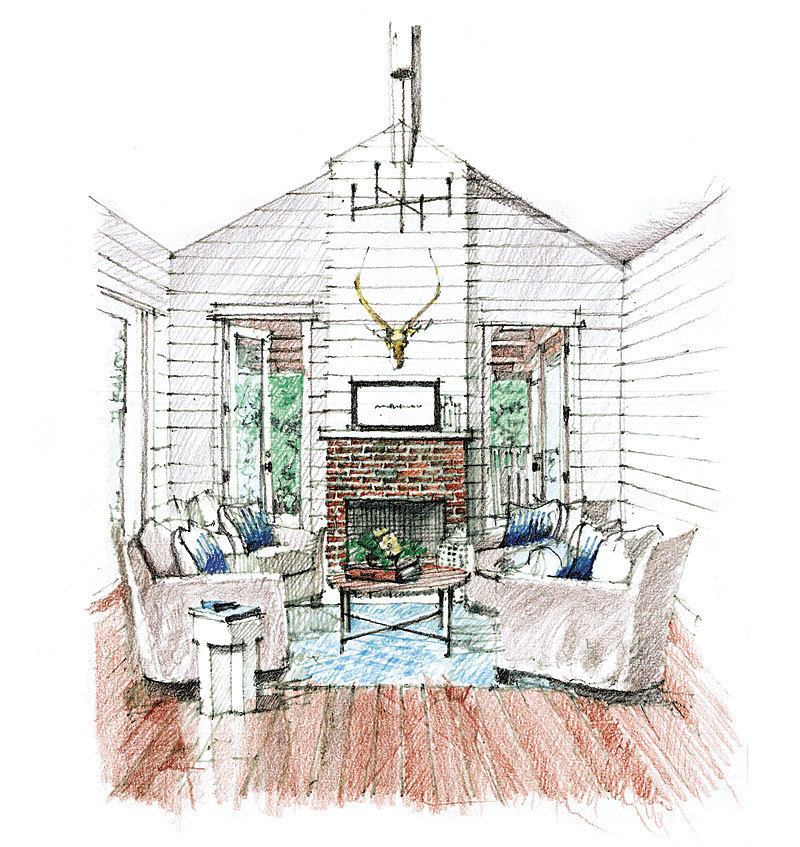 Tile
Ideal use: Kitchens, bathrooms, halls, stairways
Consider: Porcelain, ceramic, glass, mosaic, brick
Tiles in various sizes, textures, colors, patterns, and mosaics are readily available at a variety prices. An added benefit of using tile for walls is protection against elements such as water, dirt, and stains. Depending upon the tile selected, the effect can be subtle or dramatic. If tile is already present in flooring, backsplashes, fireplaces, and wet areas, try expanding its use to create more impact. Tile the entire bathroom rather than just the shower enclosure. Extend the kitchen backsplash up to the ceiling rather than a few inches above the countertop. Tile can be used to reinforce a particular aesthetic direction or to provide a contrast to it.
Design example: Tile in a kitchen
The walls are treated with a 3×6 white subway tile applied in a running-bond pattern with a dark-gray grout.
The tile and cabinetry are kept similarly hued so as to unify the two walls and enhance the flow between these components.
The subtle texture of the tile softens the transitions between the many features found in the kitchen—window casings, cabinetry, appliances, and lighting without completely diminishing the contrast.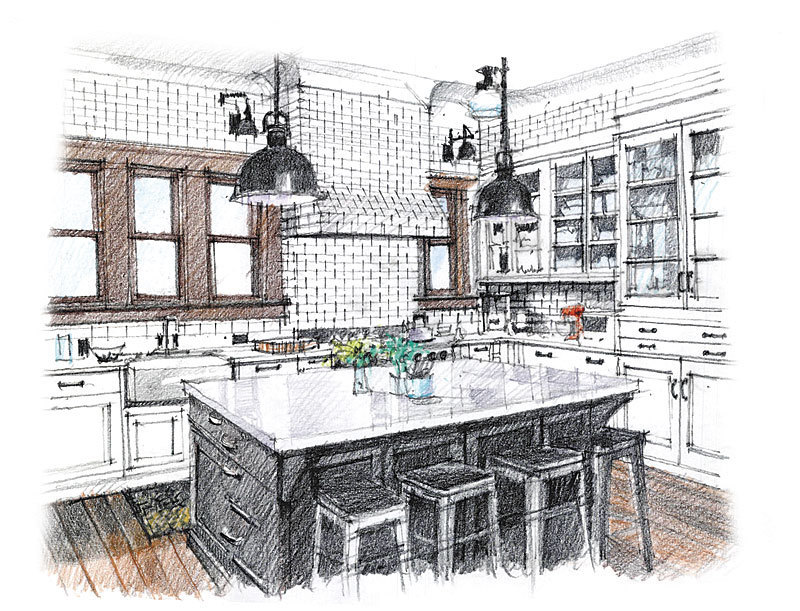 Natural Stone
Ideal use: Entryways, halls, stairs, powder rooms, baths, kitchens
Consider: Marble, slate, limestone, bluestone, fieldstone, granite, soapstone
Though a hard material, natural stone has unrivaled depth and richness. Utilizing natural stone for a wall-surface treatment is a fantastic way to bring the warmth of nature indoors. It also provides a great opportunity to borrow exterior materials and details, blurring the indoor/ outdoor distinction. This concept is particularly successful when used in entryways, halls, stairs, or any spaces that include a lot of glazing and that have a direct connection to the outdoors. The veining in natural stone allows it to be treated as the art in a room; natural stone can be used to create feature or accent walls, which instantly add character to a blank space.

Design example: Natural stone in a hall
The walls and columns are covered with Lueders limestone applied in a random pattern of squares and rectangles in various sizes.
Applying exterior surface materials on the interior creates continuity between indoors and outdoors and helps draw the eye toward the view.
The color palette is kept soft and neutral to balance the texture and varied dimension of the stone.
The random layout and rough finish reinforces the organic qualities of the stone, adding depth to the space while softening the visual coldness of full-height glazing.
The dark walnut floor contrasts with the light color of the stone, creating lift and drawing the eye upward.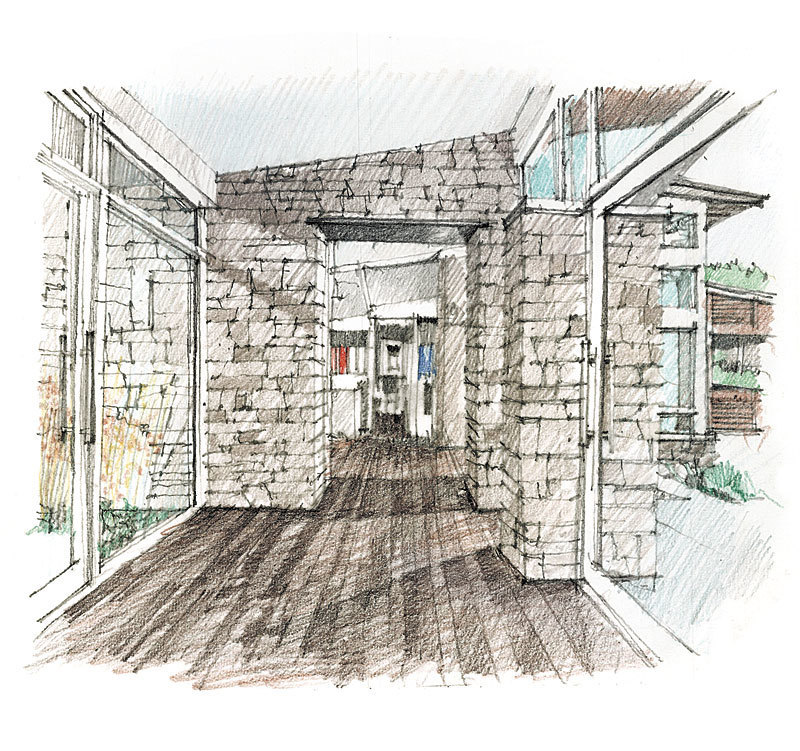 Drawings: Matthew Schiffer, AIA