Design
Mudroom's the Name, Organizing's the Aim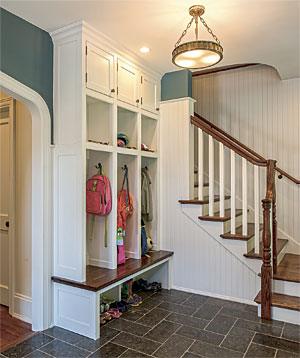 We all have things that we drag in and out of our homes just about every day: coats, purses, mail, shoes, sports equipment, books, backpacks. Without a mudroom—that dedicated space between the house's entry and the rest of the rooms—the essentials that accompany us each day can end up being strewn throughout the house. Kitchens, family rooms, and hallways all become drop-off zones. The resulting clutter throughout the house is unsightly, but what's worse is trying to remember where you left your shoes, keys, and cell phone the night before when you're running 10 minutes late.
Originally designed as a place for removing wet coats and dirty shoes, mudrooms have evolved to handle much more. Mudrooms come in all shapes and sizes, and many are now custom-designed to meet the specific needs of the homeowners. But all good mudrooms have what it takes to stand up to daily use: durable yet easy-to-clean flooring; sturdy cabinetry; ample racks and hooks for hanging clothing and backpacks; drawers and cubbies; and a place to park a package temporarily or to sit while putting on or taking off shoes.
 
The mudrooms pictured here show how beauty combined with purpose helps to ensure a well-organized household.
A mudroom worth flipping for
Renovations to this 1926 stone Tudor-style home included a 90° flip of what was once a steep, narrow back staircase. This change allowed for optimum use of the space for the kitchen, the dining room, the mudroom, a storage area, and a dog-washing area while staying within the existing footprint of the house. To complement the Benjamin Moore Knoxville Gray walls, the custom cabinetry, trim, and beadboard were painted with Benjamin Moore Simply White. The cubbies' bench is walnut, and the stair treads and handrail are oak. The Belgian-bluestone floor, which is easy to clean and maintain, completes the crisp, clean look of the back entry.
 
Design Period Architecture Ltd., Chadds Ford, Pa.; periodarchitectureltd.com
Construction E.C. Trethewey Building Contractors, Downingtown, Pa.; ectbuilders.com
Photograph Angle Eye Photography, angleeyephotography.com
Shoes and sports storage for six
This mudroom was designed to meet the needs of an active family of six. While the family members enjoy all seasons and sports, they are most enthusiastic about cold-weather activities, especially hockey. The "hockey locker" portion of the mudroom stores all their gear in one convenient place. Rows of adjustable, angled shelving in the adjacent area keep everyone's shoes ready and easy to locate. Once shoes have been stored in their
designated spot, the radiant heating installed under the Belgian-bluestone floor keeps toes toasty warm. Painted poplar was used to construct the shelving.
 
Architect Archer & Buchanan Architecture, West Chester, Pa.; archerbuchanan.com
Builder Norcini Builders, Devon, Pa.; norcinibuilders.com
Photograph Tom Crane, Tom Crane Photography, tomcranephotography.com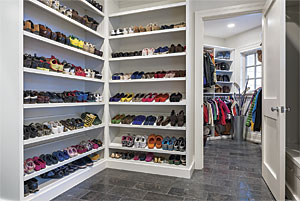 Mail call and more
The owners of this beach home requested that their mudroom not look like a mudroom. Family members and guests see nothing but a row of closets opposite a welcoming bench. Behind the closed doors are cubbies, shelves, and sections for hanging garments. At the far end is a telephone and mail station. Behind the station's upper doors are cubbies for sorting the mail; the lower portion of the station houses a recycling drawer for junk mail. Dark-brown corkboard was used for the station's backsplash, and the counter is solid mahogany with a natural satin finish. Closets and cabinets are furniture-grade prefinished maple plywood with solid paint-grade  poplar doors. Flooring is 12×12 gray ceramic tile.
 
Cabinet Design: Jennifer Burr, Simmons Quality Home Improvement, Clinton, Conn.; simmonsquality.com
Construction: Simmons Quality Home Improvement
Photographs: Craig Freeman, craigfreemanphotography.com, courtesy of Simmons Quality Home Improvement