Contemporary Cabinet Knobs With Mid-Century Roots
Kitchen cabinets adorned with these throwbacks would blend perfectly with a set of Saarinen tulip chairs or a few Eames bar stools

Kitchen cabinets adorned with these throwbacks would blend perfectly with a set of Saarinen tulip chairs or a few Eames bar stools, But Rejuvenation's round dish knobs look and work great even without a mid-century modern furniture collection as their backdrop. The knobs are an obvious a throwback to the rocket age, when everything from kids' toys to car taillights had a sleek, space-age profile. Pair them with matching backplates for a retro look, or install the knobs solo for a more streamlined aesthetic. Regardless of the look, these knobs are possibly the most comfortable door pulls you can get your hands on.
Product breakdown
Available in brushed chrome, polished chrome, or oil-rubbed bronze
Made of cast zinc and stamped brass
1-½" diameter knob; 2" diameter backplate
$11 with round backplate; $9 without backplate
If you're not sure what finish to choose, Rejuvenation's website suggests that the brushed chrome mixes well with the stainless steel finishes common in many kitchens. If you're really feeling bold, you can opt for the star backplate.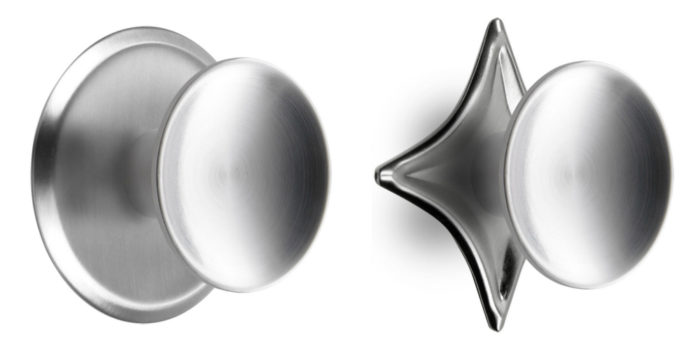 I first came across this hardware in a friend's new kitchen. Even though there were plenty of eye-catching details in the kitchen, the retro round knobs were the first things that caught my eye. Something about the out-of-the-ordinary proportions and the gently dimpled faces sets them apart from most knobs I see these days. My friend also pointed out that aside from the knobs themselves being easy to clean, with the wide backplates, they do a nice job of protecting her doors and drawer faces from smudges and scratches. So they're timeless, attractive, comfortable, and practical–that's a lot of pluses from such a simple piece of hardware.