31-ft. by 10-ft. Sandbox
The leach field for the septic system is a 31-ft. by 10-ft. by 3-ft. deep bottomless sand filter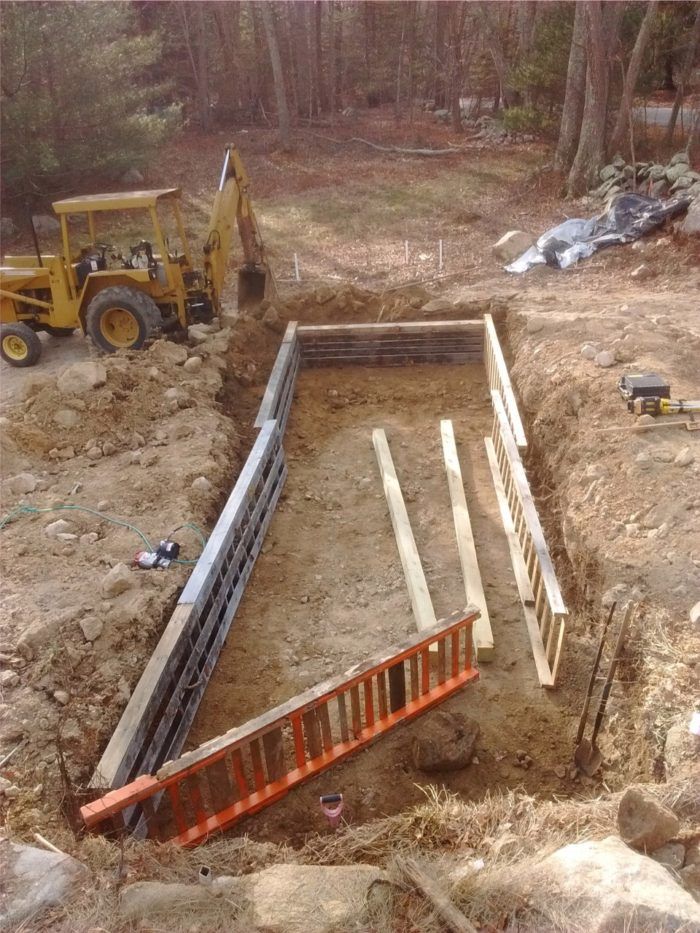 The septic system for the house is a combination of mechanical pumps, filtration, and a bottomless sand filter (BSF) leaching field. Mat drove his backhoe up from his house the day after New Year's and opened up the hole for the BSF. To contain the sand and prevent contamination from the surrounding soil, a liner is needed around the perimeter. And in order to hold the liner upright while the sand is dumped inside and the native soil is backfilled on the outside, I built long frame panels out of scrap lumber and long pallets that materials had been delivered on. I could have just ripped 28-in.-wide strips of plywood or OSB, but they need a lot of temporary bracing. The wood frames are more stable and will only need a couple of cross-braces.
One morning, I planned to have WACTC students Cameron, Matt, Brandon, and Damian help me set up the panels and we started grading the perimeter level. Then when it came time to position the panels they didn't fit. I hadn't checked the size of the hole and it turned out that Mat only dug it to the inside dimension—he didn't account for the width of the panels, an extra foot in both directions.
After the students left I scratched out the earth an extra foot with my backhoe and erected the panels.
There are still two steps left to prepare for the sand—placing a PT 6×6 around the top of the panels and nailing on the plastic liner.