Smooth and Stealthy Driver
Low noise and smooth operation make this tool my choice for 90% of the fasteners I use.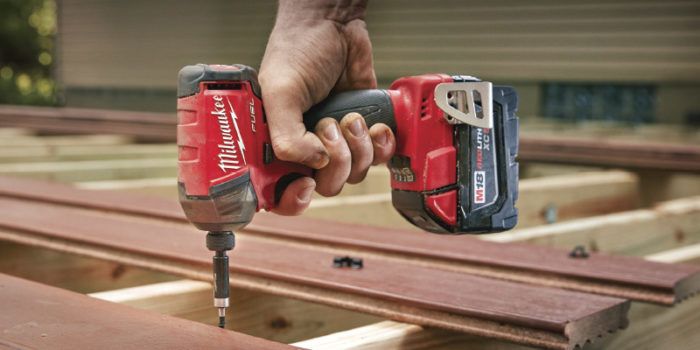 Milwaukee Surge 2760
Length: 5 in.
Weight: 3.3 lb.
with compact pack
Max. speed: 3,000 rpm
Max. impacts: 4,000 per minute
Price: $149 (tool only); $249 (kit with two compact batteries)
To deal with the noise and excessive vibration associated with impact drivers, tool companies are slowly introducing cordless drivers that use a hydraulic impacting mechanism instead of the hammer and anvil found on conventional impact drivers. The most recent entry to this category is the Milwaukee Surge (model 2760). I've been testing one for a month, using it for building cabinets and general remodeling. It looks just like a regular impact driver, but — according to its maker — it produces half the noise and one-third the vibration.
The 18v impact drivers I normally use produce about 1,500 in.-lb. of torque. The Surge is rated for 450 in.-lb., so I expected it to be far less capable — an assumption that turned out to be wrong. The hydraulic mechanism in the Surge produces more impacts per minute and a longer pulse of torque, which partially offsets its lower rating.
I noticed no difference in driving speed for fasteners up to 1⁄4 in. dia. and 6 in. long (including both conventional lags and structural screws), but it struggled near the end and often stalled, which tells me it isn't as powerful as some models. The Surge is definitely quieter than any other impact driver I've used. Milwaukee says it produces 76 db., but at 18 in. away I measured 93 db. while driving 3-in. screws. For comparison, my regular Milwaukee impact produced 100 db., and a DeWalt impact driver produced 96 db. The difference is greater than you might think because decibels are measured on a logarithmic scale, so an increase of 3 db. means the sound is doubled.
Features include an LED light, a reversible belt hook, and a bit holder. A selector switch allows you to set the tool to a maximum speed/power of 900, 2100, or 3000 rpm. It also has a mode for sheet-metal screws that's meant to drive them without stripping. I give the Surge a thumbs up because its low vibration and quiet operation make it more pleasant to use than a standard impact driver. It can't be my only driving tool because it lacks the power to drive large fasteners, but its low noise and smooth operation make it my choice for 90% of the fasteners I use.
David Frane is a remodeler in Alamo, Calif.