Affordability Balances Design and Performance
Who is the likely customer for a net-zero house?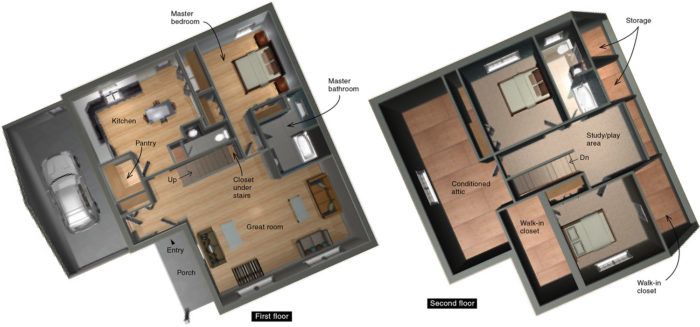 Prudent Living has bet on the appeal of net-zero housing. That means design is driven by energy performance. Paul is convinced that the up-front cost of a net-zero house will not only pay for itself inside the first decade of ownership, but that the home will be more valuable over time. He asks potential buyers to think about the value of a code-built home compared to a net-zero home 15 years from now when it's selling in a market where new homes are built to more stringent codes than they are today.
The 2017 FHB House is a spec house, which means Paul and Tim had to ask themselves, "Who is the likely customer for a net-zero house?" Based on the inquiries they see on the custom-home side of their business, they decided that all the spec houses in the development have to appeal to people who are downsizing and should allow them to age in place. Each of the three models has a master bedroom on the first floor.
In addition to targeting empty nesters, the houses have to be affordable. "Affordable" is both a nebulous term and a moving target in the building world: In their market, Paul figures it's about $300,000. With a net-zero-ready house, there are costs involved in raising performance above the code-mandated minimum. In the FHB House, the Biebels have invested in R-15 subslab insulation, R-45 walls, and an R-60 roof. Plus, additional time (a labor cost) goes into air-sealing. This house is expected to match the performance of the development's model home, which tested at 0.55 ACH50. To control costs, the houses have slab-on-grade foundations and builder-grade finishes like engineered flooring, carpeting, and fiberglass tub surrounds. As with most production-built developments, the buyer has an allowance for finishes. In the FHB House, the finishes will be higher quality (and therefore more costly) than the typical house in the development, but the floor plan, framing plan, and envelope details are all the same.