Tools & Materials
Venting a Bath Fan in a Cold Climate
Use a high-powered fan and a large-diameter duct with the shortest run possible, and wrap the pipe with insulation.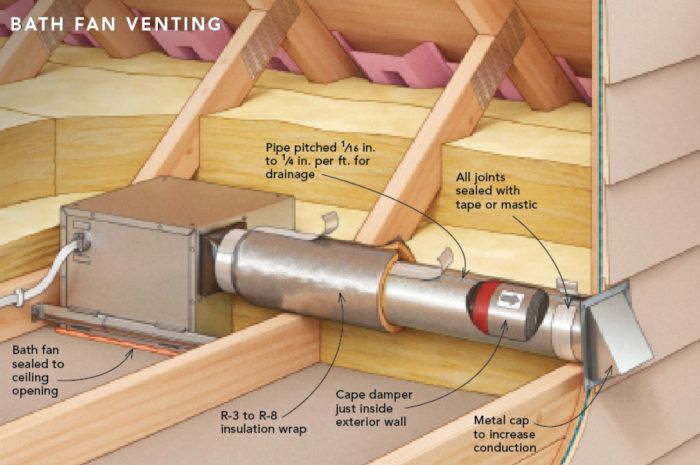 Q: For the first few years that we owned our current house, I wrestled with various ways to vent the upstairs bathroom showers. Everything I tried resulted in condensation and ice problems. Even with double R-19 batts over the vent pipe, I still had problems with condensation and freezing. As we prepare to build a new house, are there proven ways to address this cold-weather condensation issue?
—Keith, via email
A: Michael Maines, a residential designer and former carpenter in Palermo, Maine replies: How to avoid condensation problems in bath venting is a common question. The first step is to understand the concept of bath venting, including how to choose the right fan for your bath, and just as importantly, how to install it right.
Regardless of what the code, or your inspector might say about bathrooms with windows not needing a fan, it's a good (or great) idea for all baths to have an exhaust fan. The good news is that adding a bath fan to an existing bathroom is a pretty straightforward project. Unfortunately, it's not something I often see done well. Before we get to some specific advice for cold-weather installations, let's start with some basic duct advice.
I recommend that my clients vent their bath fans out a gable wall if at all possible (when not using an HRV or ERV, that is). If you vent through the roof, condensation will drip back into the interior. If you vent through a soffit, where attic vents are often located, the moisture will get sucked back up into the attic or roof venting.
Use rigid metal ducting (aluminum or galvanized steel) with lengthwise seams facing up and joints sealed with foil tape or duct mastic, or rigid plastic pipe. Be sure to slope the duct a bit for drainage to the exterior. Rigid duct is better than flex duct, and bigger duct is preferable, especially if the runs are long.
Best practice is to wrap the entire duct with R-3 to R-8 insulation, but, if nothing else, you should at least wrap the 6 ft. of duct just inside the termination point, which is where condensation is most likely to happen. Keep the vent low and run the insulation over the duct.
You can also minimize heat loss by adding a Tamarack Cape Backdraft Damper or other auxiliary damper near the outlet.
For the problem of the exterior vent icing up, 70°F interior air at 25% relative humidity (which is fairly low) will condense at 33°F, so there is going to be condensation in cold weather. With a fan pushing 110 cu. ft. per minute, and air at 80°F and 80% relative humidity, as you might have when taking a nice steamy shower, you're creating almost 3⁄4 cup of condensate during a 10-minute shower when it's 25° outside.
The common solutions to this ice problem are to use a higher-powered fan, use a larger-diameter, shorter duct run, and wrap the pipe with better duct insulation. You can also run the fan longer (at least 10 to 15 minutes after showering is a good baseline) so the ice melts or doesn't freeze in the first place. Also, make sure the damper at the fan itself is working so moist air from the bathroom doesn't constantly leak into the duct, where it will condense and freeze, even when the fan isn't running. It can also help to start running the fan before showering, which will draw warm interior air into the duct run and help warm it up before you really start injecting a lot of steamy air. Finally, I recommend using a metal wall cap instead of a plastic one. Metal is highly conductive, and warms up faster when the fan is running.