Podcast Episode 152: Inferior Fasteners, Warm Garages, and Cheap Closet Cabinets
Patrick, Matt, and Justin share stories about storm windows, energy-efficient homes, and drywall tape before tackling a few listener questions.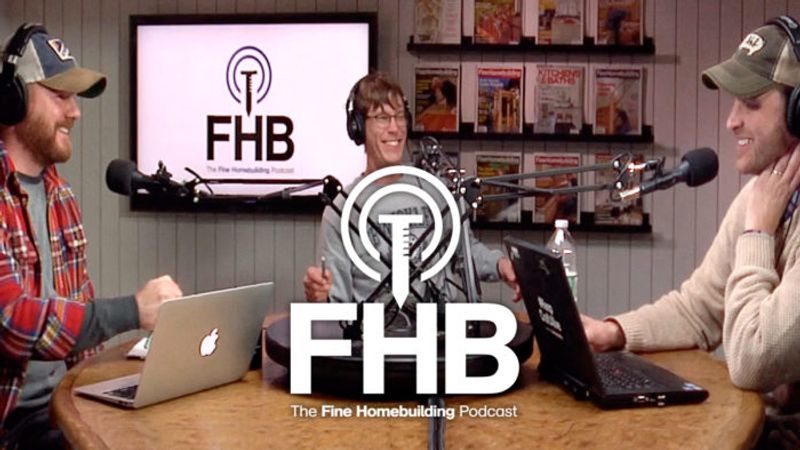 Justin Fink is back in the studio this week with an update on his custom storm-window project. After chatting about Justin's windows, Matt's trip to an informal building-science conference, and Patrick's new affection for fiberglass drywall tape, the crew discuss heating options for small buildings, closet-cabinet material choices, and why anyone still bothers to use Phillips screws.
---
Editors' project updates
Justin's storm windows
Justin Fink starts of this week's show by talking about the details for some wooden storm windows he's built but still needs to glaze, paint, and install. He mentions an old-school product (Durham's Rockhard Water Putty) that he used to fill screw holes in his windows.
Matt's Portland trip
Matt shares some interesting info from a discussion he was a part of on the Pretty Good House concept–a collection of guidelines and standards for producing sustainable, energy-efficient homes.
Related Link: Climate Change for Builders: The Biggest Opportunity
Patrick's closet: Drywall taping
Patrick admits that his project isn't all that interesting, but he is completely sold on the benefits of Fibafuse joint tape
---
Question 1: Why do those frustrating Phillips screws still exist?
Matt writes: Hello Finehomebuilding, I have been working on homes for more than 40 years. When the fastener industry transitioned from using slotted head screws to Philips head, I thought this was a Godsend! I could finally use my corded drill to drive them without the slotted bit walking off the screw head. What an improvement — or so I thought…
However, even with the advent of the cordless drill driver, and finally the cordless impact driver, the Philips fasteners still present a problem. They were designed for the driver bit to "cam out" at a certain point. This happens more often than you can imagine; in my work, I see it every day, and it's quite frustrating to deal with these stripped fasteners. And even with a new bit, a new screw, an impact driver, and putting my full 200+ lb. weight against the screw, the bit can still cam out.
On the other hand, this does not happen with the combo Philips/square head, nor the square (Roberts), or star (Torx) drive fasteners.
The automotive industry has been converting to star drive for years; and kitchen hardware manufacturers have converted to Pozi-Drive; and the decking industry only uses square and star heads, none of which cam out.  So, why are Philips head screws still being used? And when can we expect to see this type of fastener put out to pasture?
Related links
---
Question 2: What type of gas heater is best for a garage?
F Ponzani writes: I want to add some heat to my garage. I'm looking at the Procom brand ventless gas heaters sold by Northern Tool and Harbor Freight, amongst others. These are sheet-metal units that can be mounted on the wall. They come in two flavors: radiant (heats objects) and "Blue Flame" (heats the air in the room). I generally understand the difference between the two, but I have been unable to find anybody who can tell me the pros and cons of each type as related to heating an attached garage.  I want to keep the temp in the 40's or low 50's and just turn it up when I'm working on a project in the garage.  Which is preferred?
| | | |
| --- | --- | --- |
| Unvented gas heater | Vented infrared | Vented garage heater |
Related links
---
Question 3: How do I heat my cabin's sleeping loft/attic?
Dan writes: I'm insulating a new cabin build.  Zone 7, northern WI.  Main cabin is 20 x 26; Monolithic slab; electric baseboard heat; 1.5 stories; 2×6 wall construction.  Exterior walls are flash & Batt with 2″XPS and R19 compressed into the rest of the cavity. I used attic trusses with a 10/12 pitch in order to give me storage in the attic and an over-flow sleeping room upstairs. The upstairs attic is 11′ x 26′ w/ a 7 ft ceiling. A Bessler pull down stairway(these are awesome) will provide access to the upstairs attic/room. Yes, I am insulating the "devils" triangle.  As you can see from the attached pic, blocking has been installed, and R38 batts are in the ceiling on each side of the knee walls which are above.  You can also see the attic floor which is already installed.  Its a vented roof, site-built 1/4″ OSB baffles with 1.5″ airspace to run from the soffit to the ridge.  I plan on filling the vaulted ceiling with at least 2 layers of fiberglass batts and then polyiso on the interior to provide a thermal break. With the 1/4 OSB baffles, batts will be enclosed on all 6 sides. No dormers in the roof plane. On the 1st floor all the exposed insulation in walls & ceiling have been covered with drywall for an air barrier, and all insulation batts have been taped at the seams. Eventually a tongue & groove ceiling will be installed on the 1st floor.
HERE's the QUESTION !…and I already know the typically answer which would be to insulate at the thermal envelope; which would make my sleeping loft part of the conditioned space. HOWEVER, the upstairs attic/loft space will probably have less than 15% usage for kids sleeping, or extra place to getaway, etc. During the winter temps can get 20 below.  I plan on keeping the heat at 50 even if  no one is at the cabin during the winter. Would there be ANY benefit to insulating the attic floor/1st floor ceiling while the bottom truss cord is still exposed? This is the 11 x 26 area between the upstairs knee walls. The thought is to keep electric/heat cost down when most of the time the upstairs attic space doesn't need to be conditioned. Then…if the upstairs is used,  with the pull down stair case and the insulated roof line, upper half of the cabin can be heated or cooled.
| | |
| --- | --- |
| | |
I haven't found a good solution.  I have seen the single outlet residential floor boxes but both120 & 240 outlets won't fit in them. Plus not sure about how resistant they'd be to a shop environment. My idea is to weld up an enclosure with a hinged lid, saw/chisel out an opening in concrete, and install. I'm concerned about water sometime getting in a floor shop outlet. GFCI breakers?
What are your thoughts?
Related links
---
Question 4: What should I use to build the closet shelves and cubbies?
Patrick writes: I have to build some new closet organizers for an upcoming project. A local plywood supplier has both prefinished plywood and melamine. The plywood is available in several species and finishes. What should I use to build the closet shelves and cubbies? They also have preprimed plywood. Keeping in mind, I'd rather have oral surgery than paint cabinets, what should I use?
Related links
---
This episode of the podcast is brought to you by Huber Engineered Woods
This episode of the Fine Homebuilding Podcast is brought to you by Huber Engineered Woods, makers of  AdvanTech and ZIP System products.
If you're going to the International Builder's Show in Vegas, don't miss Huber Engineered Woods – they will have two locations. The Prove It Tour product experience will be right outside on your way to pick up your badge near Show Village. Try ZIP System liquid flash, stretch tape and register to win a $15,000 product rebate prize. Catch Huber's booth in the Central Hall where they will host the 2nd Annual "Best of Social Awards" with Matt Risinger Wednesday at 3:00. Not going to the show? Follow @huberwood on Instagram to see.
We hope you will take advantage of a great offer for our podcast listeners: A special 20% off the discounted rate to subscribe to the Fine Homebuilding print magazine. That link goes to finehomebuilding.com/podoffer.
The show is driven by our listeners, so please subscribe and rate us on iTunes or Google Play, and if you have any questions you would like us to dig into for a future show, shoot an email our way: [email protected]. Also, be sure to follow Justin Fink and Fine Homebuilding on Instagram, and "like" the magazine on Facebook. Note that you can watch the show above, or on YouTube at the Fine Homebuilding YouTube Channel.
The Fine Homebuilding Podcast embodies Fine Homebuilding magazine's commitment to the preservation of craftsmanship and the advancement of home performance in residential construction. The show is an informal but vigorous conversation about the techniques and principles that allow listeners to master their design and building challenges.
Other related links