What's the Difference: Phillips vs. Pozidriv Bits
Despite their similar appearance, these two systems are not interchangeable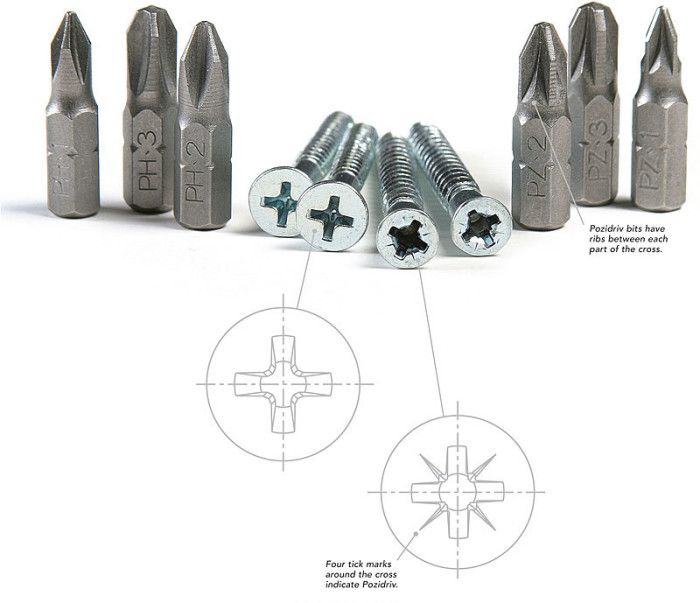 There's a wide variety of drive systems in the hardware world. Most of us have a healthy collection of bits, ranging from star-drive to square-drive to hex. It's easy to spot the differences between most of the styles, but two that are commonly mixed up—even by the more experienced—are the Phillips and Pozidriv bits. Despite their similar appearance, these two systems are not interchangeable. Here's how to tell the difference between them. No matter which type you use, a magnetized bit holder can make driving screws a little easier. And while Phillips and Pozidriv bits are still common, some carpenters now prefer Torx-drive fasteners, such as GRK screws.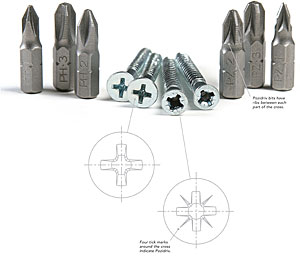 Phillips
It makes no difference when you're tightening a cup hinge on a cabinet door, but the Phillips design wasn't actually invented by someone named Phillips. Rather, John Thompson applied for a patent  in 1932 and later sold his design to Henry Phillips. It was Phillips who then formed a new company, improved the design, and worked to get the drive system to become the standard in numerous industries, especially automotive. The key improvements of the Phillips system over the slotted system are that its bits self-center and will cam out (slip out) when a fastener is sufficiently seated. On a production line, these features are huge time savers. The most common Phillips sizes are 1, 2, and 3 (from smallest to largest), and the bits typically have "ph" indicated on them. The patent on the Phillips design expired in 1966, but the Phillips Screw Company has continued to improve on the cruciform-shaped drive, which has led to other drive systems from the same company, such as the Pozidriv.
Pozidriv
When trying to tighten up that previously mentioned cup hinge with a Phillips bit, you probably should be using a Pozidriv. The Pozidriv also has a self-centering design, but the shape is modified for improved engagement between bit and fastener, and increased torque without the cam-out of a Phillips. The sure sign that a screw is Pozidriv is the four tick marks or indentations around the cross. Viewed from the side, the difference between Phillips and Pozidriv bits is unmistakable. A Pozidriv has ribs between each of the four arms of the cross. This increases the grip between the bit and the fastener. A Phillips bit fits in a Pozidriv screw head, but it will most likely cam out before the fastener is fully tightened. This can damage the fastener (and it may explain why cup hinges seem to  loosen up so quickly). A Pozidriv bit does not fit in a Phillips screw head. Pozidriv bits are available in driver sizes from 0 to 5 (from smallest to largest) and have "pz" marked on them.