Tools & Materials
Superdurable Tool Tote
The sturdy and flexible Veto DR-XL tool bag makes it easy to keep your small job-site tools close at hand.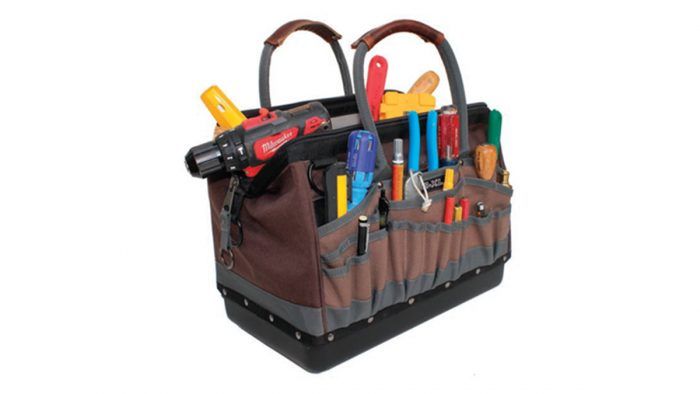 The wide variety of modern screws and fasteners plus the abundance of modern materials has ballooned my drill kit to a size where it requires multiple tool boxes. Managing all of them wastes time throughout the day, so I recently loaded all of my regularly used drill bits and accessories and my cordless drill and impact driver into a Veto DR-XL tool bag. In addition to my large collection of drill bits and driver tips for nearly every fastener imaginable, I also wanted some room for basic hand tools like a multitip screwdriver, utility knife, and tape measure.
The bag was a puzzle to set up. It comes with a removable interior shell with Velcro dividers, but the dividers didn't work with the small plastic boxes where I keep my drilling accessories, so I removed them. The DR-XL has 30 pockets that can hold a range of items from a Kreg Jig HD to a utility knife down to individual drill bits. On my bag there are eight exterior pockets that are underused or not used at all due to their location or size.
Despite these shortcomings, the DR-XL is made of durable materials that should keep it in service for many years, and it's flexible, so it can evolve as my drill-related kit evolves. I am confident that over time I will find uses for the pockets that remain unused. The price ($180) is fair given its quality and the amount of gear it can hold. It took time and effort to get my setup to where it is today, but now, instead of telling a coworker, "Yeah, I have that in my truck," I can say, "Yeah, I have that right here."
Ian Schwandt, a carpenter in Kent, Conn.
Photos: courtesy of Veto Pro Pac
From Fine Homebuilding #283