Design
10 Things to Consider When Remodeling a Kitchen
An updated kitchen can add value and functionality to a house, but the remodeling process can feel daunting. Considering these ten items early on can help ensure a more successful and speedy remodel.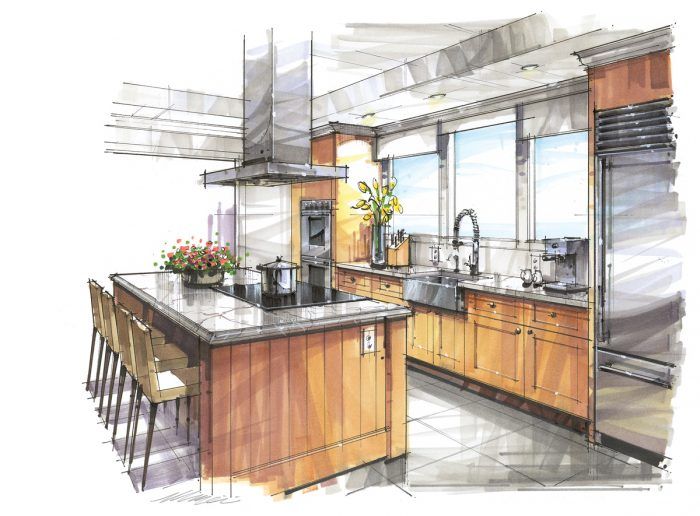 Even for experienced builders, remodeling has its "oh no" moments. And if you're remodeling a kitchen—the most complicated and expensive room in most houses—you're navigating a minefield of them. With careful planning, however, you can avoid common kitchen-remodel pitfalls and get yourself into your new kitchen sooner.

1. Design the perfect kitchen island for the space.
Some kitchens aren't big enough for an island. Don't install one unless you have at least 36 in. of clearance all the way around. A clearance of 42 in. is better, and 48 in. is ideal. If you do install a kitchen island, be careful what goes into it. Remember that an island also requires electrical outlets (usually one on each side) to meet code.
Check out:
2. Do electrical work according to code.
In most places, homeowners can do their own electrical work, but that doesn't exempt them from code requirements. Here are the most common electrical-code violations committed by do-it-yourselfers in the kitchen:
• Failing to provide two 20-amp appliance circuits
• Powering lights with the 20-amp appliance circuits
• Failing to protect countertop circuits with a GFCI
• Not installing enough outlets along the counter (no spot can be farther than 24 in. from a receptacle)
Check out:
3. Make a schedule and stick to it.
There's a lot to plan when remodeling a kitchen, so don't start demolishing your old kitchen too soon. Have appliances, cabinets, plumbing fixtures, and any other major components on hand before you begin. Also, having everything on hand lets you confirm exact measurements and installation specs. Schedule the plumber, electrician, tilesetter, and other subcontractors well in advance. A proper remodel is carefully choreographed, and even then you'll have to juggle schedules at the last minute.
Check out:

4. Get thoughtful about the layout.
If you want to open up the kitchen to other rooms, don't assume you can simply remove any wall you want. Some walls are load bearing, and some aren't. Know which is which before you drag out the sledgehammer and reciprocating saw. Conversely, don't assume you can't remove a wall just because it's structural. Many homeowners also assume that the sink, stove, and refrigerator have to stay where they are. That's a mistake. Yes, plumbing and venting can be expensive to move, but sometimes that's the best thing to do.
Check out:
5. Don't forget about ventilation.
Don't relocate the cooktop without taking ventilation into account. Most building codes don't require a range hood ducted to the outside, but most experts recommend one. For maximum effectiveness, duct runs should be as short and as straight as possible. Be sure to think about where the vent will terminate on the outside of the house, too.
Check out:
6. Be smart about installing cabinets.
Before you even order cabinets—and certainly before you install them—assess the existing conditions in the room. Do the floors slope? Do the walls lean? Are the corners square? If the answer is yes to any of these questions, then have a lot of shims on hand, and think hard about where to start installing the cabinets. Countertops are supposed to be level.
Check out:

7. Pick flooring that is both practical and beautiful.
Don't create a trip hazard with new flooring. If you're switching from vinyl to tile, you may have elevation issues at the doorways into other rooms. Tile also usually needs either another layer of plywood to stiffen the subfloor, or an isolation membrane, such as Schluter's Ditra mat, to prevent cracks. If you're not changing the existing floor but plan to change the kitchen layout, check that
the flooring runs under cabinets and appliances or you'll have a challenging hole to patch. And whatever you do, don't trap the dishwasher by installing new flooring in front of it.
Check out:
8. Remember that, in a kitchen, good lighting is key.
A dark kitchen is no fun. At a minimum, you'll need ambient lighting for general illumination and task lighting so that you can see to mince the garlic. Recessed lights are a common choice for both, but install them in the wrong location and you'll be working in your own shadow. One rule of thumb is to center a line of lights directly over the countertop nosing.
Check out:
9. Pay attention to the details.
Make sure that the window stool over your kitchen sink doesn't interfere with the faucet installation. If the sink is set too far back in the counter, and the stool overhangs a lot, and the faucet comes straight up, you could be in trouble. If you're running wall tile between the counter and the upper cabinets, think carefully about where the tile will terminate on the ends and about how it will meet any window trim.
Check out:
10. Set up a temporary kitchen in the meantime.
Living without a working kitchen is a strain, especially if you have kids. Here are some survival tips:
• Set up a temporary kitchen by moving the refrigerator, the microwave, and the toaster oven to another room.
• Cook on your outdoor grill (and don't remodel in the dead of winter if you live in a cold climate).
• Yes, you can wash dishes in the bathtub, but it's no fun. For the sake of sanity, suspend your ecofriendly tendencies just this once and load up on paper plates and plastic utensils.
Check out:
To read the entire article by Kevin Ireton, please click here.