How-To
How to Live in Your House During a Kitchen Remodel
From determining the best time to start a remodel to setting up a temporary kitchen, carpenter and site manager Dejah Leger shares field-informed dos and don'ts for functioning in your home during a kitchen remodel.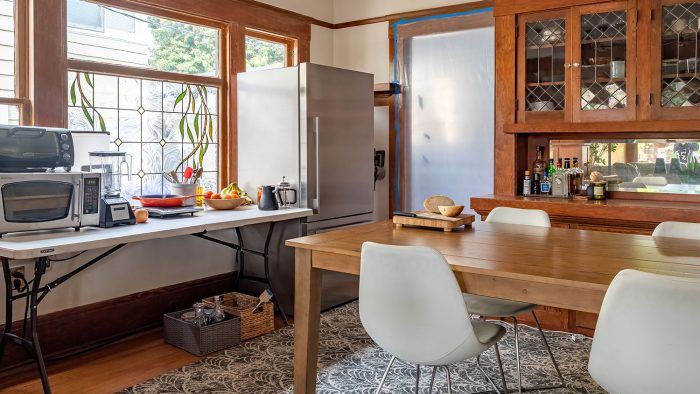 In the remodeling industry, we are tasked with kitchen renovations more than almost any other type of upgrade. It's no wonder—the kitchen is the heart of the home. For many, it is a gathering area, where friends and family clink glasses while a pasta sauce simmers on the stove, or where we begin and end a day over a cup of something warm. Whether we're making toast or perfecting the new bread-making hobby we picked up during 2020, the kitchen is the epicenter of daily activity. So, when the kitchen is no longer functional, we often aren't very functional either.
As a carpenter and site manager, when I am tasked with a kitchen remodel, my very first message to homeowners is simple: This is going to hurt, but we're in this together. Luckily, there are a few tips and tricks to help the process go smoother for everyone involved.
I've gathered some advice from my fellow remodel carpenters, past clients, and personal experience to help mitigate some of the biggest hurdles of a kitchen remodel. Hopefully some of this field-tested advice can help pave a path to a more enjoyable experience as you undergo a kitchen remodel, both as a homeowner and contractor!
Factor in timing
DO plan a kitchen remodel for the time of year that is most comfortable to be eating outdoors. In places with colder temperatures, this might be spring or summer, while in warmer climates it might be the opposite seasons.
DO make all of your specifications ahead of time and order as much as you can before the hammer even hits the wall. This is huge. Thorough preparation is a major key to a smooth, speedy, and efficient kitchen remodel. As a general guideline, planning and designing takes about as long as performing the physical remodel. Finalizing appliances, cabinets, tile selections, countertops, the lighting plan, and all necessary permits means fewer interruptions in material acquisition, fewer change orders, and fewer delays in production.
Cabinets in particular are the main big-ticket item to really nail down as quickly as possible. They usually take the longest to make or order, and they dictate the direction and placement of almost every other part of the critical path. The unexpected still can (and likely will) happen—a surprise framing issue, material shortages, a global pandemic—so having as much already dealt with as possible gives everyone time and energy to handle the unforeseeable.
DON'T expect your site manager to proceed on schedule and budget with just a long list of "TBDs" to work with. It may seem like choosing the exact model of your range could be something left for later, but by the time demo is finished, your contractor already needs to know the Btu requirements, gas and electrical locations, and corresponding hood-vent specs for makeup air and roof penetrations. Leaving appliances to chance and working instead with assumptions can mean a costly retrofit down the road. This is becoming increasingly important while we experience significant material delays at the time of this article.
Set up a temporary kitchen
DO invest in a temporary kitchen. A temp kitchen will be invaluable, so set it up well on the front end. Make it suited for glamping, not just surviving. Make it your excuse to get that all-in-one fancy coffee maker you've been wanting. A good temp kitchen can include:
Microwave
Hot plate
Toaster oven
Crock pot
Laundry sink with hot water hookup
Electric kettle
Outdoor grill (with a reminder to never use a propane or charcoal grill inside)
Paper plates and compostable utensils
DON'T hesitate to ask your contractor for help or advice with your temp kitchen. While we sometimes have limitations on what we can do, many carpenters will try to find ways to leave extra electrical power available or install extra dust and noise barriers. I like to leave the refrigerator hooked up in the garage, with a clear delineated barrier between the fridge and our workspace.
DO treat yourself to ordering meals or going out to restaurants. Whether it's something you get to look forward to on a routine or as needed, set aside a special budget to give yourself some relief from the crock pot.
Think about the rest of the house
DO realize that a kitchen remodel spills out into many other areas of the house. The carpenters need a space to stock lumber and make cuts. The electricians need access to the electrical panel and attic space. The plumbers need to access the water shutoff and crawlspace. The cabinets need somewhere to be stored upon arrival. All your appliances, tile, and accessories need somewhere to live (some homeowners have even rented a portable storage unit for this purpose).
Everyone will need a way to get in and out of the house, often turning yards into mud pits. A dumpster may take up your driveway. A portable bathroom may take up your parking space or leave a TARDIS-shaped imprint on your grass for a few months. A full kitchen remodel will impact the entire house and everyone living in it, so brace yourself accordingly. Pre-planning routes for foot traffic and designating storage and cut areas ahead of time can help cut down on chaos.
DO expect dust to be everywhere, the same way that you can never leave a beach without sand in unexpected places. Contractors should be using magnetic flap doors, vent blocks, and the highest-quality plastic walls secured at the ceiling and floor. However, there is simply no way to truly prevent dust from expanding beyond the immediate confines of a kitchen remodel, so keep this in mind when locating a temp kitchen.
Contractor or DIY?
DO hire a reputable and trustworthy remodel company. I'm biased, as an industry professional, but remodeling a full kitchen is a deceptively massive undertaking that requires the touch of nearly every trade at some point in the process. Some of the most skilled carpenters I know have taken it upon themselves to renovate their own kitchens and have deeply underestimated and regretted the mental and physical strain it takes to perform a full remodel by oneself. Additionally, many energy and electrical codes are changing, and the electrical panel that served an older kitchen may not suffice for a new kitchen. Plan for potential upgrades and electrical work, which should be done by a qualified professional.
If you are not planning on hiring a contractor or are doing a smaller-scale DIY face lift, it is good to set a goal to work on a consistent schedule. Even small daily progress is still progress. Tack on at least an extra day or two for every task, and don't beat yourself (or your contractor) up when mistakes or delays occur. We're all only human.
DO remember that a kitchen remodel can be one of the most useful and meaningful renovations we perform on our homes, and the time and effort we put into a remodel pays off in myriad ways. The kitchen is where we break bread, make a loved one's favorite dish, and gossip with friends as we prep dinner. It's where we make holiday meals and school lunches. Good planning and patience will go a long way toward maintaining your mental health during a kitchen renovation, and as a contractor, keeping a sense of perspective and empathy goes a long way as well. Best of luck!
Dejah Leger is a superintendent with Carlisle Classic Homes in Seattle. Her favorite part of kitchen remodels is when the espresso machine gets installed and the homeowner generously offers her a tiny cup of espresso.
Main photo by Ashley Goldman. Second photo by Brian McAward.
---
RELATED LINKS
Previous:
Kitchen Remodel: Managing Demolition Debris