Tools & Materials
Heavyweight Portable Tablesaw
The sturdy and powerful Grizzly G0870 10-in tablesaw is a workhorse on the job site.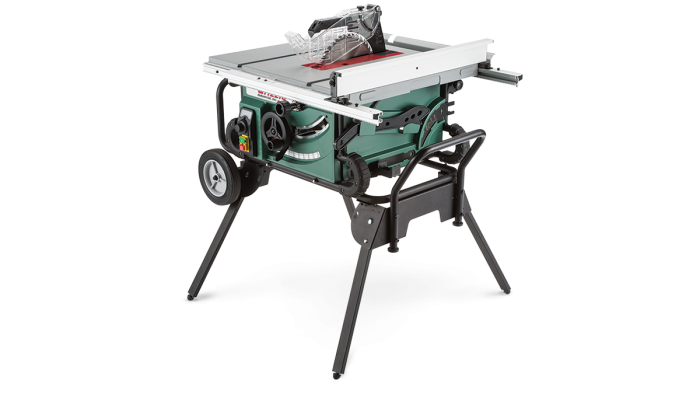 Even though I'm a small-truck-driving, cordless tool evangelist, when I set up for a long remodel job, I value having a corded job-site tablesaw. And when there are three apprentices on site to carry around the 96-lb. Grizzly G0870, my cordless tablesaw stays behind my passenger seat. Even though the G0870 looks like a newborn fawn standing for the first time, this saw is very stable. In addition to run-of-the-mill ripping and cross-cutting, we've run a few dozen sheets of CDX plywood, rabbeted 1×6 window bucks, and cut wood-fiber insulation board with no stability issues. The outfeed extension does just enough to justify its existence even though the saw cannot be wheeled through a typical 3-ft. door when it's attached.
There's a silver-dollar-size knob above the on/off switch that controls the motor speed from 2000 rpm to 4000 rpm. If you're asking, "What do I need that for?" you're not alone. The Grizzly website says this feature "allows you to cut other materials, laminates, and some plastics." We gave the 2000-rpm setting a workout making a small wooden gutter for a side-door overhang. The G0870 was able to remove about 1⁄16 in. of material on each cove pass without scorching or bogging down and managed to direct nearly all of the dust to its 2 1⁄2-in. dust port.
The motor also has electronic load sensing, a feature meant to maintain constant blade speed under load. While ripping Douglas-fir 2x framing lumber, we did notice that the sensor was active, though it was difficult to detect a difference. During the same ripping session, the saw's overload protection kicked in and stopped the motor prior to overheating.
After six weeks of daily use, this saw is no worse for the wear and the rack-and-pinion fence track is holding parallel. The G0870 has easily usurped our company's Reaganera contractor's saw as our go-to saw for big jobs.
Grizzly G0870 10-in. Portable Tablesaw
Table size: 22 in. by 26 3⁄8 in.
Price: $365, plus $100 shipping
Zero-clearance insert: $27
Dado insert: $22
– Ian Schwandt, a lead carpenter with Hudson Valley Preservation in Kent, Conn.
Photos: courtesy of Grizzly, Matthew Millham
From Fine Homebuilding #286
More about job-site saws:
Garbage-Bag Dust Collector for Tablesaw – This simple trick for collecting tablesaw discharge dust is a cheap fix for a messy problem, and it makes job-site cleanup a quick and easy task.
How to Break Down Plywood With a Track Saw – Follow this step-by-step sequence for cutting sheet goods to accurate sizes, all without a tablesaw.
Hyperportable Tablesaw – Milwaukee's lightweight cordless 2726-21HD saw is great for remote job sites, but portability comes with a few trade-offs.