Podcast 213: Fixing a Basement Slab, Making a Stucco Wall Watertight, and What to Do About Insulbrick
Rob, Matt, and Patrick hear from listeners about foam glass, structural welds, and deep-energy retrofits before taking questions on how to level an uneven basement slab, the best fix for a below-grade stucco wall, and installing new sheathing on Insulbrick.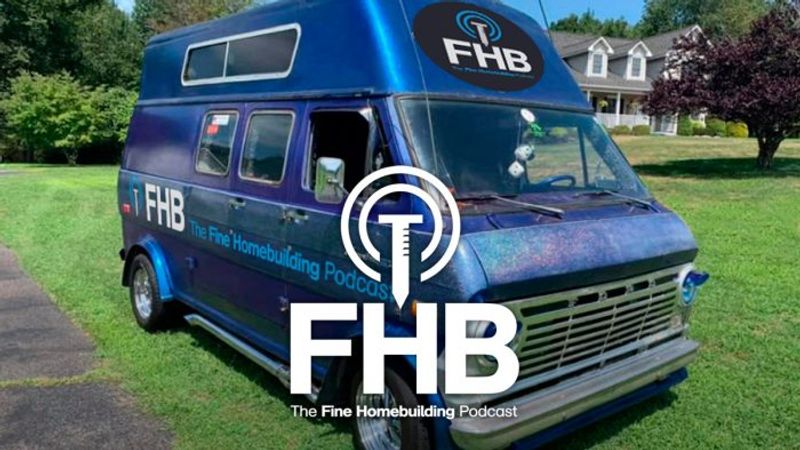 Follow the Fine Homebuilding Podcast on your favorite app. Subscribe now and don't miss an episode:
The crew hears from Ben Bogie about his experience using foam glass. Several listeners weigh in on the ethics and sensibility of a 9000-sq. ft. deep-energy retrofit. Jeff talks about who inspects structural steel in Seattle. Jeff wants to know what he should do about his cobbled-together basement slab. Michael asks how to fix a stucco-clad wall built partially below grade. Andy from Indy wants to know the best way to insulate a concrete floor that was once part of a porch. And anonymous wants to know what to do about the Insulbrick on an old home he's rehabbing.
---
Listener Feedback:
Listener feedback #1
Ben Bogie writes, In episode 210 Rob brought up Glavel and Foamglas as part of our discussion on protecting exterior foam foundation insulation.
Rob- I've used Foamglas on one PH project. It was a structure that about 2/3 was on piers and the other 1/3 on a traditional basement stem wall. We used the foam glass between the top of pier/girders and between the stem wall and mud sill. This thermally isolated the structure from ground and exterior temperatures. It's a cool product with pretty crazy compressive resistance. It works very well with standard saws etc.
After that project a friend was pricing a project from the same architects where foam glass was spec'd being applied to the exterior of the foundation down to footing level. It's a great product in that application but shocker of shockers, here's the rub… it's super expensive when compared to other methods.
Like many high performance materials, it's super common in Europe and I'm pretty sure that's due to the fact that the supply chain and know how are in place to support it. Hopefully that makes its way across the pond before too long.
Best regards.
Related links:
---
Listener feedback #2
In episode 210 we asked is there anything inherently wrong with a deep-energy retrofit on a 9,000 sq. ft. house?
Hank in Minneapolis writes, I loved hearing you all discuss work vehicles and fuel economy a while back and I think I love this question even more. I'm a residential remodeling carpenter, I live in Minneapolis, and I'm 28 years old. A depressing number of my peers live in dread as they are convinced we are all headed towards a retirement that looks less like a tropical vacation and more like Mad Max: Fury Road. Climate change is apparently a very real issue and according to countless articles I come across on a regular basis, we have very little time before it's simply too late and the damage is irreversible. Between inefficient buildings and a consumeristic obsession with remodeling homes which already work fine, it's no secret that the construction industry contributes an embarrassing amount to climate change and it makes my heart a little heavier every time I haul a barrel out to the dumpster at my current project.
I really enjoyed reading the article by Sarah Susanka you shared. I have very little to add to her argument, though, I would say I might change the emphasis from smaller buildings in general to simply less square footage per occupant. When you mentioned in the show something about a 9,000 square foot home, I did a quick Google image search since I don't think I've ever actually seen a home that large. Everything I came up with looked to me like they were built mostly just to tell their neighbors how much money they had or to hopefully end up online somewhere as an article saying "look at my 9,000 square foot house." and not to actually make anyones life easier or more comfortable. The only question I can come up with is: how many people actually live in these homes? A quick stroll through Ikea will convince most people it is possible for two people to be comfortable in 300 square feet. Something tells me that a house that is written up in an architectural magazine because it is 9,000 square feet does not have 30 occupants.
I understand that we are all doing our best with the resources we are given and that includes people who were born into situations which gave them a different perspective than my own. I'm not "throwing shade" as the kids would say, on anyone for their individual design choices. If you want a big house, build a big house. I only hope that I continue seeing more and more people getting involved in these conversations so they can be more fully informed when making their decisions.
Thanks for putting this question out there and thanks for all the great content you provide that helps all of us use more environmentally friendly materials and more efficient building techniques.
P.S. Here are a couple of TED Talks about co-housing as one viable option for using fewer resources to make people comfortable.
Related links:
---
Listener feedback #3
Also in episode 210 we talked about who inspects structural steel connections in residential work.
We heard from Jeff from Seattle who commented on the FHB Podcast page
Regarding welded steel connections in residential light construction – our firm will do our own details for accessory items like awnings or porches and we generally go for the 'overkill' method you mentioned.
For a structural steel beam with welded connections we defer to an engineer.
However, in either case we add the following note as required by our area jurisdictions:
NOTE: STEEL ASSEMBLIES TO BE FABRICATED BY WABO CERTIFIED FABRICATOR OR FIELD INSPECTED BY A SPECIAL INSPECTOR.
This is in Washington state where, as the note implies, the certified welder is usually the route to avoid costly special inspections.
Related links:
---
Editor's Projects:
Matt's new door – Matt bought a perfectly good new door at The Door Jamb, a store in rural NY State that sells factory seconds
Rob's dishwasher – Rob said that this install was possibly on of the most frustrating small projects he's ever done…and he's worked on a lot of rough old houses before.
Patrick's Pittsburgh podcast meetup – He's heading to Pittsburgh the week between Christmas and New Year's and would like to have a podcast meetup somewhere in the Burgh. So if there are any listeners in the Pittsburgh area who are interested, please send an email to the FHB podcast and we'll see if we can make it happen. Patrick said, "First round is on me! ..as long as we go someplace cheap."
---
Question 1: Should I build a concrete-free basement floor in my old house?

Jeff writes, Hi guys! I can't tell you how many projects you have helped me accomplish as I renovate my house. HGTV just celebrated their 25th anniversary, and I don't think I have learned a single useful thing from them! Even your long rambling discussions that yield no answers are helpful— because it helps me realize that sometimes there just isn't a straightforward answer in building.
I have a question about my basement floor. Our ultimate goal is to finish half of the basement as a playroom/workout room and leave the other half insulated but rough as storage and for a wood stove. The first task is dealing with the floor. It was clearly originally unfinished with a few concrete pads added over the year and then a rat slab was poured. The end result is that it is uneven and drops 4" from the front to back. A concrete company quoted us $5000 to level it with gravel and then pour a slab (3"?). Listening to your podcast with Steve Bazek made me think this could be a good application for a floating wood floor. Steve did compacted gravel, rigid foam, a vapor barrier, and then two layers of 3/4" Advantec laid perpendicular. Would this be a wiser path than pouring a slab? The advantages I see are that it leaves me with a floor that could take a finished floor and I might be able to integrate a vapor barrier/dimple mat on the walls for finishing the walls. I figured it would be about $4000 in materials with 2" of foam. If it is a good idea, how much foam is worth putting in a house that is moderately well insulated, can I integrate the wall vapor barrier, is a dimple mat worth the extra money, how would I seal the posts holding up the main beam, and would hauling and compacting that much gravel actually kill me?
Some details:
The walls are 93" tall on the short side
After a heavy rain event, two cracks in the walls had a trickle of water making dinner plate sized puddles. We have since regraded the lawn and are damp proofing on the inside.
I plan on 2" of rigid foam on the walls and shallow stud walls.
Thank you for your help!
Related links:
---
Question 2: Is there an acceptable method for insulating a wood-framed wall that has exterior stucco with no WRB?
Michael writes, Hey Y'all, My Uncle recently has been dealing with some water issues on his very full Chicago lot. He lives in a 1920s 3 story Tudor with a full basement. At the front of the house is what we presume was once a three season room but has since been fully incorporated into the conditioned space (sans any actual insulating or air sealing). The original three season room was built also on a concrete foundation, but it seems the foundation was either just barely at or started below grade, and then the room was framed, a 6″ curb poured around the front which enveloped the framing, and then stucco on the outside attached directly to the framing and stopping at the curb. I've attached a sketch section view and a photo from the inside.
| | |
| --- | --- |
| | |
The proposed fix is to cut all the framing at about 6″ up from the foundation, remove all that "spill through" concrete, and install a new sill plate on top of the new concrete. The question is, what are the options for closing this back up? My thought is to just put up some #15 felt and then board sheathing. I hesitate to insulated or air seal as that will trap the vapor driven moisture from the stucco in the wall cavity. Aka, it's gonna get wet and the only way to dry is with warm interior air.
I'd be interested in your thoughts on how to address these kinds of issues.
Also, my address is below for a dope podcast sticker.
Related links:
---
Question 3: Can I cover the concrete slab in a porch that has been converted into conditioned space with 3/4-in. rigid foam and carpet tiles?
Andy from Indianapolis writes, Hello Fine Homebuilding podcast people, My name is Andy and I have been listening for about 8 months. I've learned a lot and enjoy listening on my commute. My wife and I are in the demo stages of a 1930's farmhouse renovation. We're taking it back to the studs and replacing everything inside and out.
My question is about flooring in the front room. A 24 x 10 foot slab was added to the front of the house at some point and half is a front porch and the other half is the room I'm writing to you about. The room was originally connected to the rest of the house by a step up and a narrow doorway. We have opened this up to the living room and there is going to be a vent in the side of the step.
We'd like to use carpet squares in this room and I d like to know if using 3/4 inch rigid foam under the carpet would be a good idea. I have about 1 3/4 inches available and still clear the entry door.
The slab is raised to almost match the height of the original raised foundation (about 12 inches). Do I need poly under the foam and should I have some plywood over it? It seems like this sandwich should work, but I don't know if I'm missing anything.
I've attached some pics and there are more on the following Instagram feeds: @redmoonhollow and @absexson
Related links:
---
Question 4: Can I install new sheathing over old Insulbrick siding/sheathing, or do I have to strip my house down to the studs?
An anonymous remodeler from Pittsburgh writes, Hello Fine Homebuilding, I am a remodeling contractor on the west side of Pittsburgh and have started a rehab of a late 20s duplex that had rot and fire damage.
My question however is about sheathing, currently the home is clad with aluminum lap siding directly over Insulbrick which I am sure Patrick is familiar with as it was very common in this area. In order to improve the exterior envelope and create a flat surface for LP smart side lap siding to be installed we plan to cover the exterior with zip sheathing. I decided to call huber and ask their opinion on placing the zip sheathing directly to the existing board sheathing. They advised against this due to the fact the materials may expand at different rates causing failure and suggested using Zip R to provide a decoupling layer. With that in mind i asked if it could just be placed directly over the Insulbrick, they stated they don't have enough information on that material to make a recommendation. Not having to use the insulated Zip R would save some cost but I also have concerns about drying potential with zip considering we plan to use faced fiberglass batts in all the wall cavities. Love the podcast and would like to know your opinions on that subject and should I worry about drying potential in our climate. Thanks for what you do
Related Links:
---
End Note: FHB Hits the Road
Jeff and Patrick offer some suggestions for what an FHB Podcast tour bus should look like…
…but we really will be on the road for a week in January…
Come see us at The International Builder's Show…it's only about a month away!
THE SHOW:
If you can get to Las Vegas on January 21st, 22nd, or 23rd, come visit Fine Homebuilding at IBS booth C7543 at the Las Vegas Convention Center,
Get a FREE 3-Day Exhibit-Only pass courtesy of Fine Homebuilding.
THE PODCAST:
We'll be recording the FHB Podcast several times at our booth throughout the event. If you email us in advance and tell us you'll be in Vegas, we might even be able to interview you on the podcast!
THE KeepCraftAlive MEETUP:
Join us for a #KeepCraftAlive Meetup and Networking Event. Fine Homebuilding will be hosting a fun evening of networking and fundraising on Wednesday, January 22nd from 5:30-8:30PM at Craft + Community Bar and Grill in the Hardrock Hotel & Casino. Come support the Fine Homebuilding and SkillsUSA Scholarship Fund, enjoy craft beer, food and swag! Please REGISTER HERE.
We hope to see you there!
---
If you have any questions you would like us to dig into for a future show, shoot an email our way:

[email protected]

.
If we use your question we'll send you a FHB Podcast sticker!
#KeepCraftAlive

KeepCraftAlive hats help celebrate the value of true craftsmanship–plus 50% of all proceeds from every hat sold go to the #KeepCraftAlive Scholarship Fund, supported by Fine Homebuilding and SkillsUSA.
Buy a #KeepCraftAlive hat or t-shirt
---
This episode of the podcast is brought to you by Danner, Huber Engineered Woods, and Leatherman
We'd like to thank Danner, who sponsors this podcast because they believe in us. They believe in quality, and craftsmanship…but more than anything, they believe in the power of following your own path.
For more than 80 years Danner has made boots for those who have a trail to blaze. Boots like the Bull Run. Hand built in the USA with durable, full-grain leather uppers, and stitch-down construction for strength and stability. The Bull Run is built in a timeless design for both men and women with unmatched quality and durability that stands the test of time. The Bull Run boot by Danner offers iconic style and legendary craftsmanship for those who earn their independence.
You can find yours at Danner.com.
This episode is also brought to you by Huber Engineered Woods, makers of AdvanTech and ZIP System products.
If you're going to the International Builder's Show in Vegas, don't miss Huber Engineered Woods – they will have two locations. At the Huber Wood booth in the Central Hall, be sure to attend the 3rd Annual "Best of Social Awards" with Matt Risinger, Wednesday at 3:30. Follow @huberwood on Instagram for information on pre-registration. And try ZIP System liquid flash, stretch tape and AdvanTech subfloor adhesive at The Prove It Tour product experience outside on your way to pick up your badge near Show Village.
This episode is also brought to you by Leatherman.
A Leatherman multi-tool is a problem solver: For outdoorsmen. For craftsmen. For around the house, and on the job. But it's also the solution to one of life's greatest challenges: Finding the perfect holiday gift. Check out the Leatherman FREE Collection, the next generation of the world's most popular multi-tool. Or create a one-of-a-kind Leatherman, with custom graphics and personalization. Holiday gifts? Shop now at Leatherman.com. Problem solved.
---
Fine Homebuilding podcast listeners can now get 20% off anything in the Taunton store, including the Code Check series. These sturdy, spiral bound reference books will help you navigate the International Residential Code, The National Electric Code and the Universal Plumbing Code. Use the discount code FHBPODCAST to take advantage of this special offer.
---
We hope you will take advantage of a great offer for our podcast listeners: A special 20% off the discounted rate to subscribe to the Fine Homebuilding print magazine. That link goes to finehomebuilding.com/podoffer.
The show is driven by our listeners, so please subscribe and rate us on iTunes or Google Play, and if you have any questions you would like us to dig into for a future show, shoot an email our way: [email protected]. Also, be sure to follow Justin Fink and Fine Homebuilding on Instagram, and "like" the magazine on Facebook. Note that you can watch the show above, or on YouTube at the Fine Homebuilding YouTube Channel.
The Fine Homebuilding Podcast embodies Fine Homebuilding magazine's commitment to the preservation of craftsmanship and the advancement of home performance in residential construction. The show is an informal but vigorous conversation about the techniques and principles that allow listeners to master their design and building challenges.
Other related links