Tools & Materials
Do-It-All Worktable
This four-in-one workbench is a useful dolly, a sturdy scaffold, a clever job-site organizer, and so much more.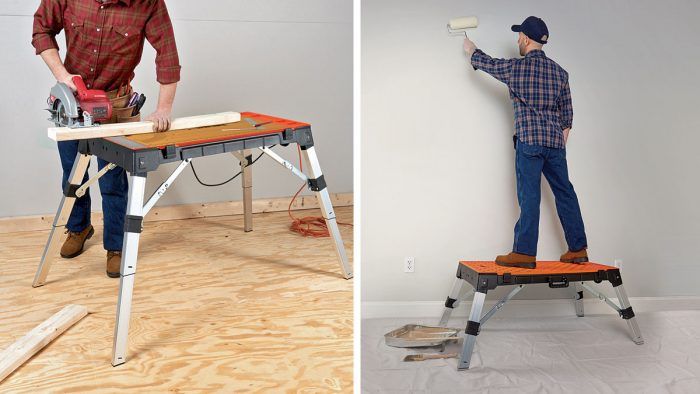 It would take me several lifetimes to use the Disston Tools OmniTable ($150) for all the things it can make more productive. Billed as a four-in-one workbench, the collapsible 38-in. by 18-in. worktable is a useful dolly, a sturdy scaffold, a clever job-site organizer, and so much more.
It's a dolly: When the OmniTable's legs are folded, it becomes a rolling platform—one set of rollerblade-style wheels is fixed and the other set swivels. I've used it to transport cabinets, move boxes of tile, store studs in a basement renovation, and keep heavy items like pails of joint compound on a moveable surface.
It's a compact scaffold: When the sturdy aluminum legs are opened, the OmniTable is a drywaller's bench of sorts. At 32 lb., it's not quite as portable, but it can get you high enough to tape ceilings or install crown molding, and it provides fast access to top plates for mechanical rough-ins or marking layouts. With a 500-lb. capacity and room enough to move, you'll like climbing up there.
It's a workbench: Fully extend the telescopic legs, and you've got a 30-1⁄2-in.-tall worktable—a comfortable height wherever it's needed. This is where the OmniTable's versatility really shines: The top is reversible—one side has a plain textured surface, while the other side has a protector and cutting groove and compartments for holding parts and accessories.
But wait, there's more: The table includes a three-outlet GFCI receptacle for powering corded tools and charging batteries. There's also a quality, suitcase-style handle that makes the table easy to carry. I plan to build a tablesaw cart that will allow me to use the OmniTable for outfeed support. There's nothing else commercially available that's as sturdy, useful, and easy to store.
– Mark Clement (@MyFixItUpLife), a carpenter in Ambler, Pa.
Photos: Courtesy of the manufacturers
From Fine Homebuilding #293