Podcast 366: HVAC Balancing, Deck Ledgers, and De-Sagging a Floor
Rob, Brian, and Patrick hear from listeners about long lead times and proper tarping before answering questions on HVAC air distribution, installing and flashing deck ledgers with stucco siding, and fixing butchered floor framing.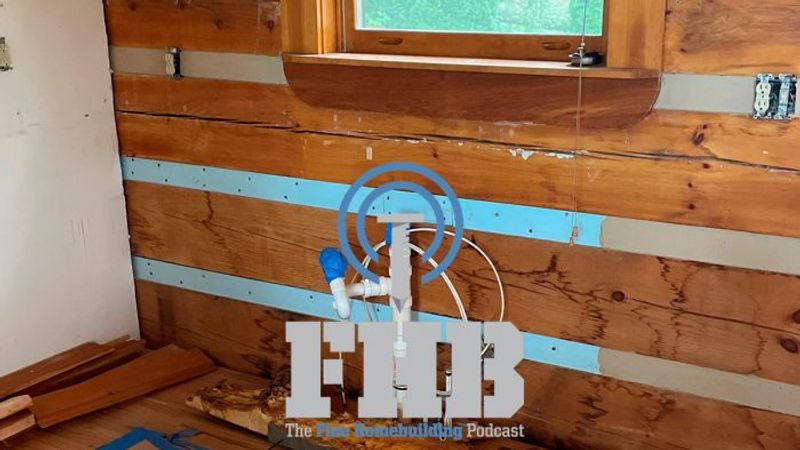 ---
Follow the Fine Homebuilding Podcast on your favorite app. Subscribe now and don't miss an episode:
Help us make better episodes and enter for a chance to win an FHB Podcast T-shirt:
www.finehomebuilding.com/podcastsurvey
Andrew shares a list of building products he's waiting for. Dan and Mike describe how they use roof membrane for tarping. Brian says signboard is good for skate ramps. Mikee says building-material prices are falling. Corey asks why his basement and upstairs aren't the same temperature. Jack asks for help installing a deck ledger with stucco siding. Chris needs a repair for his butchered floor system. Andrew is fixing a leaky window in a log wall.
---
Editor Updates:
---
Listener Feedback 1:
Andrew Steele writes: I'm waiting 12+ weeks for an Anderson window, 12 weeks for domestic semi-custom cabinets, drywall bucket mud is scarce. I have a dishwasher that is back ordered until thanksgiving. I was at my local hardwood/plywood dealer a few weeks ago, Baltic birch 3/4″ is less than subfloor from the box store. There was a gentleman there buying a bunch for a screened porch he was building. Nothing like covering Baltic birch with indoor/outdoor carpet.
---
Listener Feedback 2:
Dan Kolbert writes about tilt-turn windows from Episode 360: We find a lot of clients mostly use the tilt function. Does not intrude much and even better it sheds water. Now listening to the tarp part. We get a piece of EPDM if we're taking it down to the floor. Run it out over the edge, frame exterior walls over it. Cut it out when dried in.
Also did this when we did a new house with exposed beams and the finished 2x t&g flooring we needed to protect both til dry in and to protect later. Obviously, it's really heavy so you either need a lull on site or a boom truck to deliver.
---
Listener Feedback 3:
Brian writes:  Hi all from sunny Boise, Idaho, Just wanted to give a quick suggestion to the listener who asked "How can I build a durable mini skate ramp on a tight budget?" in Episode 360. There's a product common to the sign trade called expanded PVC (Sintra is the brand name) that'd work well for his application. We've actually used it on ramps for BMX biking, so I'm pretty sure his skateboard ramp would be a piece of cake.
Any technical data sheets will state that it's not for long term exposure, but we've used it on signs that have spent upwards of 10 years uncovered with only mild effects. The price is right—anywhere from $15–$30 per sheet—depending on the thickness. The only caveat is that it tends to expand/contract about 1/4-inch over 8-feet, depending on the temperature. The following document has specifics.
Skate or die!
---
Listener Feedback 4:
Mikee writes: Hi Guys, I'm sure you've seen a plethora of these articles but I thought of y'all and figured I'd say hello! Hope you guys are doing well. The podcast and all the content/discussion in the community continues to be exciting amidst my "tech work." 🙂
Have an awesome week. I am so THRILLED and thankful you guys are fighting the good high-performance home/moisture management/AIR SEALING fight!
From Bloomberg.com June 11, 2021
Lumber futures posted their biggest-ever weekly loss, extending a tumble from all-time highs reached last month as sawmills ramp up output and buyers hold off on purchases. Prices in Chicago fell 18% this week, the biggest decline for most-active futures in records going back to 1986. Lumber has now dropped almost 40% from the record high reached on May 10. Sawmills appear to be catching up with the rampant home-building demand in North America that fueled a months-long rally, bringing some relief to a market beset by supply shortages and price surges. Buyers are balking at still historically elevated prices and awaiting additional supplies, setting off a cascading sell-off, analysts said.
"Activity yesterday was brisk to start, turned lethargic and ended quite subdued," William Giguere, who buys and sells eastern spruce with mills for Sherwood Lumber in Massachusetts, said in a note Friday. "There was plenty of lumber available from the mills and enough ambition to sell. Missing was the sense of urgency from buyers."
---
Question 1: Is there an easy and affordable way to better distribute the conditioned air in my split level home?
Corey writes: Apologies if this question has been answered before. I live in a 70's era split level, 1200 sq. ft., house just outside of Chicago with forced air heating system. The finished basement/lower level is consistently much much colder than the ground level and 2nd floor. Is there an easy (read: inexpensive) way to better distribute the conditioned air? Right now, if we get the bedrooms upstairs to a comfortable temp, the basement becomes a walk-in freezer. I've read that closing vents can cause unwanted stress to the system?
Related Link:
---
Question 2: How do I properly flash an additional ledger I'm applying to my stucco house?

Jack writes: Hello Team, As it is deck season up north in Minneapolis again, I have a question regarding ledgers, and how to properly fasten/flash them. I know this is a topic which there is a ton of information on, but oddly enough I have not found much information on how to do so in my specific situation. I am looking to add square footage to an existing deck in a house with stucco siding, and in turn need to add additional ledger. An existing ledger is present in the siding, and appears to have been properly flashed when the house had stucco applied. However, now that I want to add an additional ledger to the house where stucco is already present, how do I flash it properly? I know the rim joist behind the wall is solid and will provide a strong ledger bolt connection, but an curious as the the proper way to apply flashing. Any advice would be greatly appreciated! Thanks in advance!
Related Link:
---
Question 3:  How do I address significant sagging in my house?
Dack writes: Hello all, Was wondering what you all would do in my situation. I'm renovating my upstairs on my two story home and I'm approaching the drywall stage. But before I hang my drywall I'd like to address a considerable sag that I have right in the middle of our home. Our framing in the basement is quite cut up due to an old heating unit that had been removed even before I moved in. The floor joists are true 2×8, 24" on-center, 11' span. I'm thinking it's pretty under-built. I was gonna start sistering on joists and would like to use 2×8 dimensional lumber but at the current spans would it be enough?
But that's not the worst of it. The sag in the middle is most definitely coming from the fact that they cut in the old HVAC unit directly under my load bearing wall and I'm left with what I'll send along in the pictures. I've begun slowly raising the sag with jacks and posts. Very slowly. But was wondering what I should do when I finally reach a good enough point of level. The basement is mostly storage and laundry with no plans to make anything more. But I'd like to not just put posts at every location and make it a maze to get to our laundry. Also pay no mind to the electrical down there. I know it's terrible and I'm working on fixing it up.
Related Link:
---
Question 4:  How can I waterproof the window of a log home remodel?
Andrew in Ashville writes: Hi Guys, I'm working on a remodel of a fairly new log home. The building is a 2×8 stick frame first floor with log siding and a square log second floor. When I opened up the wall on the the stick frames portion of the home I noticed some musty smell and what looked like water damage around the window opening. While I haven't pulled all the trim from around the window on the exterior it looks to me like the only waterproofing that was done was some L-shaped flashing behind the head casing and a generous amount of caulking.
This level is pretty straightforward to fix depending on how in- depth the customers want to get with removing siding, sheeting, and re-installing windows. I am replacing a window on the second floor where the wall is a solid log. This area has the same water intrusion around the window and some damp wood. I'm not really sure what to do to try and waterproof this opening since it's, well, just a solid log. So far my best idea is to use a power plane to slope the bottom of the opening, liquid flash the opening, make a saw kerf in the log above the window opening to accept a Z flashing above the window, zip tape the sides and top of the nailing flange and re-install casings. I realized I only have one picture of the window I'll be replacing. I can get some better ones in a few days.
Related Link:
---
End Note:
Time for another FHB Anniversary interview:
Tell us who you would like to interview—past or present FHB staff or contributors—and we'll see if we can get you to be the guest host on a special anniversary episode of the Fine Homebuilding Podcast: Email us at [email protected].
---
Check out our new 2021 FHB Houses:
Visit the Taunton Store  •  Magazine Index  •  Online Archive   •  Our First Issues   •  All Access
---
Help us make better episodes and enter for a chance to win an FHB Podcast T-shirt: www.finehomebuilding.com/podcastsurvey
---
If you have any questions you would like us to dig into for a future show, shoot an email our way:

[email protected]

.
If we use your question we'll send you a FHB Podcast sticker!
---
FHB Podcast T-shirts!
Represent your favorite podcast! Available in several styles and colors. Made from 100% cotton. Find the Podcast t-shirt and more cool products in the Fine Homebuilding Store.
---
Fine Homebuilding podcast listeners can now get 20% off anything in the Taunton store, including Insulate & Weatherize.
Use the discount code FHBPODCAST to take advantage of this special offer.
---
We hope you will take advantage of a great offer for our podcast listeners: A special 20% off the discounted rate to subscribe to the Fine Homebuilding print magazine. That link goes to finehomebuilding.com/podoffer.
The show is driven by our listeners, so please subscribe and rate us on iTunes or Google Play, and if you have any questions you would like us to dig into for a future show, shoot an email our way: [email protected]. Also, be sure to follow Fine Homebuilding on Instagram, and "like" us on Facebook. Note that you can watch the show above, or on YouTube at the Fine Homebuilding YouTube Channel.
The Fine Homebuilding Podcast embodies Fine Homebuilding magazine's commitment to the preservation of craftsmanship and the advancement of home performance in residential construction. The show is an informal but vigorous conversation about the techniques and principles that allow listeners to master their design and building challenges.
Other related links