Fine Homebuilding Flashback: 1983, Introducing Concrete and Tilework
The third year of the magazine includes more than one Frank Lloyd Wright home, features on timber-framing and block foundations, and the magazine's first deep dive into concrete and tilework.

To celebrate Fine Homebuilding's 40th anniversary, we're taking a look back at old issues of the magazine and sharing some notes about the articles and images that have appeared on the cover and in the pages over the years—and the dedicated editors, artists, writers, photographers, designers, and tradespeople who contributed to them.
In 1983, we had our first story on setting tile, two different features on Frankl Lloyd Wright homes, and the beginning of the coverage of concrete in the magazine. In addition to mainstream topics like stair layout and block foundations, the issues featured some more unique projects like gas lighting and wrought-iron joinery. And one particular cover would never pass muster today—just take a look below.
If you're an FHB All Access member you can read a digital version of every single issue in our Online Archive (follow the links for the specific issues below), plus anyone can find find web versions of many of our articles in the Magazine section of the website.
Dec/Jan 1983 FHB #12

Our first issue in 1983 marks another notable cover, and it's not just the romance between timber framing and hand tools. The cover story's author is Tedd Benson, who would start his career about as traditionally as you can—building timber-frame homes with hand tools—and would later become one of the building industry's most visionary leaders, pioneering and advocating for factory-built homes and an open building system, a concept that he would also explain in detail a couple decades later in another FHB article. The issue also included one of many articles that would be published over the years on Frank Lloyd Wright homes, in this case Fountainhead in Jackson, Miss. Like many Wright homes, the design was enviable, but the structure was flawed. In this issue we told the story of its restoration.

Read FHB issue #12 in the online archive.

Feb/March 1983 FHB #13

After wood and wood products, concrete may be the most fundamental and common building material in residential construction. And though it has only three necessary ingredients—Portland cement, aggregate, and water—choosing and using concrete is not so simple. It took a few years, but in issue #13, the editors decided it was time to take a deep dive into concrete and we've been covering its evolution as a building material ever since. We also covered the Fairbanks house in the issue. The Dedham, Mass., home—now a museum—is the oldest wood-framed home standing in America today. How concrete made the cover over the stunning Fairbanks house must speak to it's importance for builders.

Read FHB issue #13 in the online archive.

April/May 1983 FHB #14

Another Frank Llyod Wright house was featured in FHB issue #14. That's at least three in three years, and two more from Wright apprentices. Clearly the editors of the early issues had a fondness for his work. And this time, surprisingly, the Sowden house made the cover, which was given a slight redesign with this issue. Inside, the issue seemed to be a balancing act between the exotic—curved trusses, a treehouse, and gas lighting as an option for those who don't want to pay to have their homes connected to the grid—and the mundane—a look at portable planers, building a simple house, and designing a functional kitchen.

Read FHB issue #14 in the online archive.

June/July 1983 FHB #15

This cover photo is one that today would earn us many angry letters from readers about safety. And the truth is that we do sometimes rely on reader feedback to sort out issues, though we try not to put those things on the cover. Given a great lineup of feature topics—building on a steep site, detailing cornices, building a block foundation, choosing a nail gun, and incorporating solar gain and superinsulation for energy efficiency—the editors or art director must have really liked this shot. They chose it even over using on-site hydro power for renewable energy!

Read FHB issue #15 in the online archive.

Aug/Sept 1983 FHB #16

This is not the only curved stairway to be featured on the cover of FHB, but it may be the coolest. And inside the issue is a complete how-to on designing and building a stair like this. Also in this issue is Tedd Benson's second FHB article on timber-frame layout, our first coverage of reciprocating saws and bimetal blades, and some useful advice on stripping paint. There was mention of the last cover photo in the letters column, but the issue did have two new prominent advertisers: Wagner (paint sprayers) and Owens Corning (insulation).

Read FHB issue #16 in the online archive.

Oct/Nov 1983 FHB #17

Tilework has long been popular content with FHB readers, and this is not only the first time it appeared on the cover, but the first time tiling appeared in the magazine. With a few exceptions like stair layout and remodel plumbing, the rest of the issue's topics were not so mainstream. FHB issue #17 included articles on building louvered and counterbalanced shutters, thermoformed acrylic panels for window glazing, and wrought-iron joinery. The issue did include an article on Greene and Greene's Bolton house. The Arts and Crafts style would become a staple of coverage in FHB over the coming decades.

Read FHB issue #17 in the online archive.
​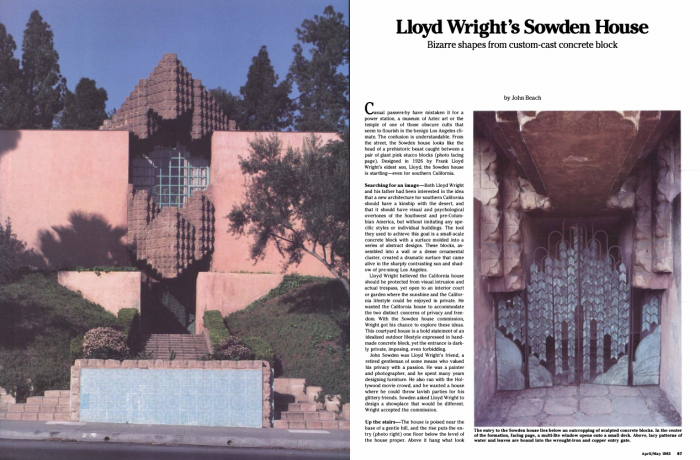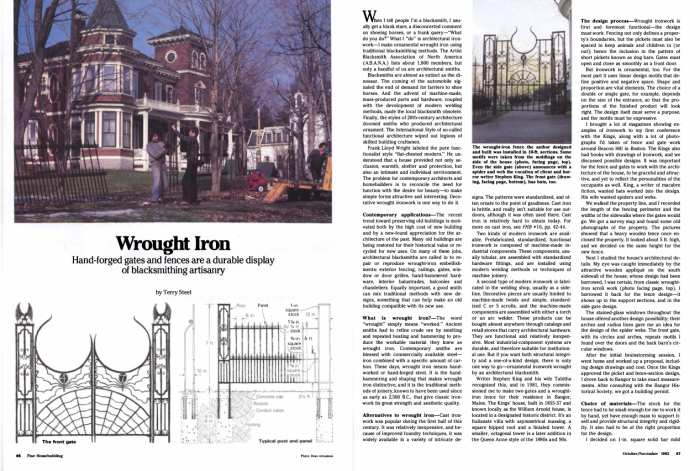 Click here for more glimpses of previous issues, follow us on social media, or sign up for our weekly newsletter to read more highlights from the formative years of Fine Homebuilding magazine.