Flattening a Wall
Avoid removing drywall and shimming studs to remedy a recess in a wall by filling the low spot with setting compound.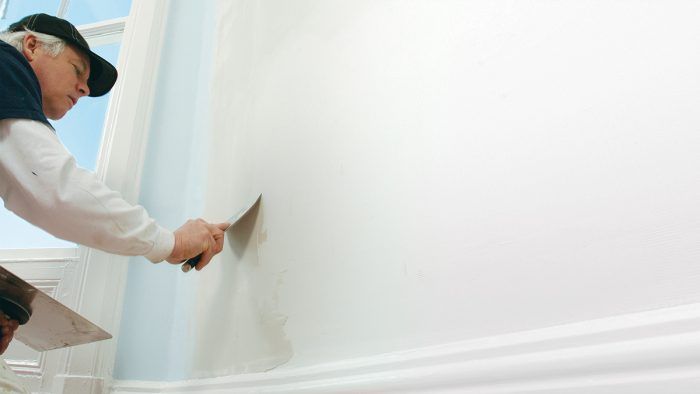 I'm remodeling an older house. The plaster was removed in a previous renovation and all the walls and ceilings are dry-walled. They're wavy in spots, but I can live with this in most places. However, it's very obvious where the stair stringer runs straight along a wall that bows in about 3/4 in. over about 5 ft. Is there a way to correct this without tearing out the drywall?
—Jane Harvey via email
Drywall expert Myron Ferguson replies: Although you don't want to remove the drywall, tearing it off, ripping shims to bring the studs into plane, and re-drywalling that section may be the easiest option. Still, a 3/4-in. recess can be filled with a setting compound such as USG's Durabond. You may need a few layers for best results.
For smaller areas you can sometimes get away with just filling along the stair stringer and blending the compound a couple of feet up the wall. In other cases you may fill in the entire recessed area. Fill most of the area with setting compound using a darby (a long, two-handed float) or wide taping knives. Use a regular (air-drying) lightweight compound for finish coats, which is easier to smooth and blend to the wall.
One last thing: It sounds like you might be working over a painted surface. A common problem here is air bubbles rising up through the compound. This can require an extra finish coat or two to fully eliminate. A trick if you are having trouble with air bubbles is to apply a finish coat of slightly thinned compound over the entire area, and then let it set for 20 minutes or so before starting to smooth it or remove excess compound. I find that USG Plus 3 is the best compound for this.
---
RELATED LINKS
Photo: Chris Ermides
From Fine Homebuilding #301
Previous:
There's a Better Way: Large Drywall Patch
Next:
Small Drywall Patch