How-To
Moving a House
Transporting a home to a new location requires careful planning and some heavy lifting by professional house-movers.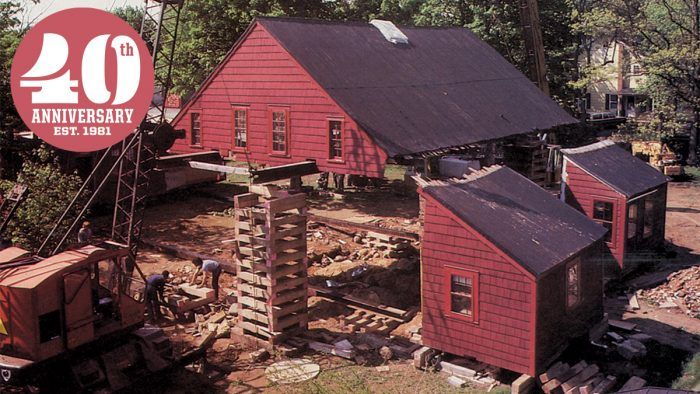 Synopsis: In this article originally featured in Fine Homebuilding issue #5, former editor Tim Snyder details the process of raising a house from its foundation and transporting it to a new location, including planning new footings, jacking up the house and resting it on steel I-beams, and separating the roof before transporting.

---
Raising houses from their foundations and transporting them to new locations is something of an American tradition. Illustrated records of house-moving exist as far back as the late 18th century, and by the mid-1800s an assortment of house-moving tools and techniques had already developed. Visitors from Europe were astonished by this phenomenon, which was unfamiliar to them. Perhaps the American penchant for house-moving had something to do with the openness of the land, the need to widen roads as pioneer settlements became towns, and pure Yankee ingenuity. Even today the vocation of moving houses is often handed down from father to child. "It's not something you can learn from a book," says Robert Kennelly, of Southampton, N.Y. When I went to visit this well-known house-mover, he was working on the project described in this article. Kennelly has moved thousands of houses since buying out an old-time house-mover some 35 years ago, and even as we drove down old Route 25 he would occasionally point to a house he had moved and relate some of the story behind its relocation.
Eastern Long Island is a good location for a house-mover. It's relatively flat and still has more potato farms than shopping malls or housing developments. Many of the beach houses (which are usually large enough to qualify as mansions) built on the main dune sooner or later need to be shifted back as the coastline erodes. And there are also a great number of old houses, built when clipper ships and whalers crowded the harbors of Greenport, Southampton, and Sag Harbor. The project shown here was one such house. Kennelly's clients had already purchased a lot and were looking for an old house of historical value to move to the site. The two-story Colonial they eventually found near Cutchogue, on Long Island's North Fork, had been built in 1720. The owners were willing to sell the house separately from the lot, so all that remained was to find a good house-mover.
Planning the job
Underpasses, bridges, narrow roads, trees and utility wires are some of the obstacles that can stand between a house and its new destination. One of the first things Kennelly does when asked about the feasibility of a move is to figure out a route that fits the dimensions of the house. The size of the house, rather than its weight, is the critical factor.
Except in cases where a house is to be moved only a short distance—just down the street, for example, or to another part of the same lot—the house-mover's strategy usually calls for cutting the building into manageable parts, each of which is supported by steel I-beams and then trucked to the new site. Utility lines are one of the main reasons for this "divide and conquer" approach. Two-story buildings cannot fit beneath the 18-ft. minimum clearance and the cost for raising power lines, even from one town to the next, is prohibitively high.
Ideally, a new foundation or new footings will be waiting for the house when it arrives; assembly occurs in the reverse order of the take-apart sequence. Usually new beams must be installed along the cut-lines to reinforce these joints. Replacing shingles, repairing rotten sill beams, and various other carpentry repairs are performed at this time.
For this small post-and-beam Colonial, Kennelly's plan was to cut off the two small lean-to additions at the back of the house and separate the roof from the main part of the building (photo, facing page). Each of the four parts was to be moved separately and re-assembled at the new site, some 20 miles away.
This article originally appeared in Issue #5 in August of 1981.
From Fine Homebuilding #302
To read the entire article, please click the View PDF button below.
---
RELATED LINKS
View PDF