Replacing an Asphalt Shingle
The job isn't hard, but it's not exactly straightforward, either.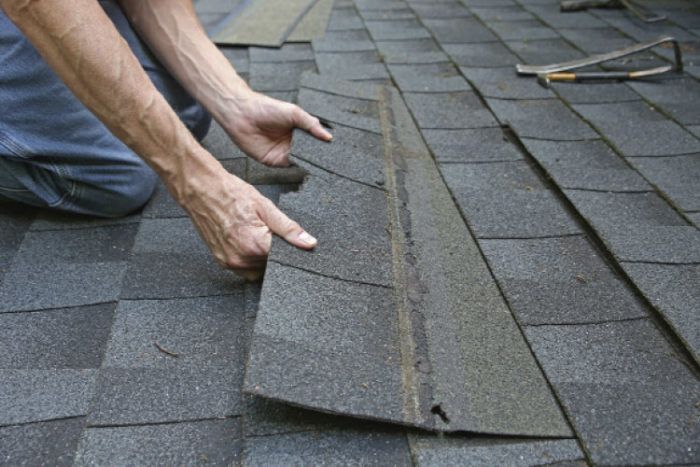 Shingles get damaged. Maybe a falling tree limb leaves a puncture, or wind rips a corner, or a careless teenager sneaking a cigarette on his parents' porch roof tears a shingle. Replacement isn't hard, but it's not exactly straightforward, either.
First, try to pick a temperate day to replace asphalt shingles. If it's too hot, you'll damage the roof just by being on it, never mind burn your hands on the hot shingles. If it's too cold, the shingles won't be flexible. They'll be hard to work with and likely to break when you try to bend them. Temperatures in the 60s are ideal. If it's going to be a hot summer day, work very early in the morning. If it's winter, wait until spring if you can. If you can't, pick a sunny afternoon and work gently.
Shingles usually are secured by a row of three or four nails placed just underneath where the upper shingle laps. These nails penetrate that shingle, and the top edge of the shingle below it, which means you have to loosen two courses of shingles above the one you're replacing for access. The underside of the bottom edges of shingles have tabs of asphalt applied at the factory. After installation, the sun heats and melts these tabs, gluing the bottom edge of each shingle to the one below—this keeps wind from getting under shingles and lifting them off the roof. Part of replacing a shingle is loosening these tabs and replacing them with asphalt cement.
Safe practices dictate that you be properly secured with a fall-arrest harness, or that you set up scaffolding along the edge of the roof in case of a fall. I chose to forego the usual safety equipment for this job, though, because the roof I'm working on is a very shallow, 3-in-12 pitch, one story above the ground. Under normal circumstances, though, take the time to protect yourself and your workers.
Bonus feature: Watch video of the shingle-replacement process.
Click the PDF button below for complete step-by-step photos and advice.
View PDF
Previous:
10 Roof Goofs and How to Fix Them
Next:
Video: Replace an Asphalt Roof Shingle