Restoring a Historical Cabin
This new build incorporates an 1800s log cabin that was painstakingly restored to resemble the original structure.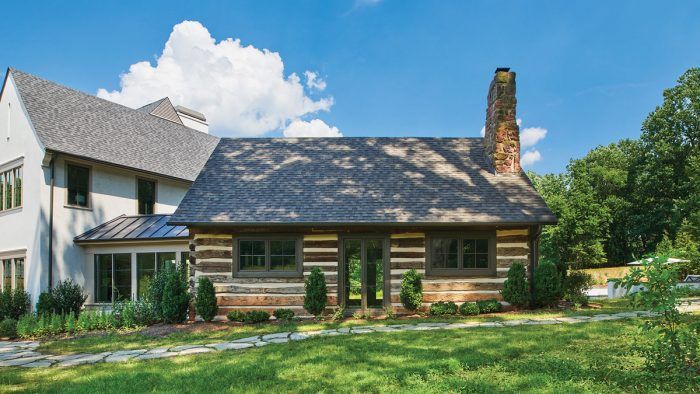 The architects call this 1800s log cabin assimilated into a new English country–style house "the tail that wagged the dog." When the homeowners purchased the five-acre property, they were unaware of the cabin's presence, hidden from view behind overgrown shrubbery and a 1925 brick house that was subsequently razed. Discovering the cabin, the architects recognized its historical and architectural significance and were adamant about saving the structure without compromising its authenticity. The homeowners, both history buffs, agreed. A painstaking restoration included replacing rotted logs at the base of the cabin with new wood that was burned and chipped to make it look old.
Left completely in situ, the log cabin was re-chinked, the roof restructured, one elevation rebuilt, and all the windows replaced. Inside, the original low roof was raised, resulting in a space-enhancing cathedral ceiling. Newly insulated, it has become a much-used family room as well as a place to host guests in front of the original fireplace brought back into working order. A glass hallway set at an angle connects the cabin to the house's central vaulted great room.
Architect BarnesVanze Architects, barnesvanze.com
Builder CarrMichael Construction, carrmichaelconstruction.com
Location Vienna, Va.
Photography Anice Hoachlander
From Fine Homebuilding #302
---
RELATED LINKS