Bubbles in Membrane Under Metal Roof
Bubbles in roof membrane may not affect the appearance of the roof, but it could affect the underlayment performance.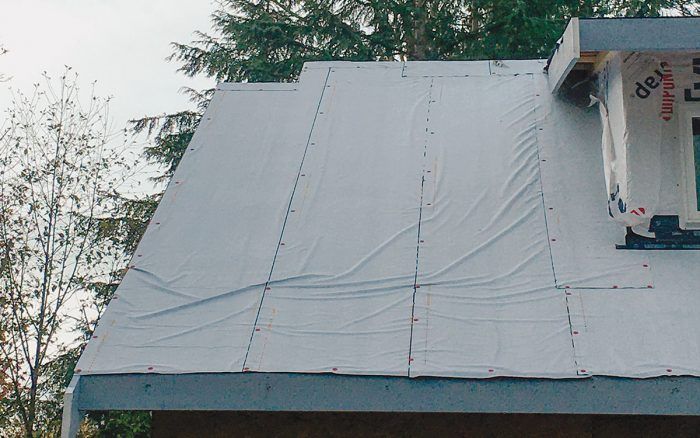 The house my company is building is getting a standing-seam metal roof. The roofers just finished installing the peel-and-stick underlayment. We've had a lot of rain lately, and there are obvious issues with adhesion. My concern is that the ripples in the underlayment will in time become visible through the finished roof. Is this a valid concern, or is it possible that once we get warmer weather the ripples will flatten out under the metal roof and not be an issue?
—Zack Lunde, Bellingham, Wash.
Contributing editor Andy Engel replies: Ripples like these would likely telegraph through thinner asphalt shingles, but the metal roof manufacturer we spoke with very much doubted that these ripples in the underlayment will ever show through a metal roof. My bigger concern would be whether the performance of the underlayment is compromised by the areas with adhesion problems.
The solution will vary depending on the manufacturer of the underlayment. We spoke with this manufacturer, who said that the underlayment would lie flat and not affect the steel roofing once it's installed. However, they did say that the fish mouths (open voids on a seam) would need to be repaired. They recommended slicing the fish mouths so that each layer lies flat, covering the area with a patch of the same material, and then sealing the perimeter of the patch with an approved sealant.
From Fine Homebuilding #305
---
RELATED LINKS