The Basics of Peel-and-Stick Roof Underlayment
Self-adhering, self-sealing roof-underlayment installation is still misunderstood and raises a lot of questions for people.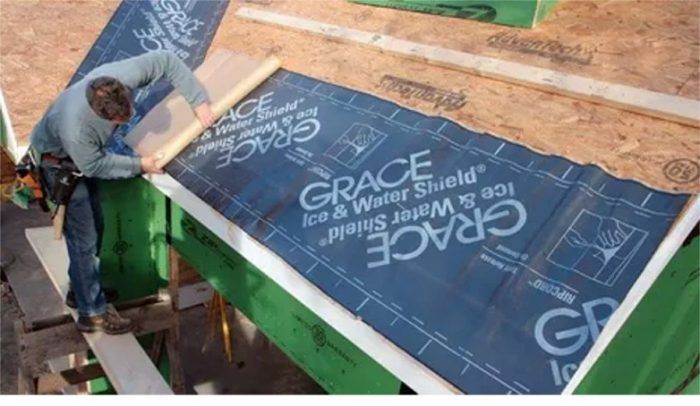 You will hear them referred to by different terms and brand names: peel-and-stick, ice and water barrier, Ice and Water Shield, ice and water, ice barrier, and waterproof shingle underlayment. Despite being used since the mid 1970s, these products and their installation aren't well-understood by many people. I receive more questions about using self-adhering, self-sealing, ice-barrier membranes (peel-and-stick) on roofs than any other roofing product—where to apply them, how to apply them, when they're needed, if can they be installed over the entire roof, what are the differences between them, and more.
In "Selecting Your Roof Underlayment,"I outlined the purposes of roof underlayment and two main options—tar paper and synthetics. A peel-and-stick roof membrane is a type of roof underlayment that you can install instead of other underlayments or use in conjunction with them. Peel-and-stick membranes may be required by roofing manufacturers and the building code to cover part or all of a roof before asphalt shingles or some other types of roofing are installed.
The main difference is the self-sealing aspect
There are between 4000 and 8000 roofing nails in an average 12-square to 14-square (a square is 100 sq. ft.) asphalt-shingle roof. Each creates a hole through the roof shingle and underlayment that water can weep through between the nail shank and the materials. The same sticky layer that bonds peel-and-stick membrane to the roof sheathing also helps seal around the nail shanks, making water much less likely to leak through than through ordinary underlayment. This self-sealing feature makes peel-and-stick underlayment attractive to install on roof areas where water can get under shingles from ice dams or wind-driven rain, and to back up conventional flashing in the event it's ever damaged. I like to apply peel-and-stick strategically around the roof and integrate it with conventional underlayment and roof shingles to block and shed water.
Below I've compiled a list of common questions about peel and stick membranes and links to answers.
---
Previous:
Types of Peel-and-Stick Roof Membranes
Next:
Adhesive Layers of Peel-and-Stick Roof Membranes