Podcast 422: First-Time Remodeling, Insulating a Brick Foundation, and Mysterious Leaks
Mark, Ian, and Patrick hear from listeners about PEX plumbing and construction software before taking questions about tearing into your first house, tracking down a leak in an exterior wall, and detailing a wood foundation.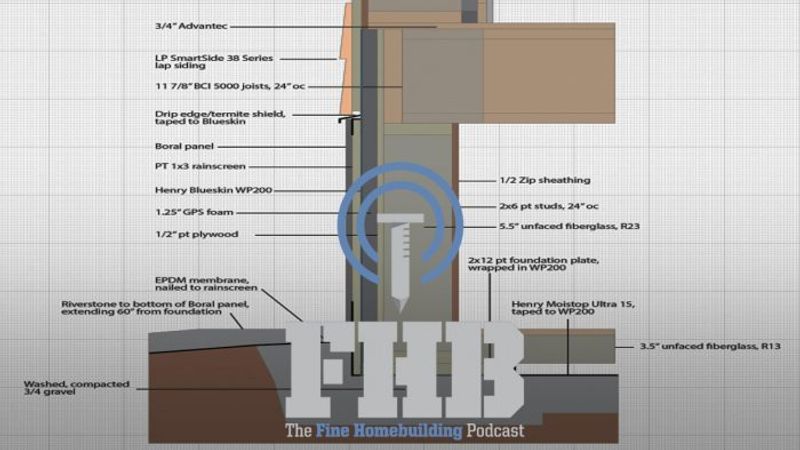 ---
Follow the Fine Homebuilding Podcast on your favorite app. Subscribe now and don't miss an episode:
Help us make better episodes and enter for a chance to win an FHB Podcast T-shirt:
www.finehomebuilding.com/podcastsurvey
Barbara appreciates what Ian brings to the show. YouTube has thoughts on PEX. Dack shares a useful construction resource. George asks for advice on how to remodel his upstairs. Chris wonders if his foundation insulation is enough. John needs help locating the source of moisture in his wall. Josh asks about detailing a permanent wood foundation.
---
Editor Updates:
Mark's house/trusses

Ian's house/garage doors/walnut table
Patrick's wonky water filter
---
​
Listener Feedback 1:
Barbara writes: Hello Patrick, Just listened to Podcast 416 from December 17, and just wanted to take a moment to say how enjoyable it was. Ian really added a lot to the quality of the show. Please don't take that the wrong way, though, as I'm not saying it's "just okay" otherwise. I just thought this particular one really stood out. KCA, Barbara
---
Listener Feedback 2:
A couple YouTubers wrote about Podcast 416: "Pex A is uponor/expansion type. Pex. Pex B is crimp fittings, etc." and "How does FHB not know the difference in PEX? LOL."
---
Listener Feedback 3:
Dack writes: Hi FHB Podcast: I just discovered this really great resource I've not heard on the pod: Construction Instruction. Unfortunately it seems like their best content is only on their app, which is odd these days, but there is tons of great building science content and some super-helpful assembly animations that I've not seen elsewhere. Anyhow, I think your audience would like it a lot.
---
Question 1: How do I go about doing a large-scale remodel?
George writes: Hey FHB podcast crew, I was hoping to get an opinion on the following: I bought my first house this past year and while I consider myself fairly handy, I am terrified of larger scale remodel projects. The entire upstairs of my single-story cape needs an interior overhaul and I want to implement an exterior air barrier on the roof sheathing instead of messing around with sealing knee walls. What's the play? Do I:
just go all in, start demoing, and once I get down to structure learn by doing?
take it one room at a time?
do smaller projects to build skills

if so, what examples are good?
I don't occupy the upper floor right now, but demo would include an upstairs full bath plumbing (which looks bad anyway). Lots of trades all stacked on top of one another. Am I being overly cautious? Thanks so much, George
Related Links:
---
Question 2: Would a 2×2 framing with drywall finish be problematic as far as moisture or mold problems from air leakage or temperature differences with brick foundation walls?
Chris in Chicago writes: Greetings again FHB crew from Chicago. Posed a question at GB Advisor the other day and didn't get much response except from Kiley. She's the best. So I thought I would throw it to you guys. Framing an older house basement with brick foundation walls. Not enough space to do 2 inches of rigid and a 2×4 wall do to some piping and other mechanicals. Would a 2×2 framing with drywall finish be problematic as far as moisture or mold problems from air leakage or temperature differences?
Thanks as always. Love the podcast.
Related Links:
---
Question 3: Are there any problems with this wood foundation assembly?

Josh from GBA writes: Hello, first time poster here! Looking to see if there are any problem areas with this assembly.
I'm playing around with a wood foundation assembly based on Mike Guertin's suggestions from his 2020 presentation. This would be for a self-build DADU a few years in the future. I'm planning to get an engineer to sign off on everything, because this is a lowish seismic area and I've never built a house, just done extensive remodeling and a Habitat build.
Some details:
• Zone 3A, mixed humid climate, bordering Zone 4.
• Carolina clay, gently sloped site.
• Termites, water, and radon intrusion are the biggest concerns here.
• I didn't write it down, but the rainscreen would be wrapped top and bottom with a screen to keep out pests.
• I threw the inner ZIP sheathing in there as an additional fire/seismic precaution, not certain if it will be necessary though.
• This shot is of the crawlspace; the main wall assembly is different, based on the Bonfiglioli design. The roof plans are a bit unusual, with large applied eaves, so if there's any interest, I could post them as well.
• I'm aiming for near-passive performance, but not currently planning on getting it certified.
If you have any questions about details, I'll happily post better drawings.
Related Links:
---
Question 4: What is causing the moisture issue in the walls of this second-floor bedroom?

John writes: Hello, I am a subscriber/contractor here in Connecticut. I have a customer with a room that has an exterior wall with varying levels of moisture in it, and can't seem to figure out what's going on. I have looked for and emailed a couple different companies here in the state with no response. I'm reaching out to you guys to see if you have worked with or know of any specialists here in the state that deal with troubleshooting moisture issues in walls? Any info would be appreciated, but I understand this is probably an odd request, but figured FHB is a great resource and just happens to be here in the state, so it was worth a shot asking! Thank you
Customer noticed the paper on the sheetrock in a second-floor bedroom (with 2 exterior walls) was torn, up near the ceiling. I brought my pinless moisture meter in and it was off the charts 100% wet. The other walls and ceiling have been consistently bone dry in the 5% range (the other exterior wall is approx 2′ from the damaged area). We went in the attic, no stains or moisture, checked the roof/fascia/siding, everything looks good, no peeling paint, staining, or other evidence of water moisture traveling or trying to escape. Pulled a cedar clapboard, no stains, bone dry, but at that height they must have ran out of housewrap because it was just sheathing, but the sheathing looked good. No trees or shrubs nearby, and about 6'+ from the chimney. We went in and cut out a square of wallboard and the lack of dust with the cut was more proof there was moisture in the wall. I've been back multiple times over the last year, and i make notes on the wall what the date is, and moisture level. I was there last week and it was dry, so there seems to be a seasonal effect to this. I've heard of vapor drive, and other terms but it just seems very odd where it's occurring. The room down below it has been consistently dry every time I go and check it, and everyone I've talked to about this doesn't have any suggestions either. Could the lack of housewrap cause that? I have a feeling there could be other spots they didn't wrap and it might be fine, who knows. I'd obviously rather not pull cedar claps if I don't have to, but there's only so many things it could be causing this. I checked the neighboring room a couple months ago and it was showing higher moisture levels, but no obvious wallboard damage like the other room. It's been a real head scratcher, and I was hoping to find someone who is more experienced in this scenario with possibly better technology (FLIR, etc) that could offer some guidance. I don't seem to have any pics, but I thought I did. Any thoughts?
Related Links:
End Note:
Mastered in a Minute videos.
---
Check out our latest Project Guide: Siding & Exterior Trim!
Check out our FHB Houses:
Visit the Taunton Store  •  Magazine Index  •  Online Archive   •  Our First Issues   •  All Access
---
Help us make better episodes and enter for a chance to win an FHB Podcast T-shirt: www.finehomebuilding.com/podcastsurvey
---
If you have any questions you would like us to dig into for a future show, shoot an email our way:

[email protected]

.
If we use your question we'll send you a FHB Podcast sticker!
---
FHB Podcast T-shirts!
Represent your favorite podcast! Available in several styles and colors. Made from 100% cotton. Find the Podcast t-shirt and more cool products in the Fine Homebuilding Store.
---
Fine Homebuilding podcast listeners can now get 20% off anything in the Taunton store, including Insulate & Weatherize.
Use the discount code FHBPODCAST to take advantage of this special offer.
---
We hope you will take advantage of a great offer for our podcast listeners: A special 20% off the discounted rate to subscribe to the Fine Homebuilding print magazine. That link goes to finehomebuilding.com/podoffer.
The show is driven by our listeners, so please subscribe and rate us on iTunes or Google Play, and if you have any questions you would like us to dig into for a future show, shoot an email our way: [email protected]. Also, be sure to follow Fine Homebuilding on Instagram, and "like" us on Facebook. Note that you can watch the show above, or on YouTube at the Fine Homebuilding YouTube Channel.
The Fine Homebuilding Podcast embodies Fine Homebuilding magazine's commitment to the preservation of craftsmanship and the advancement of home performance in residential construction. The show is an informal but vigorous conversation about the techniques and principles that allow listeners to master their design and building challenges.
Other related links