Podcast 459: Leaky Attic Stairs, Right-Sizing Heat Pumps, and Vapor Barriers in Dirt Crawlspaces
Kiley, Ian, and Patrick hear from listeners about carbon footprints and battery-powered riding mowers before taking questions about drippy attic hatches, right-sizing a heat pump, and detailing a crawlspace vapor barrier.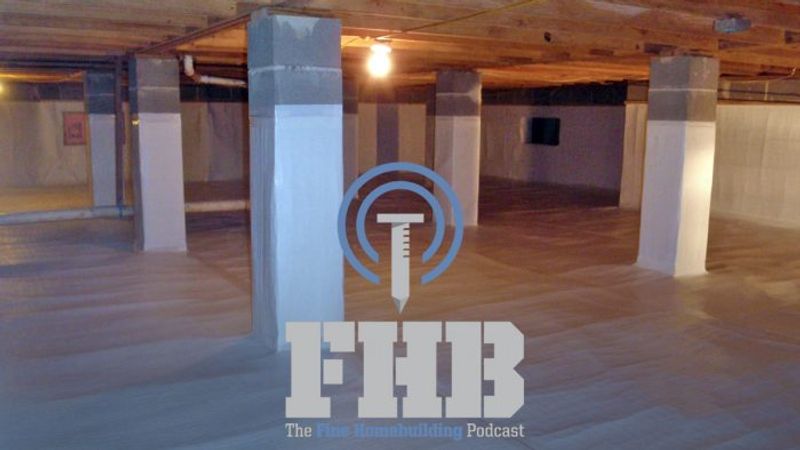 ---
Follow the Fine Homebuilding Podcast on your favorite app. Subscribe now and don't miss an episode:
Help us make better episodes and enter for a chance to win an FHB Podcast T-shirt:
www.finehomebuilding.com/podcastsurvey
Andrew tells us the origins of a carbon footprint. Dack suggests the FHB Podcast update its theme song. Alex shows us Ryobi's new zero-turn electric mower. Steve asks what can be done about a leaky attic ladder. Adam needs advice on right-sizing his heat pump. Mark asks about covering his dirt crawlspace. Jeff wonders if two minisplits will keep his house cool.
---
Editor Updates:
Kiley's BEAM calculator
Ian's Screen porch or shop
Jeff's landscape
Patrick's The benefit of overhangs: Charlie Sullivan "Maybe we should stop calling them "overhangs", since the word "over" implies excess. Here's my proposal for new terminology:
>18″: Sufficient-hang
10-18″ Almost-sufficient-hang
< 4-10″ Deficient-hang
< 4″ Mistake
It's also notable that "The vast majority of the problems (90%) are related to interface details between wall components or at penetrations." But that's probably a topic for another time.
Related Links:
---
Listener Feedback 1:
Andrew writes: Might not be worth a deep discussion, but thought it might be interesting context to mention the next time embodied carbon comes up:

Related Links:
---
Listener Feedback 2:
Dack writes:  Hello Podcast Crew: I don't have any insight into job-site tunes, but the discussion got me thinking about the pod's bumper music. It's like a Lynyrd Skynyrd ballad that's more appropriate for This Old House: '70s Ranch Edition. Meanwhile, you're discussing PV, thermal envelopes, ground-source heat pumps, net zero, and the Theory of Constrains. How about something a little more bumping? Not calling for straight-up EDM here, but electronic—and no guitar—that would echo the modern content of the pod (and appeal to the iGen Y/Gen Z/reddit audience). While it will take some time to come to grips with Patrick and Andrew's love of Phish, still love the show.
---
Listener Feedback 3:
Alex writes: Patrick, Don't know if you've seen the electric Ryobi zero turn mower.
Related Links:
---
Question 1: Better attic insulation has resulted in a moldy wooden attic ladder. How should I fix it?
Steve in New Jersey writes: Hey FHB gang, thanks for all that you do for the building industry. I discovered your podcast about 2 years ago and was immediately hooked. I've worked as a trim carpenter for the past 7 years and while I initially was just interested in what there was about carpentry, the building science side of things has genuinely intrigued me.
I first have some feedback regarding your recent Pro Talk with Keith Boling about efficiency efforts for New York homeowners. I live in a 1970's single-story ranch in New Jersey and last year had my state's similar program, NJ Clean Energy, perform work on my home. After finding out about the program and filling out a questionnaire, they sent out an assessor to look over my house and see if it was a good candidate for simple upgrades. They were able to send a crew to seal my vented crawlspace and place a vapor barrier, as well as spray foam my attic penetrations and blow a few inches of cellulose over the existing fiberglass. I'm pretty sure its made a difference but the electric bills are inconclusive.
One problem I've found from their work has reared its head, however. My attic access is that basic folding wood ladder on springs with a sheet of lauan. The crew that came out installed over it an aluminum foil bubble wrap zippered enclosure thing, which has had the unintended side effect of this past winter being a condensing surface for the air leaking up to it. My wooden attic ladder is now covered in mold. I'll be replacing it with one of the gasketed and insulated ones soon enough but I can't help but be worried for people that don't have an awareness of what to do with problems like these. Wanted to know your thoughts on the matter.
Related Links:
---
Question 2: How should I go about replacing my furnace with a heat pump?
Adam in Cincinnati, OH writes: Dear Fine Homebuilding, My wife and I have recently purchased a 1901 cape cod in Cincinnati, OH and I have lofty goals of improving the house's energy efficiency. The walls have all been dense-packed by a previous owner and a thermal camera shows that it was done well. I believe the next largest improvements to be done will be air sealing and insulating the rim joists, insulating the upstairs bedroom slanted ceilings/attic, and installing exterior storm windows. The attic currently is poorly ventilated due to its shape and the miniscule size of the soffit vents, so my inclination has been to follow the below "don't be dense" article and create an unvented roof assembly with foam. However, I came across another article on GBA that seems to very closely match my house's situation, and if I can safely dense-pack my sloped ceilings and blow in insulation in the attic, I am all for the lower carbon approach. Let me know what you think!
1. BSI-043: Don't Be Dense—Cellulose and Dense-Pack Insulation
2. A Low-Carbon Approach to Attic Retrofits
The house: I'd love to get the insulation and storm windows done before next winter, then track a full winter's worth of energy use to right-size my hvac system, replacing the furnace with a heat pump. I'm just holding my breath that my 1998 Goodman "Dependable 92" furnace can hold on for 1 more year for my data collection. This brings me to my next question- How are most people going about replacing furnaces with heat pumps? My current system has 3-tons of AC paired with a 100,000 Btu (90,500 output) furnace. My current calcs show that with zero insulation, my heating load should be approximately 90,000 Btu, with walls insulated my load drops to 60,000, and with roof and walls insulated the load falls closer to 32,000 Btu. If my furnace goes out before I can get the roof insulated, I would need at least a 5-ton heat pump to heat the house, but my AC would be oversized. This is assuming I am avoiding the use of a supplemental electric heating coil, which is my preference. As much as I try to trust my calcs, if I am able to collect a year's worth of weather and usage data before swapping to a heat pump I would feel far more comfortable making the switch without a safety factor on my calc. I love the podcast, thank you for all your help and inspiration!
Related Links:
---
Question 3: How do I seal an uneven dirt floor area with a lot of boulders?
Mark in Connecticut writes: I have a stone foundation house with a half the basement poured slab, the other half is dirt. I can stand up in the poured slab area, approximately 7 foot clearance, but the dirt area is less forgiving, just about 3 to 4 foot clearance. The house was built in the 1940's, a converted summer cottage, and is literally on several large boulders, one of them is actually holding up the longest span of the floor joist/beam. This is all in the dirt floor area. Welcome to Connecticut.
My basement has no visible water coming in, happy with that. But I know I am getting moisture seeping up through the dirt floor area. The dirt is damp to touch. Suggestions on how to seal the dirt floor area knowing I would need to somehow seal around the several boulders and unevenness of the dirt? I will need to do it with something that can take crawling over to get to my well pump pressure tank, whole hose filter, and exposed plumbing and electric if needed. My other concern was radon getting in through the dirt area, but I have run several tests over the years and all tests continue to show up negative. Should I just let sleeping dogs lie?
Related Links:
---
Question 4: How do I best incorporate a basement and bathrooms into a new heating system with minisplits?
Jeff from Campton, New Hampshire writes: Hi FHB folks! I'll try to keep it short. I bought a 1200 square foot house that I would like to heat and cool with two mini splits. This has worked well for my current home and it would mean I could eliminate the chimney and radiators for modernizing the floor plan. Here are my two concerns—the basement and the bathrooms. Does there need to be a heat source in the basement to prevent frozen pipes? It is used for laundry, storage, and utilities. There's an electric water heater down there. Being cool down there in the winter is not an issue (in the 50 degree range?). Also there are two bathrooms on the second and third floor. Would it be dumb to put electric baseboard heaters in the basement and two bathrooms? Does that negate the energy savings from the heat pumps? It is currently an oil burning system that was ruined by a pipe burst flood. Are there safe direct vent oil burners? Should I put a propane heater in the basement as a backup?
I have a few friends that are pro-mini splits, but we are all running into the same issue with comfort from room to room and a five head system seems overkill for two floors, two bathrooms and the basement. What do you think? Thank you as always for getting into the weeds and talking about the realities of home renovations that are not straight forward!
Related Links:
---
Check out our latest Project Guide: Siding & Exterior Trim!

Check out our FHB Houses:

Visit the Taunton Store  •  Magazine Index  •  Online Archive   •  Our First Issues   •  All Access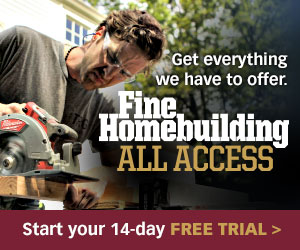 ---
Help us make better episodes and enter for a chance to win an FHB Podcast T-shirt: www.finehomebuilding.com/podcastsurvey
---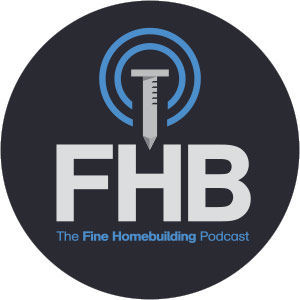 If you have any questions you would like us to dig into for a future show, shoot an email our way:

[email protected]

.
If we use your question we'll send you a FHB Podcast sticker!
---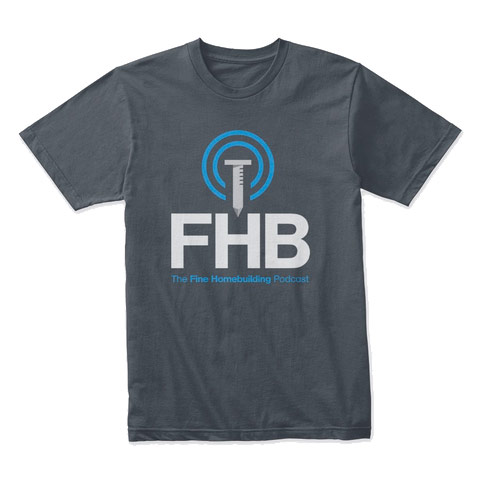 FHB Podcast T-shirts!
Represent your favorite podcast! Available in several styles and colors. Made from 100% cotton. Find the Podcast t-shirt and more cool products in the Fine Homebuilding Store.

---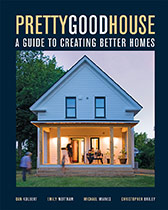 Fine Homebuilding podcast listeners can now get 20% off anything in the Taunton store, including Pretty Good House.
Use the discount code FHBPODCAST to take advantage of this special offer.
---
We hope you will take advantage of a great offer for our podcast listeners: A special 20% off the discounted rate to subscribe to the Fine Homebuilding print magazine. That link goes to finehomebuilding.com/podoffer.
The show is driven by our listeners, so please subscribe and rate us on iTunes or Google Play, and if you have any questions you would like us to dig into for a future show, shoot an email our way: [email protected]. Also, be sure to follow Fine Homebuilding on Instagram, and "like" us on Facebook. Note that you can watch the show above, or on YouTube at the Fine Homebuilding YouTube Channel.
The Fine Homebuilding Podcast embodies Fine Homebuilding magazine's commitment to the preservation of craftsmanship and the advancement of home performance in residential construction. The show is an informal but vigorous conversation about the techniques and principles that allow listeners to master their design and building challenges.
Other related links